TONGHAM MOTOR CLUB

Round 1 - 30 April 2023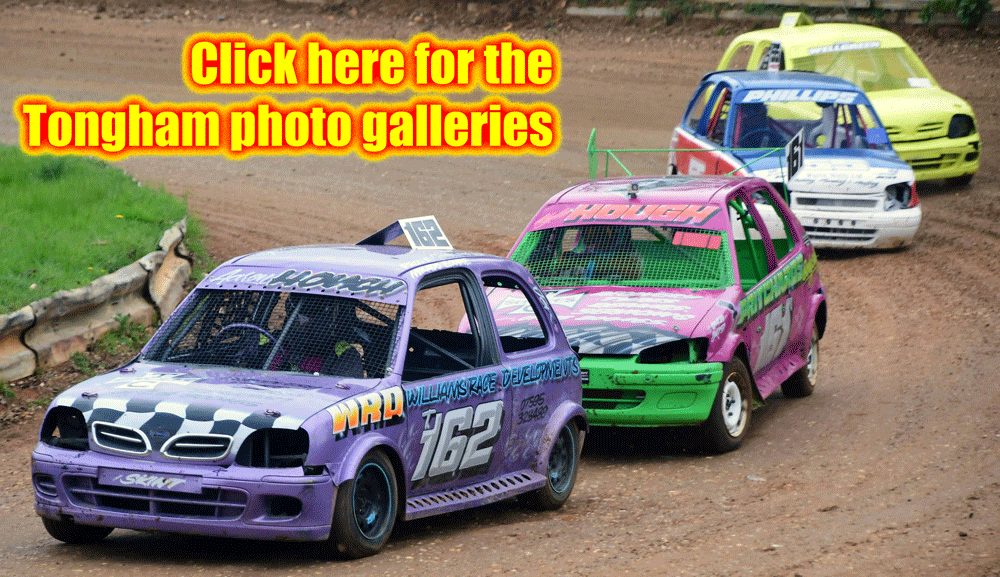 Tongham Motor Club got their season under way at the end of April, at the third attempt, after two cancellations. That's par for the course for racing on dirt this year, with dozens of NASA Autograss meetings also falling by the wayside, but for some reason a minority of Tongham's membership seemed less understanding of the effort required to get racing after such a spell of wet weather.
As it was the meeting was completed with some good racing from an excellent turnout, including a good number of newcomers, but the dominant factor was the track conditions, with serious ruts developing on the pits bend early in the day. A brief spell of rain during the second heats slowed things down a bit a probably helped the situation, and in the end not too much damage was done and everyone seemed to have enjoyed their day's racing. Almost immediately after the meeting work started to rip up the rutted parts of the track, so weather permitting the surface should be far better for the next meeting in May, when the V8 Stock Car Tour will be joining the regulars.
It was especially welcome to see the growth in the Super Saloon and 1450 Hot Rod groups, which raced together for most of last year but now had a healthy grid each. SUPER SALOONS had 9 cars signed on although there were problems with former Junior racer Chloe Duce's Zetec-powered FWD Nova which didn't get as far as the track. The first race saw Rory Bennetts lead away, with his Vauxhall-powered Golf now looking well sorted, but eventually he got off course avoiding the ruts and the quickest of the RWDs, Chris Jewer's 106-Vauxhall, came through to take the win, chased by Olly Adamson's FWD AX, now updated to 1600 16-valve power, and Michael Brooke's Mi16-powered 205. Graeme Taylor used his Colt-bodied Hot Rod this time and led home Laurence Connors' "Growler" 205, Shaun Maynard's Fiesta, moving over from Thunder Rods this year, Rory Bennetts and ex-Wessex Class 6 man Callum Gosney in his Saab turbo powered 106.
Race two, with the track at its wettest, was led to halfway by Rory Bennetts before Mike Brooke took over, chased by Rory, Olly Adamson and Shaun Maynard, with the two remaining RWDs, Lawrence and Graeme, having their own battle but lapped by the leaders.
The last race saw better conditions and Mike Brooke led all the way, with Olly Adamson closing up after passing Laurence Connors for second. Shaun Maynard was the last finisher after Graeme Taylor pulled off trailing a bit of smoke. Overall Mike Brooke was the winner from Olly and Laurence.
The 1450 HOT RODs had 8 cars, half of them being former Angmering regulars, hoping to find a new home at Tongham. That didn't stop Jason Woodgate's continued dominance with his ex-Nicky D'Souza RWD Mini-Vauxhall. Jason's usual sparring partner Nathan Loader went out in a cloud of smoke after whacking the sump of his K Series powered Fiesta on the rutted track, so Jason was chased home in the first race by the Micras of Ben Stockley and long-time Angmering supporters Sam Harriss and Mo Penfold in their Micras. Other contenders were a pair of matching Civics for Nathan and Matt Stilwell and former Croydon driver Tim Ashton-Jones in an ex-Class 5 Mini-Vauxhall.
In the wet second heat Jason Woodgate shot from the back of the grid to lead into the first corner, and he ended the race a lap ahead of Ben Stockley and two laps ahead of everyone else.
The final race also saw Jason come through quickly to take the read, after a good start by Sam Harriss in his very well turned out Micra, but once Jason was ahead, this time Ben and Sam stayed with him all the way to the flag. Nathan Stilwell came next from Mo Penfold and Harry Stilwell, with Tim Ashton-Jones retiring. Overall Jason obviously took the top spot, with Ben Stockley second and Sam Harriss third.
The SPECIALS also had a better grid than for virtually all of last year, with 8 cars, including three father/son or father/daughter pairings! The unluckiest family were the Jewers, with Chris' effort to race in both Supers and Specials only lasting a couple of laps with his Honda-powered car, while Stuart was a victim of the rutted pits bend with blown outside rear tyres in both the heats he started. Chris Carter also fell foul of the ruts, getting launched off in his first race, although he came back from nearly a lap starting handicap to win races two and three, chased each time by Ashley Lock. Poppy Carter made her long-awaited "official" debut in Chris' last year's car and had a promising outing, leading several laps in each heat and safely finishing them all. David Baigent held off Ashley to win the first race, but was sidelined in the second, while Shaun Page and Mick Baigent ahared third and fourth places in each race. Ashley took the overall win with Chris Carter second and Shaun Page third.
16 PRODUCTION As signed on although Stock Rod star Ashley Brown only did one race, testing Lilly Green's new Junior Micra. With the field now Micra dominated (a dozen K11s against two 106s, one AX and one Nova), the first race was led from the white grade by Cameron Wellgreen. Louis Feltham came through to hit the front before a brief problem dropped him back, and Shane Phillips emerged in front, building on his late season success last year as he won with a bit of breathing space ahead of a fight in which Aaron Hough took second from Zak Gorrie, Standlake visitor Dave Robins, Bob Salter's Peugeot, Alan Goddard's AX, Cameron Wellgreen and Laura Connors. Jamie Dade, jumping up from the Novice Juniors, came next ahead of Harris Street, Louis Feltham, James Feltham and Woody Kemp's Nova.
Kyle Hough's Peugeot was a non-starter in the first heat, but was in the thick of the action in the wet and slippery second heat, battling to the front of the pack before catching and passing Cameron Wellgreen in the closing laps to take an excellent win, holding off Louis Feltham to the line. Aaron Hough was again going well to beat Cameron into third, while Shane Phillips, Dave Robins, Ashley Brown, Bob Salter, Zak Gorrie and Alan Goddard followed in quick succession to complete the top ten. Woody Kemp, Laura Connors, Harris Street and James Feltham were next over the line while Jamie Dade went off on the last lap and Mark Ramsay's shared Micra was an early retirement.
The final race saw Jamie Dade lead the white graders away and he held on for three laps before Louis Feltham, again making the fastest progress from the midfield, came through, and this time Louis was able to maintain a good lead to the finish. Dave Robins was adapting well to the dirt, getting up to second before a last lap problem allowed Kyle Hough to take the place from Aaron Hough and Shane Phillips. Cameron Wellgreen, Bob Salter, Zak Gorrie, Alan Goddard, Jamie Dade and Harris Street chased them over the line to set up what looks like another highly competitive season for the Prod As. Mark Ramsay, Laura Connors and Woody Kemp were lapped by the flying Louis Feltham, with James Feltham putting up his usual spirited showing to complete the runners.
The overall win went to Aaron Hough from Shane Phillips and Kyle Hough.
Newcomers to PRODUCTION B this year include Thomas Connors with his familiar ex-Prod A K10 Micra, Aaron Culley, up from Juniors with his K11 Micra, and a couple of former Angmering regulars. Joe Brown's replaced his Prod A Micra with a Nova, and Callum Penfold moves up from Juniors with a Corsa. Kodi Page carried on where he left off last year by winning the first heat, as Aaron Culley held off Thomas Connors for second and early leader Jack Sharp took fourth with his Corsa. Kodi won again in the second race, but this time had to fend off a strong challenge from class champ Rob Salter's Peugeot, with Thomas Connors and Aaron Culley close behind. The third race proved even closer. Again Kodi Page took the lead from Jack Sharp, but Thomas Connors closed in and, while lapping a slower car, Thomas squeezed through to win from Kodi, Rob Salter, Jack Sharp and Joe Brown. Ryan Stafford's Corsa and John Beck's Nova completed the runners after Callum Penfold had problems all day with his Corsa. Overall Kodi Page was the day's winner from Thomas Connors and Aaron Culley.
The THUNDER RODS fielded 15 cars, with several newcomers among them. The first race was led away by Connor Wright's Fiesta, but as he bounced off the pit gate there was a brief battle between David Lock's Astra and Matt Gurr's Fiesta before points champion Lewis White came shooting through in his Mazda MX3, then pulling away for a clear win over Matt Gurr and Jack Soper's Fiestas. Peter Stevens in the MG ZR came third from former Angmering regular Les Croucher's Civic, with Lee Jones' Zetec-powered Sapphire best of the RWD cars in fifth, ahead of David Lock, Chris Snooks' Fiesta, William Watkiss' Rover Coupe, Connor Wight and Ash Cousins' Sierra-Pinto.
The first casualty of the wet second race was Mac Dixon, moving from his Fiesta to a BMW this year, but spending most of the race trying to manoeuvre it out of the firing line with a front wheel hanging off. Charlotte Light's Fiesta led the first lap, before sliding into the stranded BMW, and David Lock then led a couple of laps before Lewis White was through and away for another win over Pete Stevens, Matt Gurr and Jack Soper. Connor Wright, Les Croucher, William Watkiss and David Lock were next and the top ten were completed by the new BMW of Carl (nobody could read his surname on the signing on sheet!) and another well known Angmering name, Jordan Emery-Barker in a Puma.
The final race saw Charlotte Light, David Lock and Matt Gurr lead before Lewis White took over, but the Mazda then slowed and pulled off at the Farm bend, and Pete Stevens took it up to win from the closely bunched Matt Gurr, Jack Soper and Les Croucher. Chris Snooks, William Watkiss and David Lock were next, with Lee Jones, Connor Wright, Charlotte Light and Jordan Emery-Barker a lap down at the end, while the RWD cars of Ash Cousins and Carl's BMW hit problems.
The JUNIOR classes were both well supported, with 15 cars in the main class and 18 in the Novices, of whom up to seven were complete newcomers.
The "senior" Juniors kicked off with a good win for Cherie Wells, passing early leader Teddy McGovern-Kemp, who took second, while the main pack was headed by the familiar pink Francesca Ellis car, but this time driven by Ryan Blair, who held off Lacey Chance, Courtney Hales (going very well in her first outing on dirt, after racing the previous night at Ringwood), James Rich, Riley Rogers, Harry Loader, Fin Chance (in the lone Nova among all the Micras), Robert Light, Tyler Cushing and Jayden Voss, with Harvey Green losing a good place when his car slowed on the last lap. Matt Gurr took the overall win from Pete Stevens and Jack Soper.
Second time out Teddy McGovern-Kemp, taking well to his Micra after the Nova he raced last year, was never caught for the lead, with Cherie Wells settling for second. Ryan Blair again fought through the pack to third, with Bailey Ramsay hanging on in fourth ahead of Lacey Chance, Riley Rogers, Harry Loader, Harvey Green, Robert Light and Fin Chance.
The third race was another runaway win for Teddy McGovern-Kemp, although fellow front now starter Bailey Ramsay was an early retirement. Ryan Blair caught and passed Cherie Wells at the end for second, with Courtney Hales having another very good run to fourth. Nathan Loader beat Harvey Green and Lacey Chance in a fight for fifth and then came Riley Rogers, Annabelle Palser, Tyler Cushing and Robert Light. Overall, Teddy was the winner from Cherie, with Ryan Blair third.
The NOVICES' awards aren't strictly linked to race results, with no points awarded, but the trophy places are based on outstanding performances during the day, with the top three this time judged to be Kara Duff, Jaymee-Lee Gorrie and Braydon Dixon. Kara Duff showed a lot of promise last year, although her outings were restricted by their reliance on the Isle of Wight ferries. This time she looked very quick on her way to a first and two seconds. Jaymee-Lee took the lead in the first race, lost it briefly to Todd Wallace, but recovered again to take a good win, with Kara and Braydon the only others to complete the full distance before an early red flag was shown. Kara Duff was uncatchable in the slippery conditions of race two, surviving a restart and coming out on top, ahead of Braydon Dixon, Jaymee-Lee Gorrie, Ethan Palser, Harvey Wareham, Josh Stilwell, Lilly Green, Freya Dixon, Charlie Plant, Ellie Lines and Ella Dade. In the third race Lilly Green looked promising as she took the early lead in her pink Micra, but the more experienced Harvey Wareham soon took over and took a good in, closely chased by Kara Duff, with Braydon Dixon and Jaymee-Lee Gorrie next up. Also showing good speed were Josh Stilwell and Ethan Palser, Annabelle's twin brother having his first outing. The others to complete the race, all putting up a good show, were Charlie Plant, Ellie Lines, Freya Dixon, Lilly Green, Ella Dade and Elliott Simmonds. A few had problems first time out and didn't make it to the end of the meeting, including Todd Wallace, Toby Foreman, first time racers Stan Dench and Noah Symes, Fin Lucas' Corsa and Charlie Steele's Nova, those two being the only non-Micras apart from the Dixons' matching Novas. With this many novices turning out so early in the year, it bodes well for the rest of the season.
Then, of course there were the ROOKIE BANGERS, kicking off each round of racing. The "small car" races featured 13 cars and provided the day's first action as Alec Constanduros' Micra took a tumble on the pits bend. Winning the first two heats was Francesca Ellis, coming out of the Juniors this year and also keeping busy elsewhere, racing the 1-litre Stock Cars. She was chased home in the first race by father John, with Kirsty Tompkins being right on Francesca's tail when race two was stopped early to catch Alec Constanduros' stray wheel. Seven cars made it out for race three, which John Ellis won, with Jamie Watts just surviving in second ahead of Francesca, who Jamie had earlier spun out.
The "large Rookies" featured a very full 30-car grid and plenty of action, including rolls in their first two races from Zane Rose and "Sir White". Lee Vaughan won the first race after a battle with Lee Claxton. The second and third races were both won by Jack Allen in an Astra.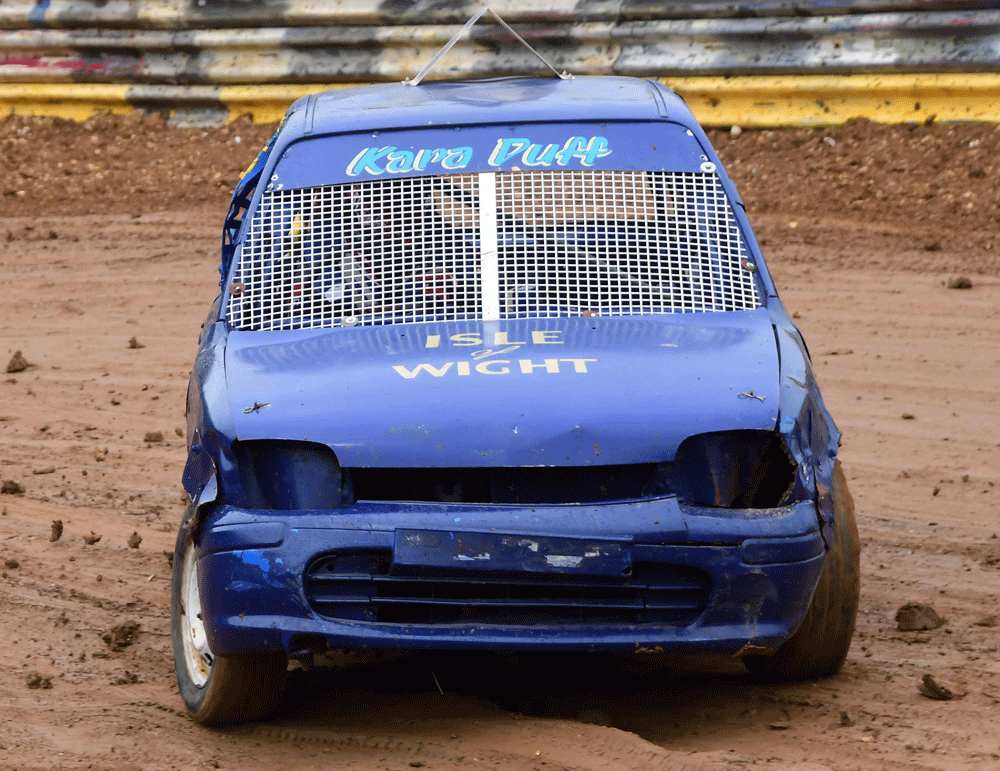 .