SWAFFHAM RACEWAY
Rolling Thunder Show Round 5 - 6 May 2023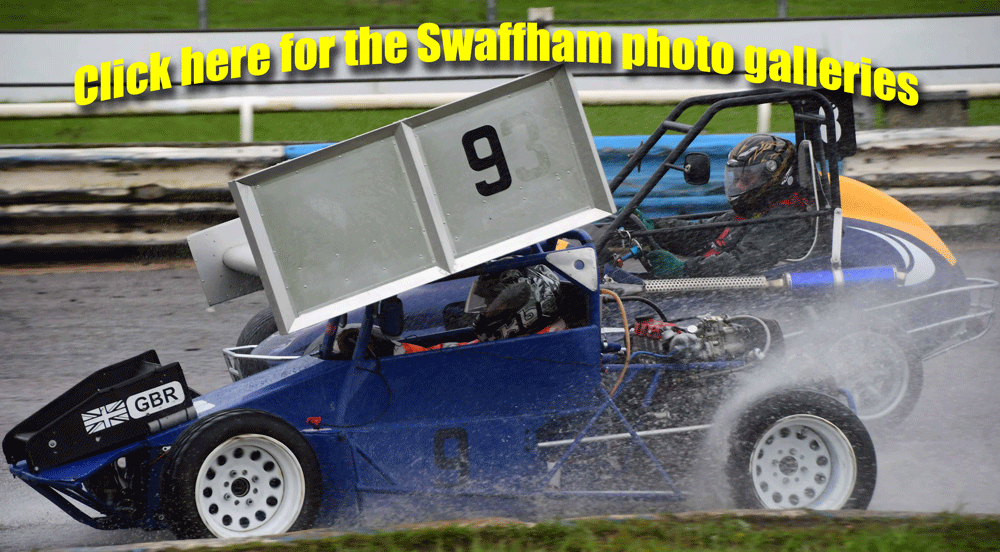 The fifth round of the RTS season at Swaffham was scheduled for Coronation day, but we're sure that RTS chose the date first! It turned out to be a very wet one with heavy rain coming in about an hour before the delayed start time and returning a couple of times during what turned out to be a long and drawn-out meeting by RTS standards.
Two of the scheduled classes failed to materialise. The Euro Rods, from the Euro Rod Enterprises group, planned their second outing of the year but, due to insufficient cars being ready, postponed it to the 20 May meeting, while no Lightning Rods turned up. Superstox reappeared, albeit with a single car demo, leaving 6 classes to race.
The CLASSIC MIDGETS gained in numbers with six cars expected. Although Darren and Gary Burkitt didn't make it, there was one addition to the regulars in Paul Haralambou, best known for racing in multiple formulae over the years at Arena Essex, who'd acquired a transverse rear-engined Vauxhall-powered car – not quite from the "classic" era but adding welcome variety. The wet conditions in the first race saw every car spin out at least once. Steve Lay in his side-engine Suzuki car was most unfortunate as, when over a lap in front, he had his first spin in the car and ripped out his trailing arms on the kerb. Paul Haralambou and Eddie Ricketts both recovered from their own spins and Eddie's Westfield snatched the lead from Paul on the line, while Ben Pashley's much earlier Dastle could find no grip at all. Second time out Eddie led until a red flag came out to rescue Ben from his resting place. Paul snatched the lead on the restart and led the rest of the way. In the final Eddie held off Paul for eight laps before spinning on the home straight. Paul kept it all under control for the remaining laps to win, with Eddie rejoining a lap down for second and Ben a further lap back after a couple of spins of his own. Despite the conditions, it was an encouraging day for what's now becoming a genuinely competitive class as well as showing off some fascinating cars that have been left behind by developments in the main Grand Prix Midget group.
The FRONT WHEEL DRIVE HOT RODS were down to four cars (two Chrises and two Kevins!) after their well supported trophy race at the last meeting. Kev Brocklesby was out of luck on that occasion, but this time the Lincoln man was unbeaten, winning by a fair margin in the first two heats, but having to hold off a very close challenge in the final from Kev Head, who was looking for grip on the outside line for most of the 18 laps, but never quite found enough to clear Kev. Kev Head took third behind Chris in the two heats, but a spin in the first corner of the final dropped him to fourth with Chris Cole's Puma taking third.
The Junior 1-LITRE HOT RODS had a couple of newcomers in the seven car field, racing from drawn and reversed grids before a points-order final start. The main story was the dramatic improvement in form for young Freddie Chandler, benefiting from brother Steven's set-up advice to drive superbly up at the sharp end. Emilie Smith led the first heat all the way after a first lap red flag. Danny Coombes in second was closely chased home by Freddie Chandler, with Sid Pearl holding off new boy Chester Wood for fourth and Karl Renwick in sixth after the other first timer, Ashton Baker in the Coombes family's spare car, was a victim of the first corner incident.
Sid Pearl led the second heat away, but Freddie Chandler challenged round the outside, and once in front Freddie held on to take his first win, despite a couple of sideways comments, with Danny Coombes chasing him all the way. Emilie Smith took third from Sid Pearl, Chester Wood and Karl Renwick, with Ashton Baker finishing seventh.
Emilie and Freddie, with a first and third each, headed the final grid from Danny with his two seconds. Another first corner incident brought the reds out, but from the restart Emilie and Freddie raced side-by-side for two laps before Emilie eased in front. Freddie never gave up though, and for the last few laps was again challenging round the outside, taking a very close second as Emilie won, with Danny right behind them in third. Sid Pearl held off Ashton Baker for fourth and Chester Wood won his battle with Karl Renwick for sixth – excellent driving in the conditions all the way down the field.
The NINJA KARTS had the best turnout, with 12 starters, and provided one of the day's best races and the messiest! The first race needed a full restart after the early leader, Frankie Read, broke down. From the restart Tommy Talbot Jr, on his first RTS appearance, led all the way with another new name to the RTS rounds, Ted Emmett, coming through for second ahead of Thomas Wilkins and William Myatt, who held second most of the way after Parker Smith had a spin. Leo Mayes was next ahead of Stanley Mattioli, Parker Smith, Freddie Taber, Tyler Stephens, Jack Fiske and Dolly Rae Keenan, having her second meeting.
The second race was again led by Tommy Talbot who came within one corner of a repeat win, but in the last corner Ted Emmett came though, with Thomas Wilkins close behind to put Tommy down to third. William Myatt, Stanley Mattioli and Parker Smith were all right with the leaders in a very good race.
The final though took nearly 40 minutes to complete, with three restarts needed and another red flag on the final lap. Tommy Talbot had a healthy lead before the first stoppage took away his advantage, but still made a good restart and held the lead until the reds came out again. The next restart saw Thomas Wilkins challenging for the read again but various drivers stopping around the track were soon explained when it was noticed that the red lights were still on! A final five lap dash was led by Thomas Wilkins from Tommy Talbot, Parker Smith, Ted Emmett and Tyler Stephens but a last lap tangle meant only five karts reached the chequered flag. After some adjustments, Thomas Wilkins was awarded the win from Parker Smith and Ted Emmett.
The one SUPERSTOX to turn up was Lee Hall, having had an extended winter rebuild after damage last year, and he got plenty of laps in on his three solo runs.
JUNIOR SCREAMERS featured four cars, two of these being first time racers. George Davis' Fiesta dominated, winning all three races by over a lap, while Rosie Taber's Micra had a couple of seconds after problems in the first race. Logan Wick, on his first outing, took a second and third in a Corsa, but missed the final in which Dylan Rees completed the places in the Honda Jazz raced last year by Jack Garrod.
Finally, the SCRAPYARD SCREAMERS fielded five cars, including newcomer Dan Cannon's Corsa, and a return for Mushy and Roy Cornell, in a Focus and Astra. Dan Booker's Focus won the first heat by a big margin, but second time out Mushy Cornell held him off until Roy Cornell spun in front of the leaders, just as Dan Booker was passing on the outside, so Dan won again, with Dan Cannon doing well to chase Mushy home. In the final Mushy again led, being caught by Dan Booker but doing a good job of holding him off until Mushy's car went sick with a couple of laps to go, letting Dan Booker take another win from Dan Cannon, Joe Barber's Focus and Roy Cornell.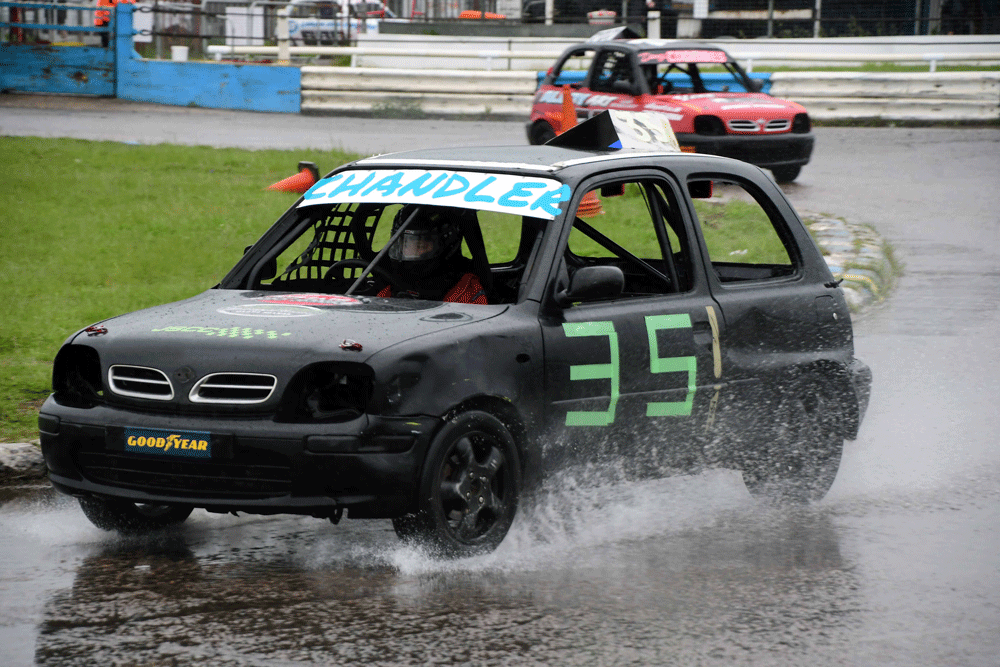 .