TONGHAM MOTOR CLUB

Round 2 - 14 May 2023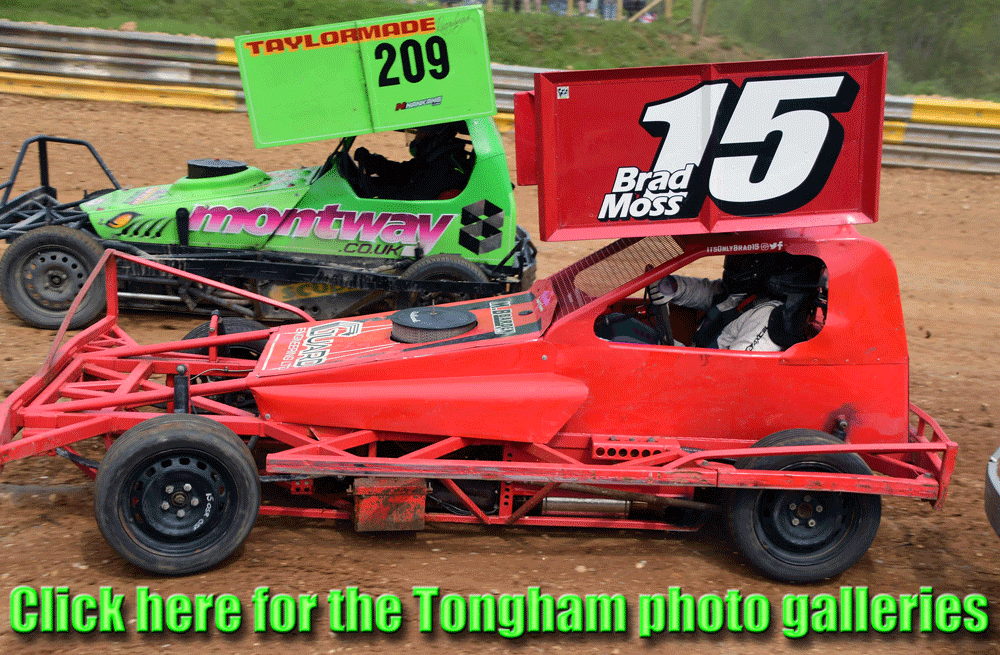 Tongham's second meeting of the season turned out to be even busier than the first, with new drivers and cars arriving in most classes, plus a welcome return visit from the V8 Stock Car Tour, contributing to a total of 163 drivers signed on for the day. The chilly and misty morning quickly gave way to sunshine, with the first really warm race day of the year giving us a taste of what's no doubt to come this summer.
A lot of work (from a few people, as is always the case) had gone into the track preparation in the fortnight since the first meeting. The rutted pits corner had been ploughed up and rolled flat and, although there were concerns whether it would last after a few more very wet days during the week, it actually held up very well, contributing to fast and furious racing during the day.
The V8 STOCK CAR Tour, after a single visit last year, has a couple of dates at Tongham in their varied 2023 calendar and a good entry of 12 cars turned up, including one invited Hot Stox spec car for the Gloucestershire-based long time BriSCA F1 driver Rob Scriven. Rob's Rover-powered car quickly came through the field in the first heat to take over the lead from Paul Collins and Rob came home to win despite the efforts of the hard chasing Brad Moss. Max White came a strong third ahead of Peter Scott, while Max's Father Dave White's first outing in the class resulted in an excellent fifth place, fending off Ben Edwards, Mick Jennings and Colin Moss, with Ellie Dickerson and Paul Conde completing the finishers. Paul Collins' good drive ended with front suspension damage and Dan Jennings also retired.
The second heat again saw Paul Collins lead the way while Dan Jennings spun on the uphill (for the Stock Cars) pits bend and was joined a lap later by a tangle involving Paul Conde, Pete Scott, Ellie Dickerson and Mick Jennings. Rob Scriven again came through to take up the lead, and just held off Brad Moss over the line, with Max and Dave White next up from the recovering Pete Scott, Ellie Dickerson and Mick Jennings. Colin Moss and Paul Conde were the other finishers.
The final came at the end of a long day's racing and produced plenty of drama. Max White took the lead from Paul Collins and was holding on well until tangling with Rob Scriven. With yellow flags waving confusion set in as most of the drivers reacted as they would on a mainstream oval track, while one or two carried on racing, realising that waved yellows under SEGTO rules are a local caution. The red lights had to come on and a single file restart lined up, with Pete Scott taking off in the lead, chased by Paul Collins, Brad Moss and Paul Conde. With three laps to go Pete slowed drastically though, and Brad Moss took over to claim the win, while Rob Scriven tore through from the back after the restart to claim second from Paul Collins, who stayed ahead of a battle between Ellie Dickerson, Dave White, Paul Conde and Colin Moss, with Pete Scott limping home eighth and Dan Jennings, Mick Jennings, Ben Edwards and Max White all retiring.
Back to the regular SEGTO racing. An influx of newcomers produced a 25-car grid for PRODUCTION A, with everyone running together and thankfully avoiding any major incidents, although it did get confusing as the newcomers running from the white grade quickly got in among those who opted for the back of the grid. Gary Drawbridge was the first of the new boys to show at the front, but soon picked up a puncture, allowing Cameron Wellgreen to lead most of the first heat before the rapid Peugeot 106 of Kyle Hough came through to take the win, with Aaron Hough's Micra completing a family 1-2 as he demoted Cameron to third at the end. Jamie Dade held fourth, clear of a queue of cars involving Harris Street, James Rich (senior), Alan Goddard, Billy Turner and Bob Salter. Isle of Wight driver Jamie Duff had an outing in daughter Kara's car and competed the top ten ahead of Laura Connors and Jamie Hales, another who was trying his daughter's car, and finishing just ahead of his old Angmering Prodstox sparring partner Willow King. Other newcomers in the thick of the action included Oliver Hester and Jake Kurn in two of the Sewell family Micras, and Sadie Plant, returning to racing in young Charlie's car. The main victim of the close packed action was Zak Gorrie, who got spun out and collected by the passing Louis Feltham.
Cameron Wellgreen got away first in the next race and built up a big lead over the scrapping pack so that nobody could catch him, and Cameron came home still well clear of Kyle and Aaron Hough, with Shane Phillips in fourth after missing the first race. Gary Drawbridge had a good run to hold off the main pack comprising Harris Street, Alan Goddard, Louis Feltham, Jamie Dade, James Rich, Billy Turner and Bob Salter, with Alex Smith finding time between his track duties to join in the action.
Gary Drawbridge again set the pace from the front in the final until he picked up another puncture. Cameron Wellgreen then took over, but he too went out with broken steering, and it was Shane Phillips who emerged from the pack to win just ahead of a close finish between Aaron and Kyle Hough and Louise Feltham. Zak Gorrie was fifth ahead of Harris Street, Bob Salter, Alan Goddard, James Rich and Jamie Duff with the still battling Jamie Hales and Willow King, Woody Kemp's Nova, Jake Kurn and Oliver Hester completing the finishers. Oliver had been well up in the early laps but tangled with the Nova of Archie Pink. The day's trophies, as always on points from the three races, saw Kyle Hough the winner, with Aaron second and Cameron Wellgreen third.
PRODUCTION B is picking up nicely with 11 cars on the grid this time. Jack Lucas' Corsa held the early lead in the first race, with everyone scrabbling for grip on a watered track, and was only passed by the Micra of Kodi Page, with Kodi winning from Jack and Joe Brown bringing his Nova home third ahead of Thomas Connors and Rob Salter. Second time out Skye Plant, graduating from the Juniors, led away before being passed by Joe Brown. When Thomas Connors dived inside Joe they both bounced out wide, letting Kodi Page jump into the lead, but Thomas regained the advantage to take a close win from from Kodi and Rob Salter. Aaron Culley's Micra took fourth from Jack Lucas and Skye Plant while Dave Blackburn returned to the class in an ex-Aaron Hough/Barney Hayhoe Nova, and finished just behind his old Corsa, in the hands of Ryan Stafford.
Skye Plant and Jack Lucas again had a taste of the lead in the final, but it eventually came down to a side-by-side battle between Rob Salter's 106 and Thomas Connors in the K10 Micra, with Thomas edging ahead in the last couple of laps to win from Rob and Kodi. Aaron Culley, Jack Lucan, Dave Blackburn and Skye Plant were next, ahead of John Beck's Nova while Callum Penfold continued to have problems with his Corsa, but got it to the finish ahead of Ryan Stafford, with Joe Brown pulling off near the end. The overall win went to Kodi, from Thoas and Rob.
A 9-car entry provided good racing in the 1450 HOT RODS. Wayne Hibberd returned to the class in one of the ex-Johnsey family Novas, and led the first race very convincingly before being passed by the currently all-conquering Jason Woodgate's Mini-Vauxhall, with Jason coming home the winner, still closely chased by the battling FWD cars. Nathan Loader's Fiesta-Rover just took second from Wayne Hibbert and Sam Harriss' Micra, with Tim Ashton-Jones' newly liveried, but slightly sick sounding, Class 5 Mini ahead of the Micras of Ben Stockley and Mo Penfold. Jamie Webb's Nova is now looking much better sorted, although he did get a bit too close to the infield armco, while the field was completed by Steven Roper, debuting a smart D-series powered Civic.
Jamie Webb led for quite a while in heat two before Tim Ashton-Jones took over, with Jason Woodgate then finding away past Tim just before the reds came out for a pile-up on the bottom straight, involving Jamie Webb, Nathan Loader and Mo Penfold. The ever unlucky Nathan came off worst with a very bent rear end. Jason took the win from Tim, with Sam Harriss and Ben Stockley the only other survivors. A depleted grid for the final still produced excellent racing, with the RWD Minis of Tim and Jason fighting for the lead, and the FWD Micras of Sam Harriss, Ben Stockley and Mo Penfold close behind. Jason took yet another win, while Ben got past Sam in the closing stages and then just beat Tim in a photo finish for second, with Sam a few inches further back. Jason was the overall winner, with Tim second and Sam third.
The SUPER SALOONS started with an 8-car grid, but lost Chris Jewer with a gearbox problem causing an interesting moment as he climbed the pre-race parade lane, which is a unique feature of Tongham. The hard and dry track meant that the surviving two RWD cars and the FWDs were evenly matched, with Rory Bennetts' Golf-Vauxhall making the running until his engine went sick. Laurence Connors in the 205 Growler then just held off Olly Adamson's AX for the win, with Mike Brooke's FWD 205 ahead of Graeme Taylor's Hot Rod Colt and Shaun Maynard's much more standard Fiesta. Kevin Duce made an appearance in his daughter Chloe's Zetec-powered Nova, still suffering teething problems.
Second time out Laurance again took over the read from Rory, but this time Graeme Taylor had stuck with Laurence and eventually Graeme found a way past to win, with Laurence a very close second, chased by Mike Brooke, Olly Adamson and Rory. Rory had problems before liing up for the final, leaving just four cars to take the green light, but it was a very fast and close race between the four of them. Graeme took the lead from Laurance at half distance, but this time Olly also sneaked past Laurance and pushed Graeme all the way to the finish – two completely different approaches to this class proving perfectly matched as they passed the flag side-by-side, with Graeme just taking the win from Olly, Laurence and Mike. Overall, Laurence was the day's winner, from Graeme and Olly.
Only five SPECIALS turned out this time after a few had problems at the previous meeting. Graeme Baker's almost vintage ex-Danny Stafford crossflow powered car unfortunately didn't make it onto the track, leaving a four-car grid. Poppy Carter continues to get quicker with every outing, making dad Chris work ever harder to catch up from the back of the grid, although Chris won both heats from Poppy and Stuart Jewer. Ashley Lock was out of luck with a clutch failure at the start of heat one, and with that fixed a rosejoint then broke the first time he put it sideways in heat two. In the final though, Ashley was back on form, holding off Chris as they both eventually caught and passed Poppy. Chris finally passed Ashley, but ash still pressured him all the way to a dramatic last corner, when the outside rear shocker slider on Chris' car suddenly adjusted itself and pun Chris out, letting Ashley take a spectacular win from Chris, with Poppy holding off Stuart for third. Chris took the overall win, from Poppy and Stuart.
The SEGTO JUNIORS class featured a couple of new graduates from last year's novice class among the 16-strong entry, despite losing one of the regulars, Riley Rogers, who fancied trying Bangers to celebrate turning 16! Still starting from the white grade for this meeting, Teddy McGovern-Kemp again dominated the results, with the only one to get anywhere near him being Lewis Walsh, having his first outing in the "premier" Junior class. The first race was nerve-wracking after Bailey Ramsay clouted the armco by the pit gate, with others running fast and wide just missing Bailey until Tyler Cushing finally joined him. Cherie Wells ended up a distant second behind Teddy, with Lewis Walsh hanging on to third ahead of Madison Lewis, also having her first race in this class but being put straight in the blue grade on the strength of her experience in all sorts of things! She headed a bunch featuring James Rich, Harvey Green, Harry Loader, Courney Hales and Ryan Blair, with Fin Chance (now in an ex-Autograss Micra), Robert Light, Annabelle Palser and Archie Ginn's ever immaculate Saxo completing the field.
The second race was red flagged after a multiple tangle on the bottom straight left Annabelle Palser sideways across the track. From the restart Teddy McGovern-Kemp led all the way with Lewis Walsh in second, while the battling pack of graded drivers was just headed on the line by James Rich, from Harry Loader, Harvey Green and Cherie Wells.
The final was joined by Todd Wallace, who'd just earned his promotion from the novices. Once again Teddy was running away with the win when the race was stopped early due to his team-mate Bailey Ramsay again running into trouble. Fin Chance was still clear of the pack in second, while James Rich was having another good race in third, holding off Courney Hales, Harry Loader, Chrie Wells, Tyler Cushing, Annabelle Palser, Harvey Green, Robert Light, Todd Wallace, who quickly settled into a battle with the more experienced drivers, and Madison Lewis, with Lewis Walsh pulling out after leading the first lap. Overall winner of the day was of course Teddy, from James Rich ad Cherie Wells.
The NOVICE JUNIORS again included 18 drivers, with a few missing from the first round but three new juniors having their first outing, plus Alexia Bowen returning from last year. Alexia made the early running in the first race, but Todd Wallace came though to win, with Alexia holding second from Harvey Wareham and a very rapid looking newcomer, Alex Marshall. Toby Foreman came next from Braydon Dixon, Kara Duff, starting from the back after her success last time, Ethan Palser and Ella Dade. Another to make a spectacular debut was Archie Miller, although he only completed the first race.
The second race started with drama as a first corner tangle led to Harvey Wareham's Micra and Freya Dixon's Nova rolling in unison. The restart brought more problems as new boy Connor Bond's Nova didn't get away and was collected by Braydon Dixon. The third attempt was held until after the lunch break and Todd Wallace took another convincing win that spelled the end of his days as a "novice". Kara Duff charged through to second with Alex Marshall again marking himself as one to watch with an impressive third. Everyone else was lapped by Todd, headed by Toby Foreman from Elliott Simmonds, Stan Dench, Jaymee-Lee Gorrie, Lilly Green, Charlie Plant amd, unaffected by his roll, Harvey Wareham.
Todd Wallace was missing from the final after his upgrading and, after two restarts, Toby Foreman took over the lead from Elliott Simmonds. Toby then had a clear run to a well eaned win, ahead of Harvey Wareham and Ethan Palser, Stan Dench had another good run to fourth, followed by Alecia Bowen, Jaymee-Lee Gorrie, Elliott Simmonds, Charlie Plant and Lilly Green. Brayden Dixon Connor Bond completed the finishers with Alex Marshall and Kara Duff out of luck this time.
The Novices' trophies were awarded to the "most improved" drivers rather than points winners, with the deserving recipients being Toby Foreman, Harvey Wareham and Ethan Palser.
Another big grid arrived for the THUNDER RODS with 23 signed on. One of the new drivers from the first meeting, David Lock, took his Astra into the lead of the first heat and stayed there until the closing stages, when Matt Gurr hit the front with his Fiesta, Matt then holding off Pete Stevens' MGZR and Lewis White's Mazda RX3 for the win. David Lock dropped out with a lap to go and former Angmering regular Charlie Hemsby moved up to fourth with his Fiesta, chased by Lee Jones' Sapphire and more familiar Angmering names, Dan McMenamin in Kim Holmes' BMW and Leanne Holmes in her BMW, these two split at the end by Jamie Sayers' MG. Cameron Croucher's Civic and Charlie Freeland's MG completed the top ten ahead of John Burt, debuting his new 2.2 Vectra, Chris Snooks' Fiesta, Keith Lovegrove's 206, which acquired a BMW-shaped dent in its door, and Mac Dixon's BMW.
The grid was thinned out to 18 cars for the second race with David Lock and Keith Lovegrove missing, together with Charlotte Light's Fiesta and the Rovers of William Watkiss and Richard Pike. Charlie Hemsby's Fiesta took off from the front of the grid and was never caught, winning fairly comfortably as Lewis White came through to second ahead of Dan McMenamin, Matt Gurr and Jamie Sayers, with Pete Stevens, Leanne Holmes, Charlie Freeland, Chris Snooks, Lee Jones and Jordan Emery-Barker's Puma all close behind. The BMWs of Mac Dixon and Carl Nolan were lapped at the end, while Smallfield regular Michael King, having his first Tongham outing, retired his BMW. Other's who didn't make it to the end included Connor Wright's Fiesta, after a couple of visits to the armco, and Leonard Bowen in a Mazda MX5.
Charlie Hemsby then took another runaway win in the final, with more of the ex-Angmering drivers excelling as Leanne Holmes hel second until she pulled off in the closing stages. Jamie Sayers then beat Lewis White and Cameron Croucher to the line for second, chased by Dan McNemamin, Matt Gurr, Charlie Freeland, Pete Stevens, Carl Nolan, Chris Snooks, Jordan Emery-Barker and Richard Pike. Charlie Hemsby took the overall trophy with Lewis White second and Matt Gurr third.
The ROOKIE BANGERS again turned out in good numbers, with 13 in the "small cars" group and 23 in the "large" group. Both lots were getting well stuck in, especially with the track needing generous watering before their second and third outings. Among the smaller cars, Dean Tompkins' Fiesta and John Ellis' Micra battled in the first heat, with Dean just ahead at the flag. John took the second race, but only after his daughter Francesca surrendered the lead to run one or two other cars into the fence. The final race went to Dean Tompkins again, ahead of Jamie Watts' Fiesta, John Ellis and former Angmering Junior Albert-Lee Garrett.
The Focus-dominated larger Rookies were on even more of a wrecking spree, with the first race being red flagged early, leaving Jeff Woolford the winner ahead of Brad Wells and Shaun Bennett. The other two races both saw Darren Jones uninterrupted at the front, with Lee Claxton second both times. Brad Wells was the top point scorer, with Darren Jones and Lee Claxton joint second.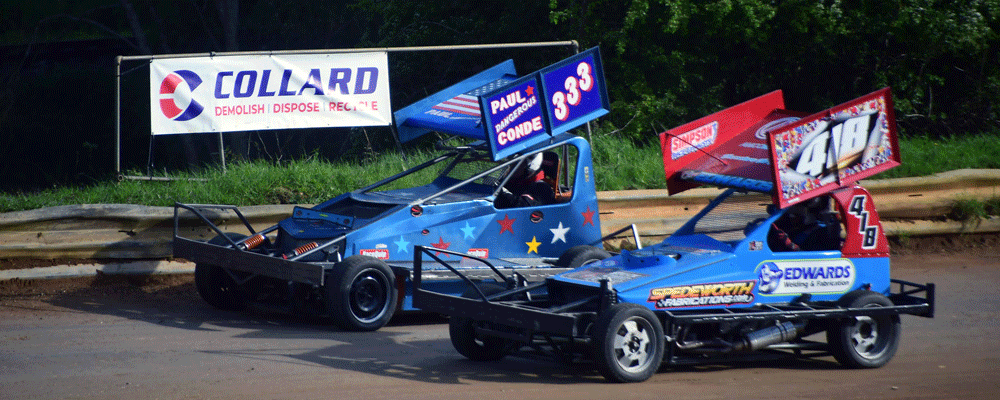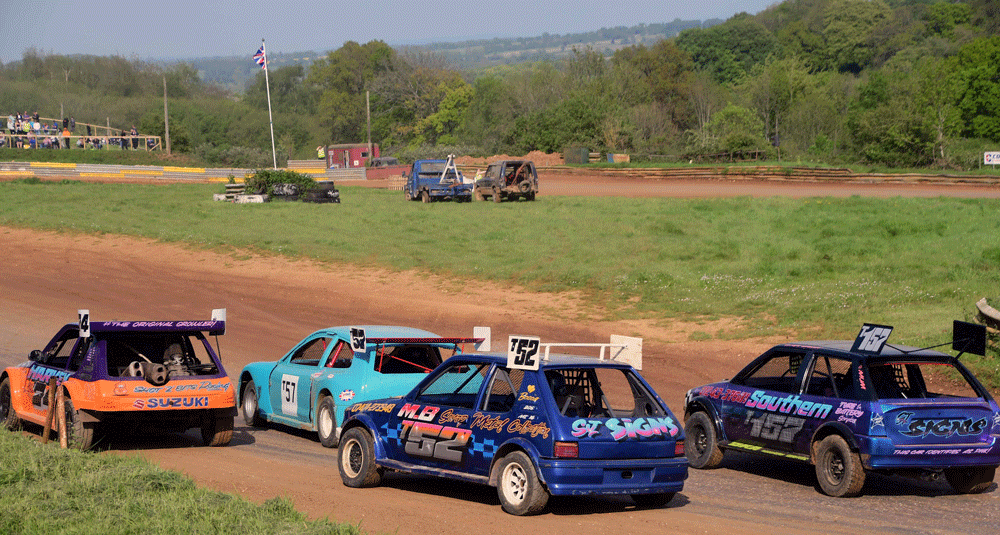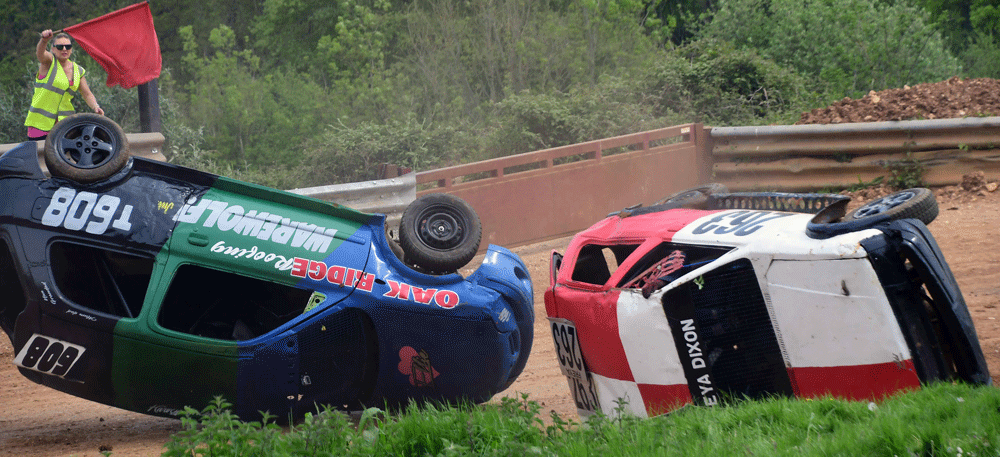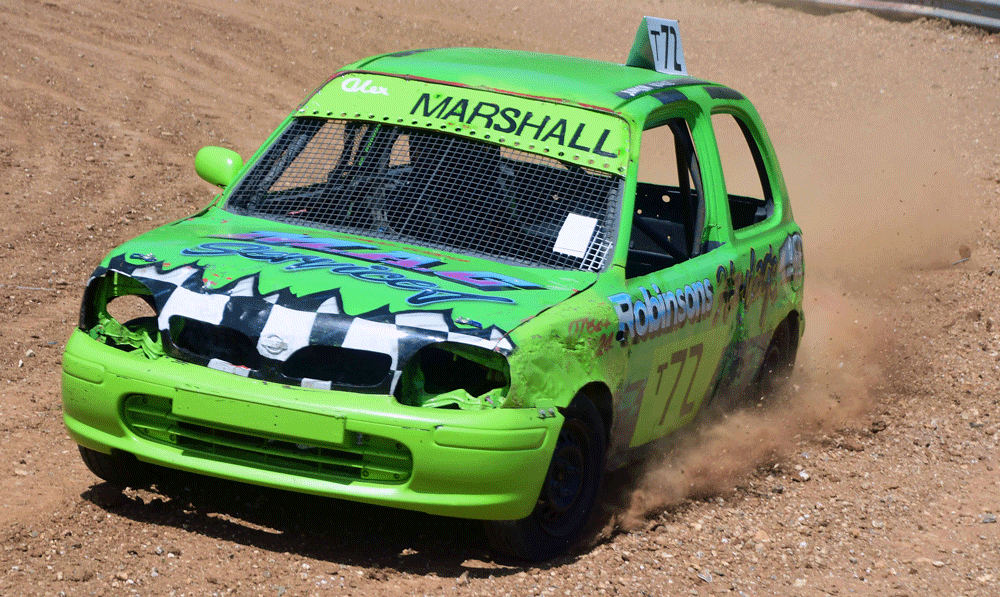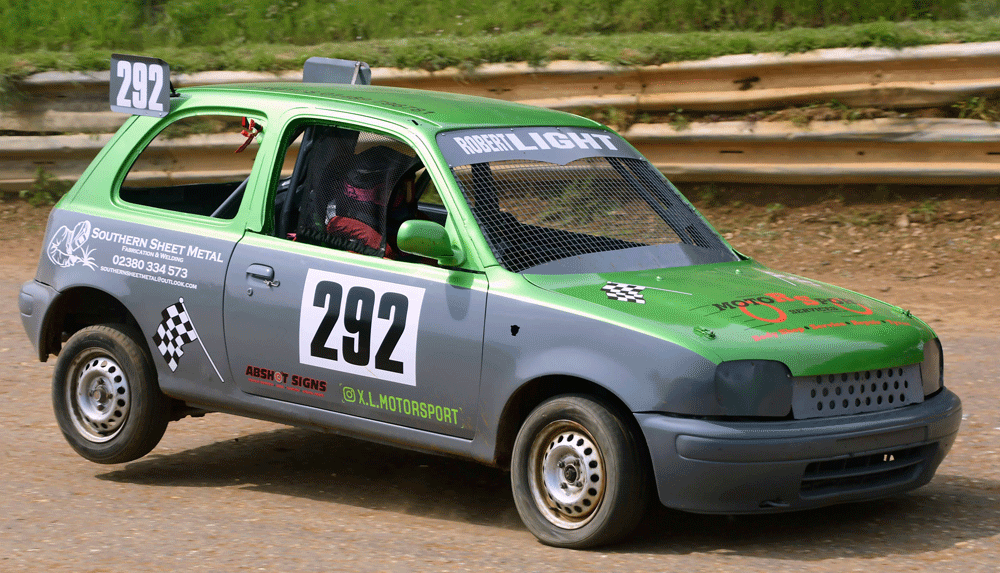 .