SWAFFHAM RACEWAY
Rolling Thunder Show Round 6 - 20 May 2023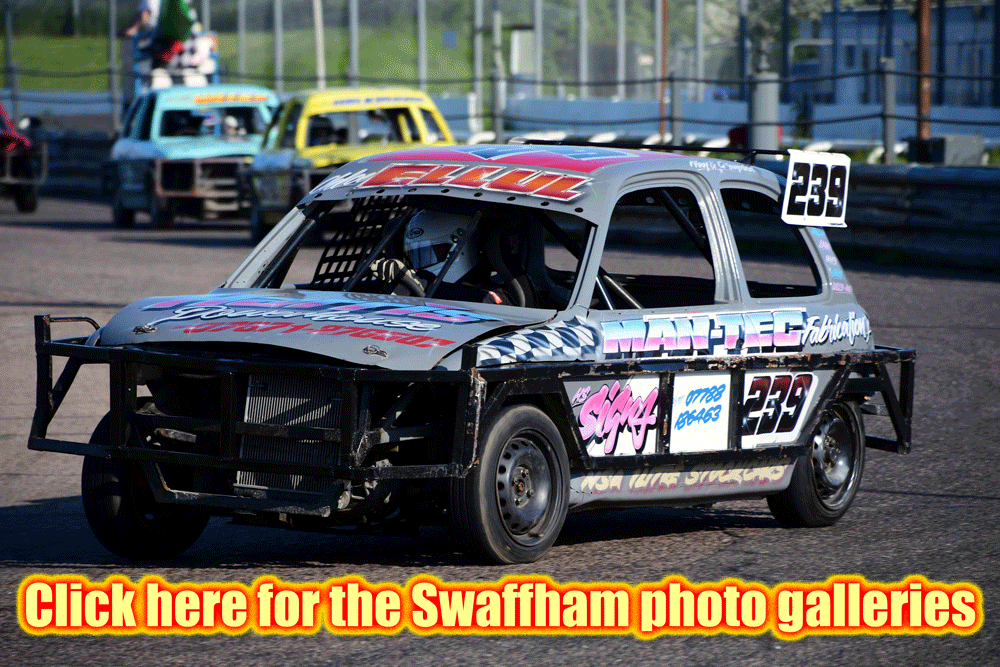 After the wettest meeting for a long time a fortnight earlier, the sun shone on Swaffham to provide perfect conditions for this RTS meeting with extras – three visiting classes being added to the normal schedule to make up a very busy afternoon's racing, which produced some excellent action.
Having their first Swaffham outing of the year were the NSA 1-LITRE STOCK CARS, although inevitably their grids weren't as big as they achieve at tracks nearer to home for their predominantly southern-based drivers. Six of the seven entries turned up and laid on their usual spirited action, with five starting from the blue grade and Bournemouth driver Colin Wilkinson having it all to do from the back. Former Standlake Junior Laura Ankerson led the first heat away but was soon passed by Isle of Sheppey-based Chloe Ellul, who led the rest of the way, chased by Lee Britton, the one Swaffham local in the field, with Colin Wilkinson third and Tim Bates, the furthest travelled driver, from the Devon/Somerset border, just beating Laura Ankerson. The formula's hard-working co-ordinator, Kellie Weeks, ended up at the back after her engine cut out in the early stages.
Next time out Kellie was in the thick of the action as Tim Bates got spun out, but up front Laura Ankerson was setting the pace, with Chloe Ellul and Colin Wilkinson closing in. As the lap boards came out Colin grabbed second and immediately made a dive for the lead, turning Laura sideways and carrying on to win, chased by Chloe, Lee Britton and Laura, with Kellie and Tim completing the order.
Tim Bates' fraught time continued as he, Kellie Weeks and Lee Britton all got involved in some keen bumper work at the start, with Tim coming off worst and pulling off. Laura Ankerson again led, with Colin Wilkinson moving up to take second from Chloe Ellul, only for Chloe to quickly repass. Colin was soon in front though and then pulled clear for a good win as Chloe held off Lee Britton and Laura Ankerson for second, with Kellie Weeks chasing them home.
The JUNIOR section of the 1-litre Stock Cars only fielded two cars but they provided their fair share of the action. Both were already title holders in the group with East Anglian Champion Tegan Davis (who seems to have a car for most classes at Swaffham) seeing off Southern Champion Harry Robinson in the first race. Harry put that straight with a big whack spinning Tegan out at the start of heat two, Harry then leading all the way. The final was stopped when Harry's bonnet flipped up at the start. To keep it fair, when Tegan picked up a puncture after the restart, it was stopped again and rerun later in the programme. Harry and Tegan battled until again Harry managed to leave Tegan facing the wrong way. This time Tegan chased Harry down again and got close enough to put the bumper in with two laps to go, but Harry held his ground and it was Tegan who went sideways, so the Bournemouth boy came home in front of the Norfolk girl.
The other visiting group putting in the miles were the predominantly Kent-based EURO RODS, who fielded seven cars for their second Swaffham meeting. The most "local" of them, Essex domiciled Nick Coombes, made quick progress in his Micra in the first heat, but got turned sideways as he grabbed the lead from Darren Necci's Peugeot 206. Charlie Goldsmith's Corsa emerged in front and held on to win, with John Morris sneaking his Corsa past Nick Coombes for second. The Corsas of Steven Jeffrey, Mick Letchford and Dan Spinner, borrowing Jack Meacey's 16 valve car, battled for fourth ahead of Darren Necci.
The second race was led for a while by Darren Necci before he ran wide and let Mick Letchford through, but Nick Coombes was lining up to pass them both, and Nick then pulled out a small lead to take a convincing win as John Morris held off Steve Jeffrey for second. These two had battled with Charlie Goldsmith until Charlie slowed and came in a smoky fifth behind Dan Spinner.
With Charlie missing, the others lined up in points order for the final, putting John Morris on pole from Nick Coombes and Steve Jeffrey. John and Nick ran side by side for three laps until Nick edged ahead on the outside, and the Micra was then never headed as Nick came home the winner, with John chased by Steve and Dan Jeffrey. Mick Letchford and Darren Necci completed the finishers.
Among the regular Swaffham classes the FRONT WHEEL DRIVE HOT RODS fielded six cars, although the long awaited debut of Mark Horne's superb Honda-powered Citroen DS3 had to wait until the second heat as Mark had last minute problems. Andrew Buckett's C2 led most of the first heat, with Chris Head's Fiesta taking most of the race to work his way up to second. Once out of traffic, Chris quickly caught Andrew and got past on the outside to win, with Andrew a good second and Kev Brocklesby's Corsa holding off Chris Cole's Puma and Kev Head's Fiesta for third.
The second heat saw Andrew Buckett again take a good lead from the front as the rest of the field battled for position. With five laps to go Chris Head cleared his uncle Kev for second and started closing on Andrew. With a lap to go the yellow Fiesta was on the tail of the green Citroen but the last corner move round the outside came up a few inches short and Andrew took the win from Chris. Kev Head hung on to third from Chris Cole and Kev Brocklesby, with Mark Horne having an encouraging shakedown run from the back of the grid.
Sadly Mark pulled off on the warm-up lap for the final, and the race began with the field all well spaced out and Chris Head having half a lap to make up on the leader, although this time he had more laps to do it. Kev Head steadily closed in on Andrew Buckett for the lead and made it to the front with five laps to go, but Chris Head by now had them in his sights. For the last three laps the two Heads were side by side but Kev held on and beat his nephew to the win, with Andrew still close behind in third. Kev Brocklesby won his battle with Chris Cole four fourth.
The LIGHTNING RODS had a reasonable field of five cars, with action guaranteed as George Morris and Dave Imber were both back in the fray. It was almost the wrong sort of action as George, Dave and Russ Thornton were three abreast as they passed lone white top Kevin Goddard in the early stages, Kevin being the unlucky one who went spinning onto the infield. Later on as George and Dave battled for second behind Danny Sanderson it nearly went wrong again as they lapped Kevin, with Dave launched in the air. Eventually George caught and passed Danny for the win, with Dave third ahead of Russ and Kevin.
Next time out Danny Sanderson was quick to go for the lead, and then set such a pace that George just failed to catch him. Russ was third after Dave Imber slightly brushed the armco, and pulled off a couple of laps later with a puncture.
Danny repeated his fast start and spectacular progress once he was in front, and came home a clear winner in the final, with Dave Imber this time getting ahead of George Morris for second and Russ Thornton and Kev Goddard completing the order.
The Junior 1 LITRE HOT RODS just had four cars this time, but the racing was as close as ever. Danny Coombes pulled off at the start of the first race, in which Emilie Smith got the better of a battle in the early laps with Sid Pearl. Sid was docked a place after a slight touch with Emilie, letting Karl Renwick up to second. For the next race Danny Coombes problem was solved and he took the lead from Karl Renwick, with yellow flags briefly pausing the action after Karl spun out. After the restart another unlucky contact between Sid Pearl and Emile Smith put Emilie in the armco as Sid chased Danny home.
The final saw the good clean race-long battle between the current top three in the class, with Danny Coombes holding off Emile Smith and Sid Pearl, while Karl Renwick took fourth.
The NINJA KARTS were down to half the numbers from recent events, with six karts lining up. Parker Smith won all three races, coming home in the two heats clear of Archie Carter, debuting a new kart, Thomas Wilkins and Freddie Taber, with Frankie Read taking an early lead in both races but dropping to fifth ahead of Dolly Rae Keenan. In the final Parker had a harder time, being caught at half distance by Thomas, but holding him off all the way to the end. Archie Carter caught up after an early spin to take third in front of Frankie Read and Dolly Mae Keenan, while Freddie Taber didn't start.
One front runner missing from the Ninjas recently has been Charlie Barber Jnr, and he made his debut in the JUNIOR SCREAMERS at the wheel of a smartly painted Fiesta, lining up alongside Dyan Rees, having his second meeting in his Honda Jazz. Charlie held off Dylan to win all three races.
The meeting concluded as usual with the SCRAPYARD SCREAMERS, featuring three generations of one family among the five drivers. Veteran PRI racer Mick Meekings joined his son-in-law Roy Cornell and grandson Mushy. Dan Booker's Focus won the first race with Mick in a Civic diving past Mushy's Focus for second and Dan Cannon's Corsa close behind. Roy Cornell only made it out for the second race, with his Astra sounding very sick, while Mick held off Mushy and the two Dans to win. Mushy Cornell then took the lead in the final, holding on in a side by side duel with Dan Booker until, with a lap to go, just like the previous meeting, Mushy's Focus went sick. Mushy then slid into the armco at the start marshal's feet, prompting chequered and red flags with Dan Booker the winner from Mick Meekings and Dan Cannon.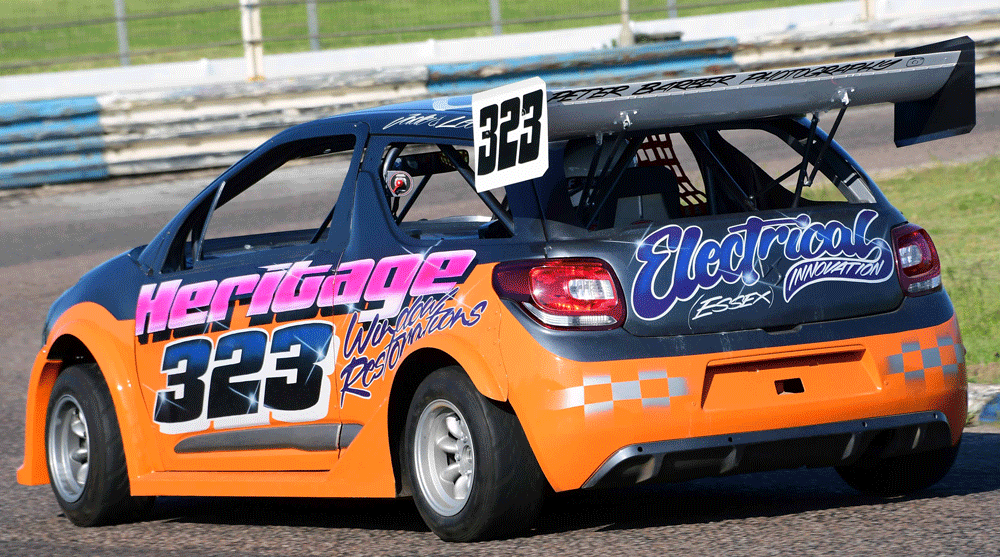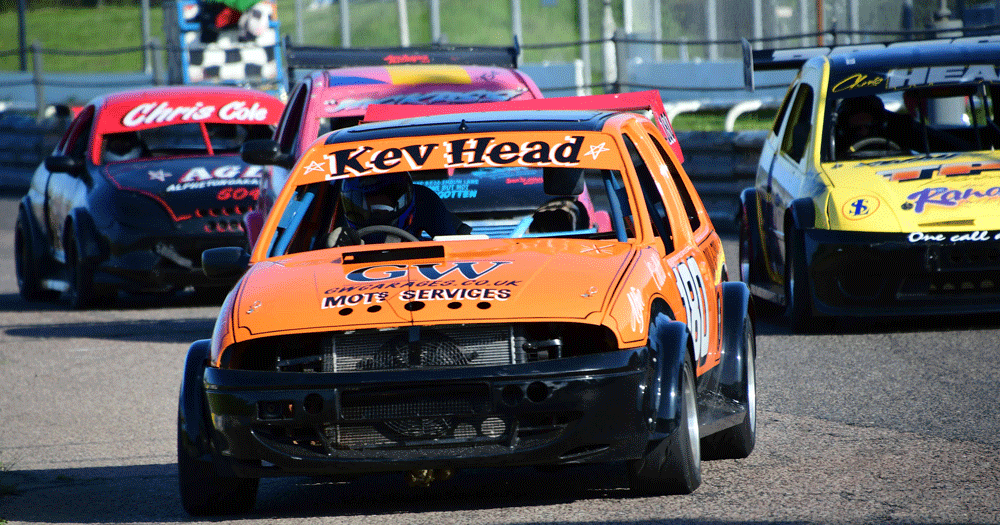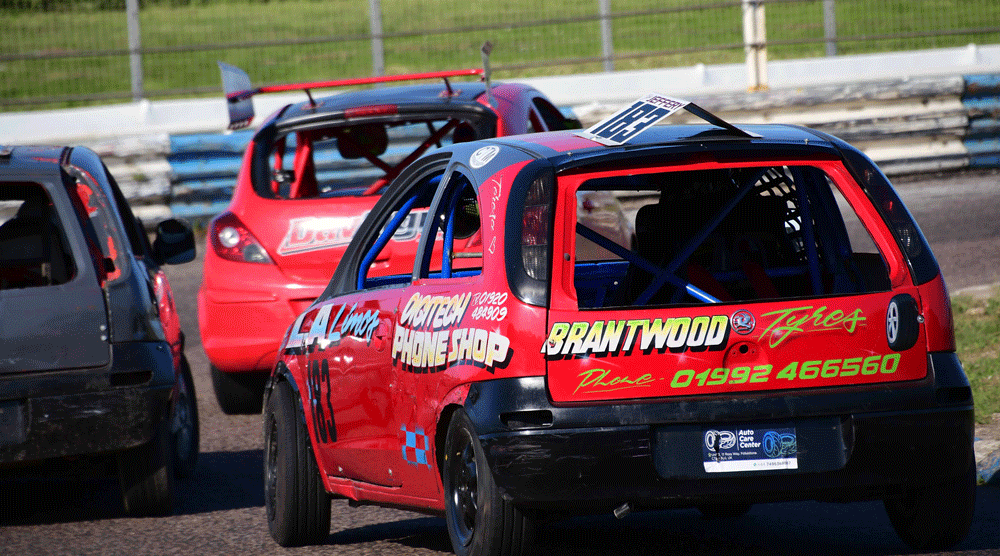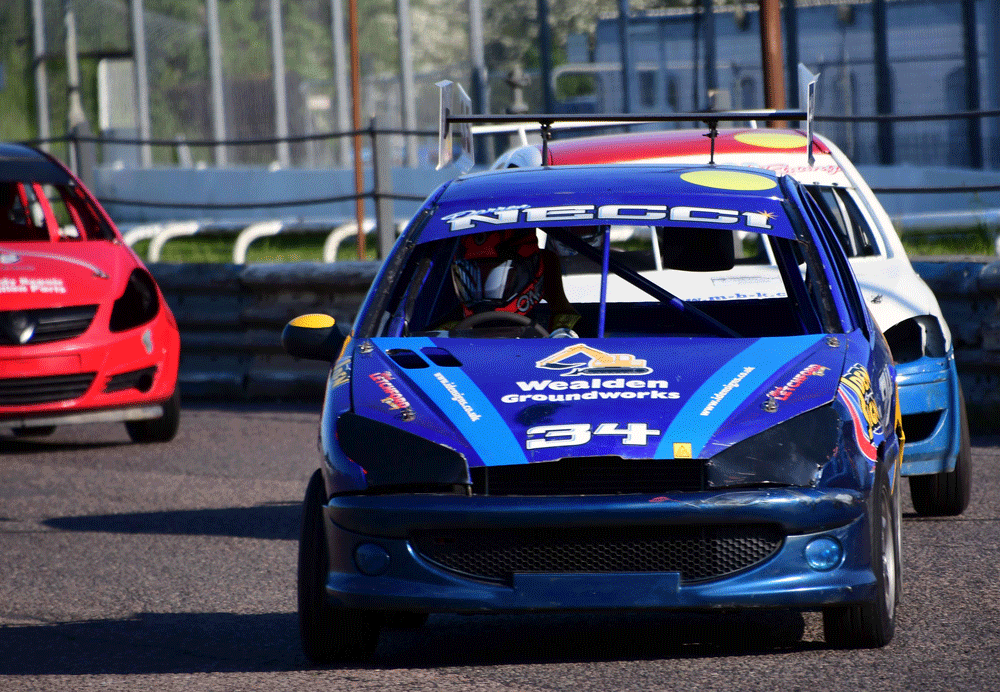 .