TONGHAM MOTOR CLUB

Round 3 - 28 May 2023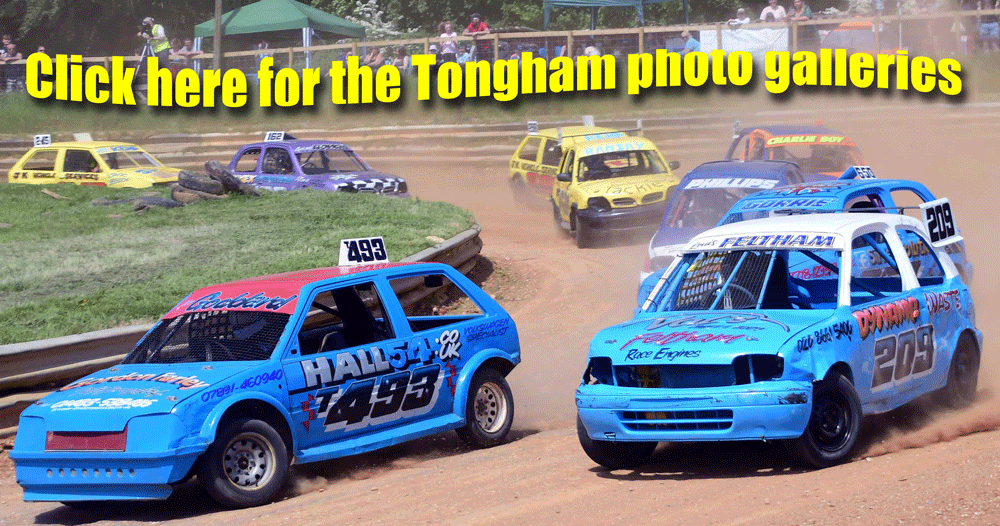 Warm sunshine and a bank holiday atmosphere set the scene for Tongham's third 2023 meeting, with packed pits and full spectator banks to see some hectic, and occasionally fraught, action. In the summery conditions, dust was the main issue in the first heats, but Tongham's surface only requires relatively quick trips out for the water cart, compared to most Autograss tracks, and the dust was soon pretty much under control, with the track in excellent condition. The timetable ran a bit smoother this time, despite a few stoppages again, and the last race was completed bang on time at 5pm.
PRODUCTION A had another packed grid with 23 cars (19 of them Micras) starting the day. First to show at the front was Sadie Plant, again sharing her boy's Micra, and doing well to lead until the day's first red flag, with Oliver Hester's stranded Micra invisible in the dust. Sadie led the restart away but Alan Goddard and Louis Feltham were quickly on her tail and it was Louis who came through for the win, with Alan's AX holding off Shaun Phillips for second and Aaron Hough piling on more points in fourth. Zak Gorrie was next, with Sadie still well in contention in sixth, ahead of Gary Drawbridge, Woody Kemp's Nova, Mark Ramsay, Carl Sewell, John Kemp's Nova, James Rich, Bob Salter's 106, Jamie Hales, Cameron Wellgreen, Willow King, Liam Jordan, Jamie Dade, Laura Connors and James Feltham, in very roughly that order, while Jamie Duff and Harris Street fell by the wayside.
Race 2 was headed away by the three yellow cars of the Kemp team, who continued to battle among themselves, occasionally a bit too closely! Quickly though Zak Gorrie came through to lead and he was only passed by Louis Feltham, with Louis then taking his second win, chased all the way by Zak, with Aaron Hough third. Alan Goddard beat Bob Salter and Shane Phillips for fourth, and then came John Kemp, Jamie Duff, Mark Ramsay, James Rich, Cameron Wellgreen, Jamie Hales, Adam Dade and Laura Connors. Carl Sewell, James Feltham, Willow King, Oliver Hester and Woody Kemp completed the finishers with Harris Street again pulling off and Gary Drawbridge flagged off with a trailing bumper.
There were still 21 cars to take the start of the final, on a freshly watered track. Sadie Plant again led before giving way to John Kemp, but Louis Feltham once more lost no time in getting to the front and was heading for his third win of the day when the reds came out early, with Cameron Wellgreen stranded on the bottom straight. Louis was awarded the win, with Zak Gorrie again second, and Gary Drawbridge, Harris Street, Aaron Hough, Alan Goddard, John Kemp, Mark Ramsay, Woody Kemp and James Rich completing the top ten. Also in contention as the reds came out were Shane Phillips, Adam Dade, Jamie Hales, Willow King, Sadie Plant, Bob Salter, Carl Sewell, Oliver Hester and James Feltham, while Laura Connors pulled out.
PRODUCTION B had a more manageable nine cars, but they still had their share of action. Skye Plant led away on a watered track, but after sideways movements for Skye's Micra and John Beck's Nova, Kodi Page came through the lead the rest of the way, his Micra nearly caught by the end by Rob Salter's Peugeot. Aaron Culley's Micra was third from John Beck, Dave Blackburn's Nova and Callum Penfold's Corsa, with Skye and Ryan Stafford's Corsa completing the order and Thomas Connors' sick K10 Micra pulling off.
Heat two saw Rob Salter on top form, taking the lead from Skye Plant and pulling away for a dominant win, ahead of Kodi Page and Aaron Culley. Skye held her own until she got airborne entering the pits bend, with the first thing to stop her being team-mate Dave Blackburn's door! John Beck took fourth from Callum Penfold with the still off song Thomas Connors in sixth ahead of Skye and Ryan Stafford. The final saw Skye Plant and John Beck leading before Rob Salter came through, again looking unbeatable. However, something broke on Rob's car, leaving him facing the wrong way, and the reds came out with Aaron Culley taking his first win since his graduation from Juniors, with John Beck second ahead of Kodi Page, Skye Plant, Callum Penfold, Thomas Connors and Ryan Stafford.
Nine cars turned out in the 1450 HOT RODS, including one new car, a smart FWD Nova for Scott Evans, who'd raced in SEGTO from 2001 to 2012, but more recently has been seen on the circuits in Citroën C1 endurance racing. A few problems first time out meant Scott didn't get too many laps in this time, though. The first race saw a FWD winner as Wayne Hibberd's ex-Johnsey Nova led all the way, while Tim Ashton-Jones continued to improve his ex-NASA Class 5 Mini, beating the usually all conquering Jason Woodgate for second. Ben Stockley's Micra chased the two Minis home, and then came a quartet of former Angmering drivers, with Nathan Stilwell's Civic just beating Sam Harriss' Micra, and Matt Stilwell in the other Civic similarly just beating Mo Penfold's Micra.
Race two was back to business for Jason Woodgate, quickly getting past Tim Ashton-Jones and then catching and passing Wayne Hibberd to take the win, still closely chased by Wayne, Tim, Ben Stockley and Sam Harriss. Nathan Stilwell just got the better of Mo Penfold, but Matt Stilwell blew up with a lap to go.
The final was one of the day's closest races, with Wayne Hibberd holding on in front of Tim Ashton-Jones and Jason Woodgate for 11 of the 12 laps. Jason finally cleared Tim and was able to make his move on Wayne going into the last lap, with Jason taking a hard earned win over Wayne and Tim. Ben Stockley took another fourth place, and this time Mo Penfold got the better of Nathan Stilwell and Sam Harriss.
The SUPER SALOONS also featured nine cars, with a couple of very welcome additions. Mick Peacock made a comeback to racing in a 2 litre Hot Rod spec Nova-Pinto, while there was a guest appearance by none other than SEGTO legend Nicky D'Souza. With his work schedule temporarily calling a halt to his Stock Rod career, Nicky was reunited with his last dirt car, the still spotless RWD Mini being shared with owner Jason Woodgate. There was also a change of car; after Graeme Taylor turned his ex-National Hot Rod Colt into a winner last time, he'd transferred the same set-up onto his Corsa. This class is now looking fascinating with cars originating from National and 2-litre Hot Rods, Autograss Classes 6 and 7 and traditional steel-shelled FWD cars all looking equally competitive around Tongham. Laurence Connors has the "Growler" back on top form this year, and he held off Graeme Taylor and Olly Adamson's impressive 1600 AX to win race one. Nicky D'Souza was loving his return to sideways action as he came in fourth from Michael Brooke's FWD 205 Mi16, and Mick Peacock, taking very well to the dirt. Completing the runners were three ex-Class 6 cars; Callum Gosney's Saab turbo-powered 106, Junior graduate Chloe Duce, making her debut in the Zetec-powered Nova, and Rory Bennetts, whose Vauxhall-powered Golf dropped out after leading from the start.
Second time out Laurence again got past early leader Rory Bennetts and held off Graeme Taylor until, in the closing stages, Graeme finally found a gap and came home the winner from Laurence, with Mike Brooke holding off Olly Adamson for third and Rory Bennetts finishing just ahead of Mick Peacock and Nicky D'Souza, while Callum Gosney and Chloe Duce again completed the finishers.
The final wasn't quite as close as this time Graeme Taylor found a way through to the lead early on, and pulled out a small gap to win from Laurence Connors and Olly Adamson, with Nicky d'Souza snatching fourth on the line from Mike Brooke. Rory Bennetts came home sixth from Callum Gosney and Chloe Duce, who completed her objective of three finishes first time out, while Mick Peacock pulled off.
The SPECIALS grid had recovered to seven cars, with the addition of former Hot Rod racer Duane Peacock, who debuted late last year in the ARD-Hayabusa which, at that stage, Poppy Carter wasn't yet allowed to race! Poppy herself, in her current car, continued to gain speed and confidence as she led the way in the very dusty first heat, but Duane Peacock adopted a driving style that some called boring, but it worked as he came home a clear winner from the battling Chris Carter and Ashley Lock, with Poppy finishing fourth ahead of Graham Baker in the now vintage-looking ex-Danny Stafford car, and Stuart Jewer's 8 valve Vauxhall car, while Shaun Page made an unfortunate exit, ploughing hard into the armco after a brake failure.
The second race saw Poppy hold the lead until well into the second half, but eventually Ash Lock flew past, with Chris Carter in hot pursuit. Chris cut inside Ash on the last lap to take the win, with Poppy holding third from Stuart Jewer and Duane Peacock, while Graham Baker completed the order. In the final, the lap countdown boards were out by the time Poppy finally surrendered the lead to her dad, with Chris having taken most of the race to find a way past the on-form Ash Lock. Chris took another win, with Ash just holding off Duane Peacock on the line, and Poppy fourth from Stuart Jewer.
One class slightly down on numbers from the first two meetings was the THUNDER RODS, but a very varied 16 car grid was still plenty. The first race was led away by Connor Wright's Fiesta, soon giving way to class debutant Carl Stacey in a 2.8 BMW. Pete Stevens' MG made good progress through the pack to take the lead, but he was closely chased by Lewis White and Lewis came through to take another win for his Mazda MX3, ahead of Pete, Jamie Sayers' MG and Matt Gurr's points leading Fiesta. Les Croucher's Civic headed the next group, from Charlie Freeland's MG, Leanne Holmes' BMW and Jack Soper's Fiesta, with Carl Stacey's BMW getting a bit smoky and dropping to ninth, ahead of Graham Booth, making a comeback to Tongham in Len Bowen's MX5. Dean Page's Sierra Estate was the last finisher as various problems befell Ash Cousins' Sierra, Connor Wright, David Lock's Astra, Keith Lovegrove's 206 and Carl Noble's BMW, whose bonnet flew up at the start.
A freshly watered track shook up the order in the second race, but made no difference to the winner! First year driver David Lock had his best race yet in his Astra, leading until the closing stages when Lewis White found a way past on the outside to win from David, Pete Stevens, Jack Soper and Matt Gurr. Carl Noble had a good run to sixth, holding off Jamie Sayers and Les Croucher, with Connor Wight, Keith Lovegrove and Dean Page completing the finishers.
The final was down to 12 cars and Jack Soper soon took the lead from Connor Wright, Jack staying in front until Lewis White came through to complete his unbeaten day. Jack finished second and Jamie Sayers took third from Matt Gurr, Les Croucher, Pete Stevens and Charlie Freeland, followed by Dean Page and Connor Wright.
Probably the most hectic class proved to be the SEGTO JUNIORS, up to 21 cars thanks to an influx of drivers graduating from the novice class, some of these opting to start from the front and some from the back. The first heat was abandoned after three stoppages for various incidents around the track, culminating in a big pile-up as the pack disappeared into the dust on the bottom straight. Leading the way on each attempt had been Archie Ginns' Saxo.
The second race gave Archie the chance to show what he could do over the full distance, and he led all the way, holding on under pressure from Fin Chance, who couldn't quite edge ahead on the outside line and had to settle for second, in what was probably also his best race yet, with Harvey Green closing right up in third. Then came James Rich, ahead of the battling Annabelle Palser, Harvey Wareham and Ryan Blair, chased by points leader Teddy Kemp, now coming from the back of the red grade. Cortney Hales held off Cherie Wells for ninth and the finishing order was completed by Todd Wallace, Brayden Dixon's Nova, Bailey Ramsay, Robert Light, Harvey Wareham, Justin Johnson and Kayleigh Sewell, while Tyler Cushing had a puncture, Alexia Bowen and Riley Jordan also retired and Lacey Chance was the only one who couldn't start after all the first race damage.
The field had been thinned out to 16 cars for the final, and again Archie Ginns led all the way, chased by Fin Chance and Harvey Green. Harvey moved up to second, but Fin got the place back in the last corner, with James Rich and Harry Loader closing up in fourth and fifth at the end. Teddy Kemp headed a battle for sixth, ahead of Ryan Blair, Cherie Wells and Annabelle Palser. Todd Wallace held off Harvey Wareham to complete the top ten, with Brayden Dixon and Alexia Bowen next up. Cortney Hales picked up a puncture and Robert Light and Mark Ramsay pulled off.
The NOVICE JUNIORS had seen a few drivers move up, but still had a good field of 13, who produced a clean first race, although their second and third outings both had to be stopped early. Josh Stilwell made much of the running in the first heat, but was passed in the end by Jaymee-Lee Gorrie, who took the win from Josh, while Charlie Plant had a good run to third ahead of the spectacularly hard trying Alex Marshall and Kara Duff. Toby Foreman came in sixth from Ella Dade, Elliott Simmonds, Freya Dixon, Lily Green, first time racer Owen Powell and Ellie Lines.
Riley Bowden joined the field for the second race, being given a good start over the rest of the novices for his first meeting, and he led up to half distance. Jaymee-Lee Gorrie then came through to lead before the red flags stopped the race early, with Owen Powell hitting the armco beside the pit gate. Jaymee-Lee won, closely followed again by Josh Stilwell, with Riley Bowden in third from Elliott Simmonds, Kara Duff, Alex Marshall, Ella Dade, Lily Green, Toby Foreman, Charlie Plant, Freya Dixon and Ellie Lines.
The final was again led by Riley Bowden, but it was Josh Stilwell who established himself in the lead before another red flag stopped the race early, with Lily Green having problems on the farm bend. Riley Bowden was still second, with Kara Duff, Toby Foreman, Elliott Simmonds, Jaymee-Lee Gorrie, Alex Marshall and Ella Dade close behind. Charlie Plant had handed his car over to his cousin Katie for her first ever race, and she came in ninth ahead of Owen Powell, Ellie Lines and Freya Dixon.
The ROOKIE BANGERS were out in good numbers and doing loads of damage. With 12 cars starting the "small" race the red flags were soon out for a stranded car, allowing another four drivers who'd been late to the gate to join in for the restart, soon receiving another red flag after Max Livingstone rolled along the top straight fence. After another restart, Jamie Watts appeared to take the flag in front of Brian Pugsley and Alec Constanduros, although that result was later reversed. Second time out Brian Pugsley kept well ahead of all the trouble to win, on a watered track, with John Ellis second and former Angmering Junior Prod driver Albert-Lee Garrett third. There were still 13 cars running for the final, which Brian Pugsley again led all the way, to win from Alex Constanduros and Francesca Ellis, with Jamie Watts, Albert-Lee Garrett and Emily Gould the only other finishers.
The larger Bangers fielded 25 cars, of which seven made it to the finish of the final. The first race went to Jack Allen's Astra from Lee Vaughan and Jason White. Jack Allen was also leading the second race when that was stopped to put out a fire in Lewis Carter's Focus. The final produced plenty of action, resulting in Lee Vaughan winning with Angmering racer Richard Davis the only other to go the full distance, while Matt Thomas, in a Calibra, Simon Dixon, Lucien Saunders, Alex Paterson and Aaron Palmer were the others running at the end.
For the first time this year, there was enough time to complete the meeting with ALLCOMERS' and MECHANICS' races. The Allcomers was won by Chris Carter after blasting past a side-by-side duel between the Prod As of Thomas Connors, in sister Laura's car, and Aaron Hough. Matt Gurr came through to second from Thomas, Aaron and Jack Soper. The Mechanics' race went to Shane Ginns, in son Archie's car, holding off Adam Dade and Cameron Croucher, in Robert Light's car.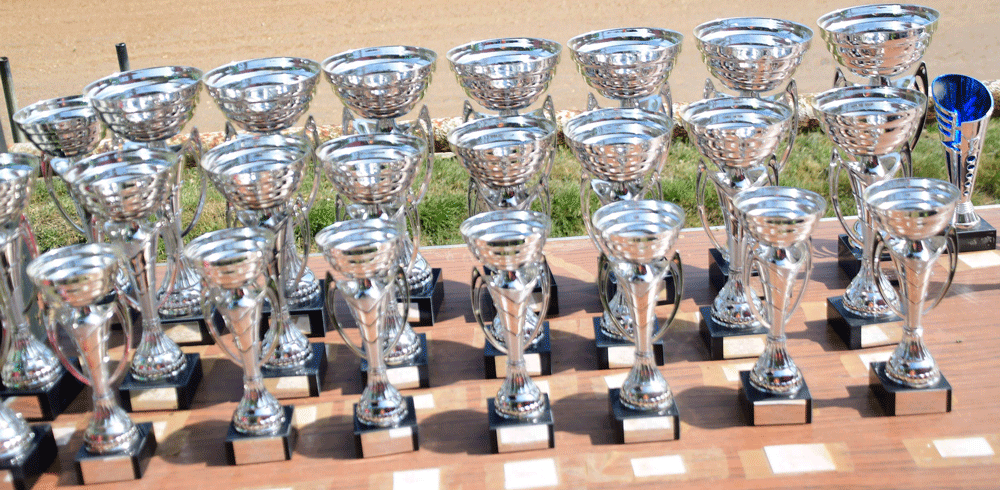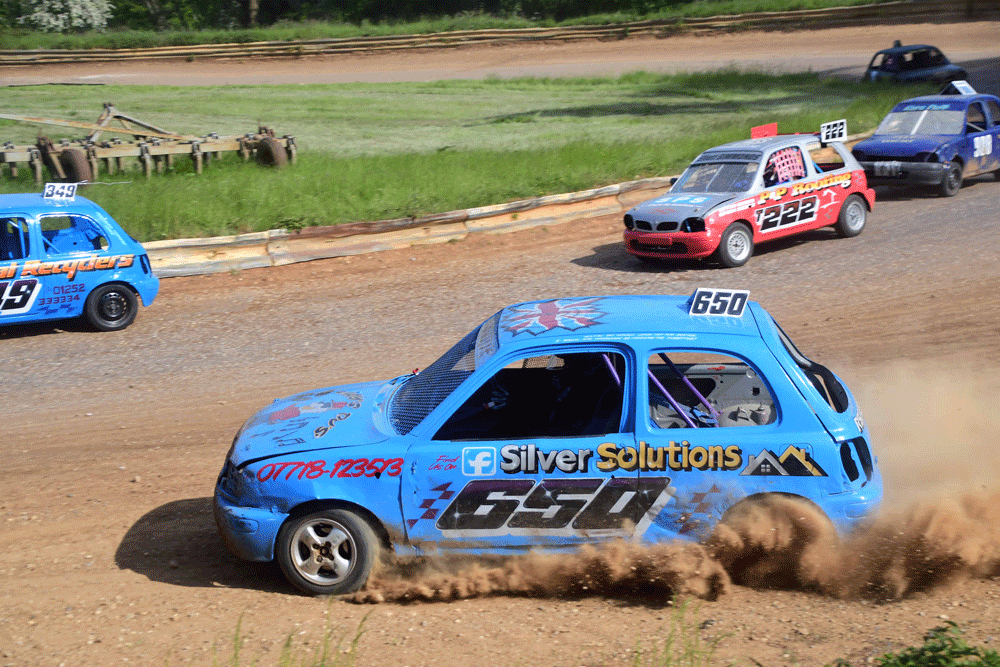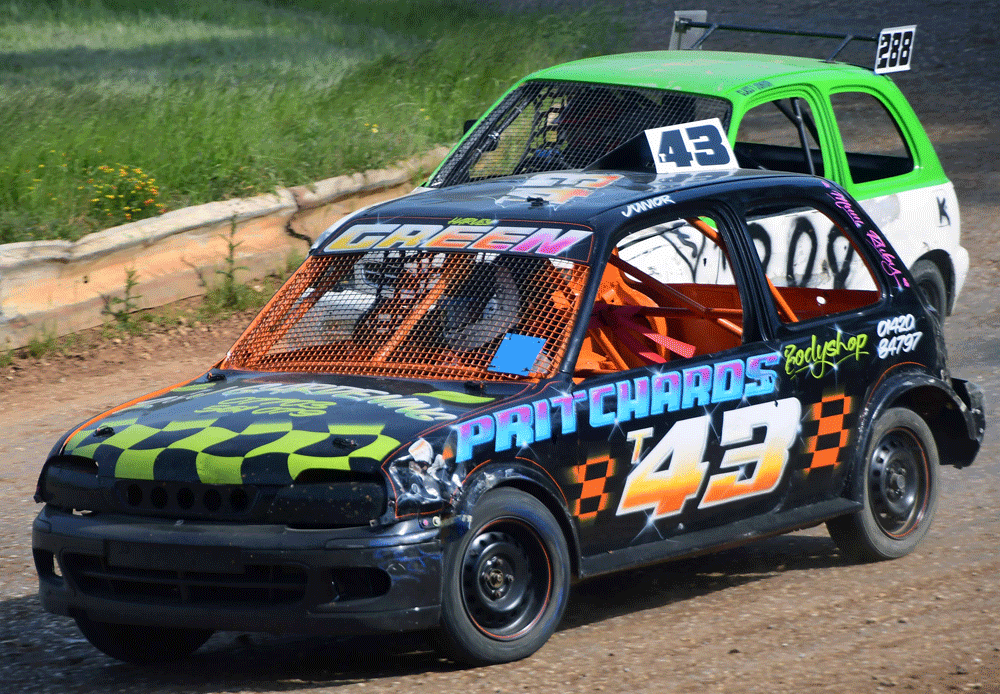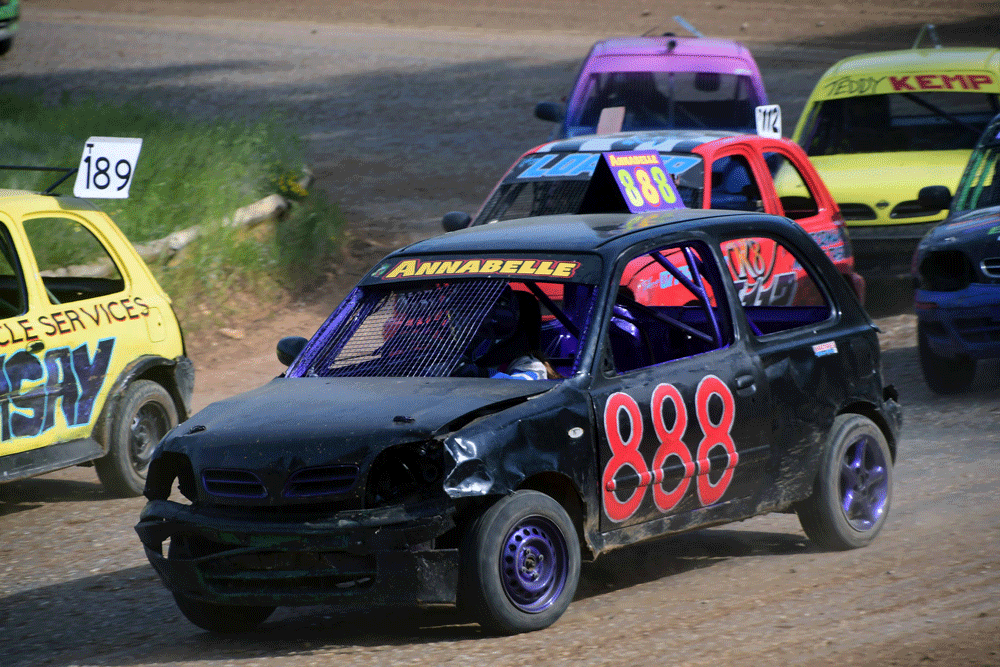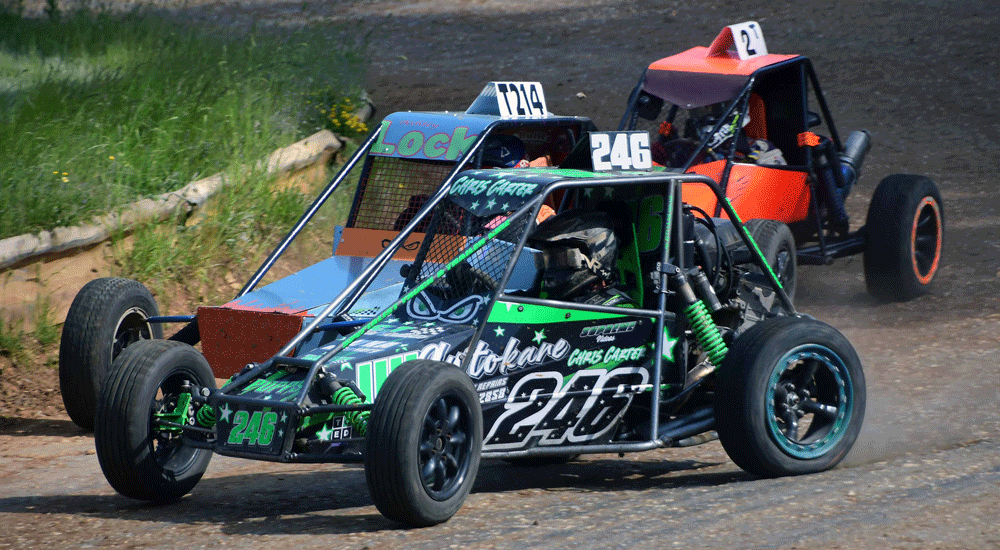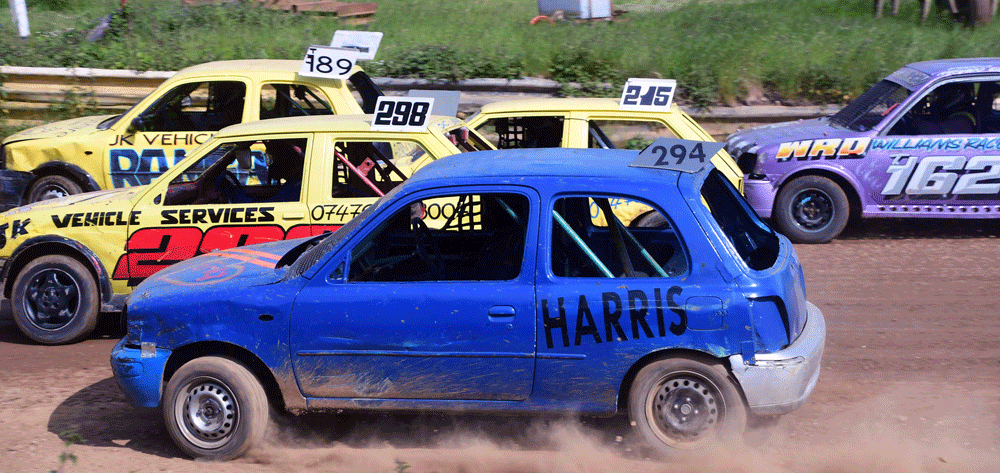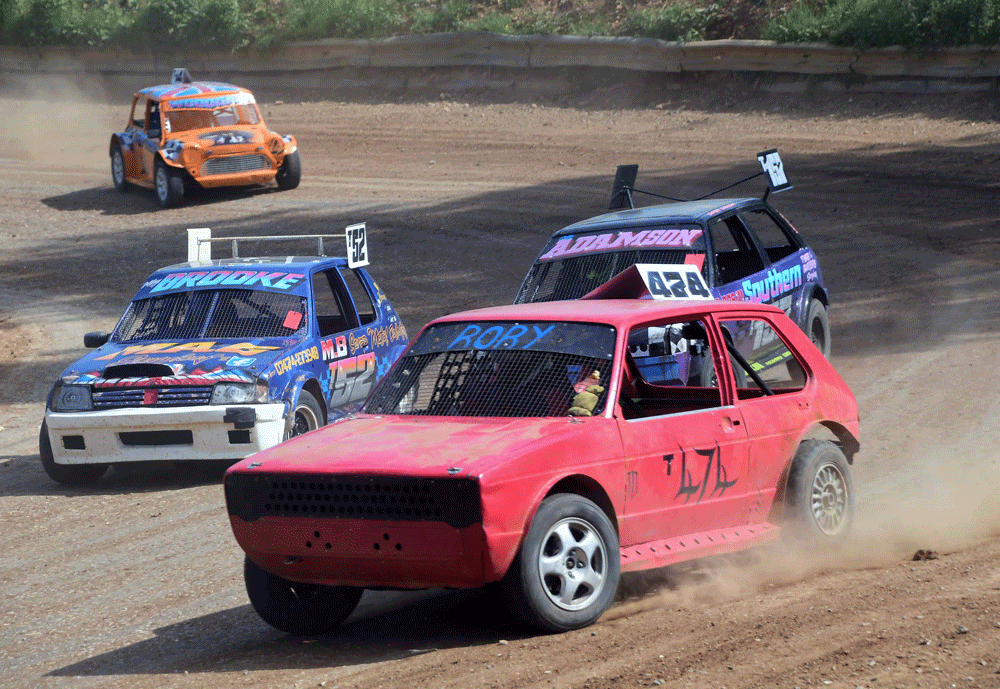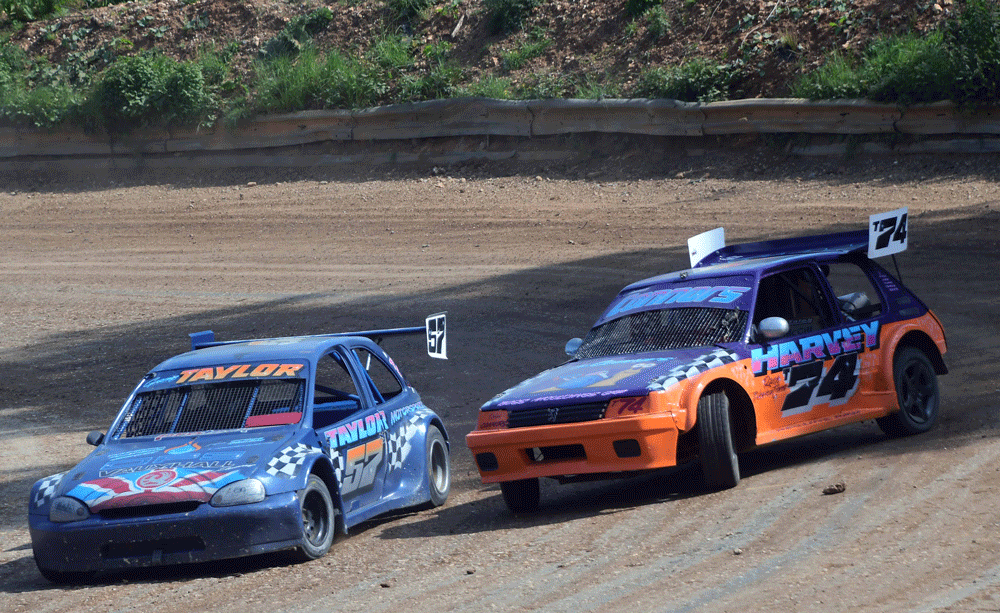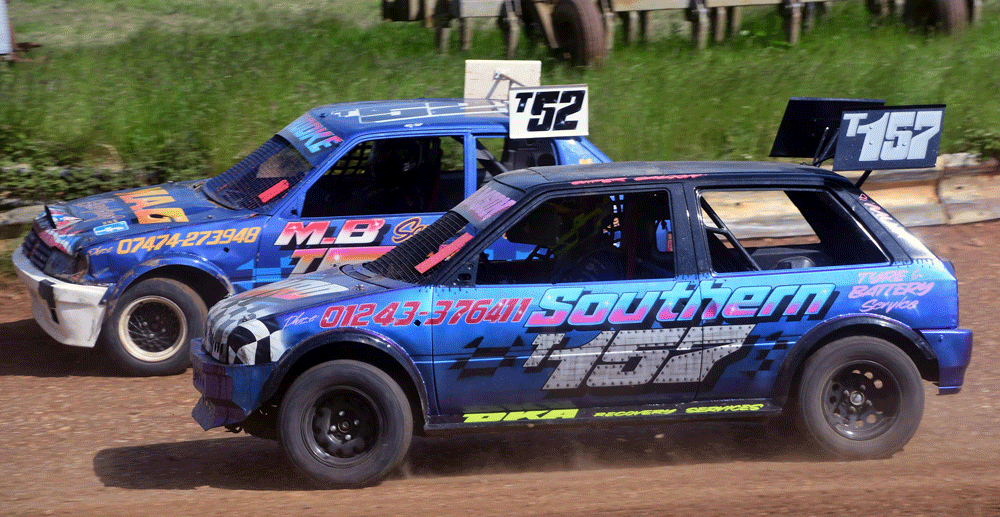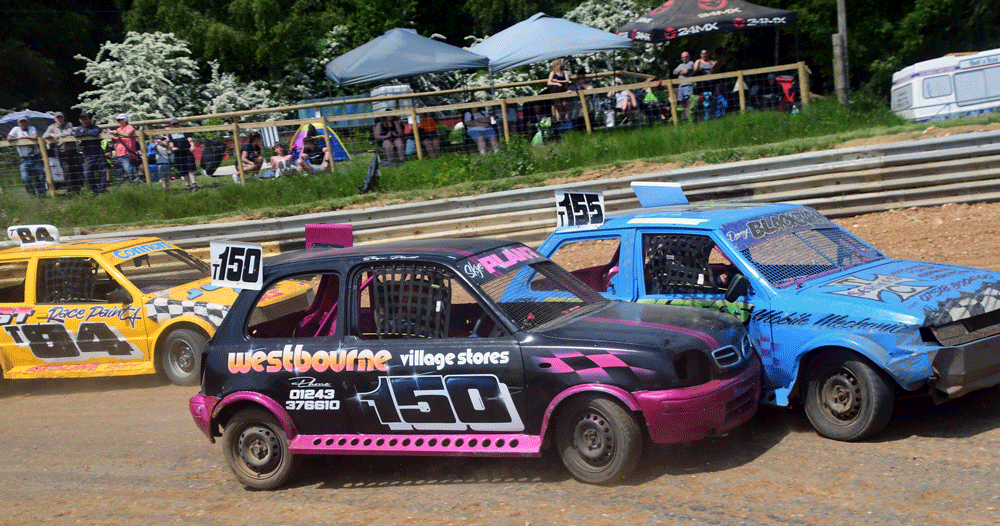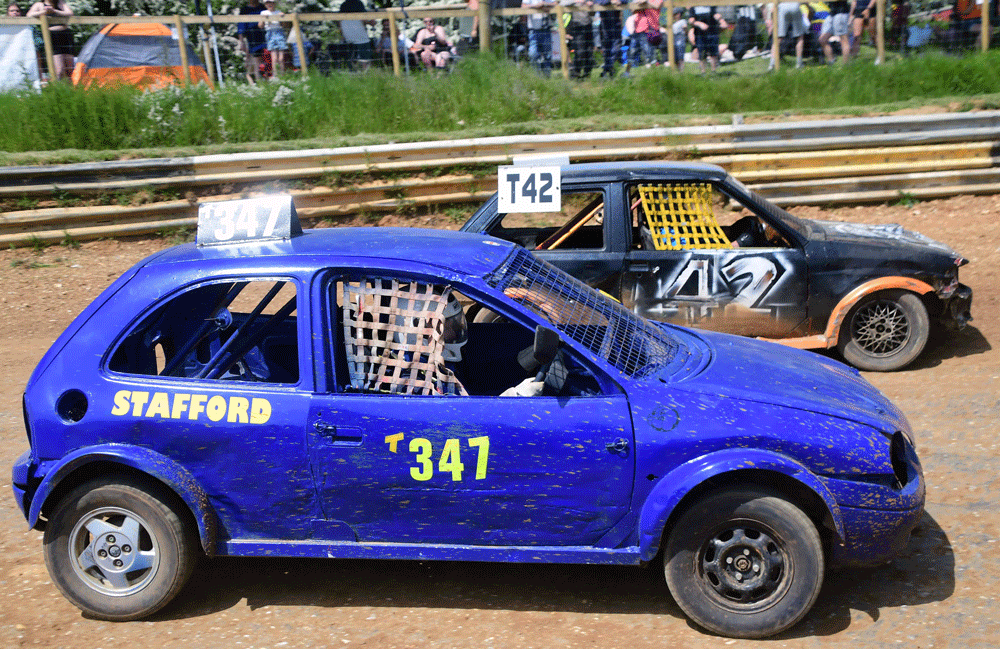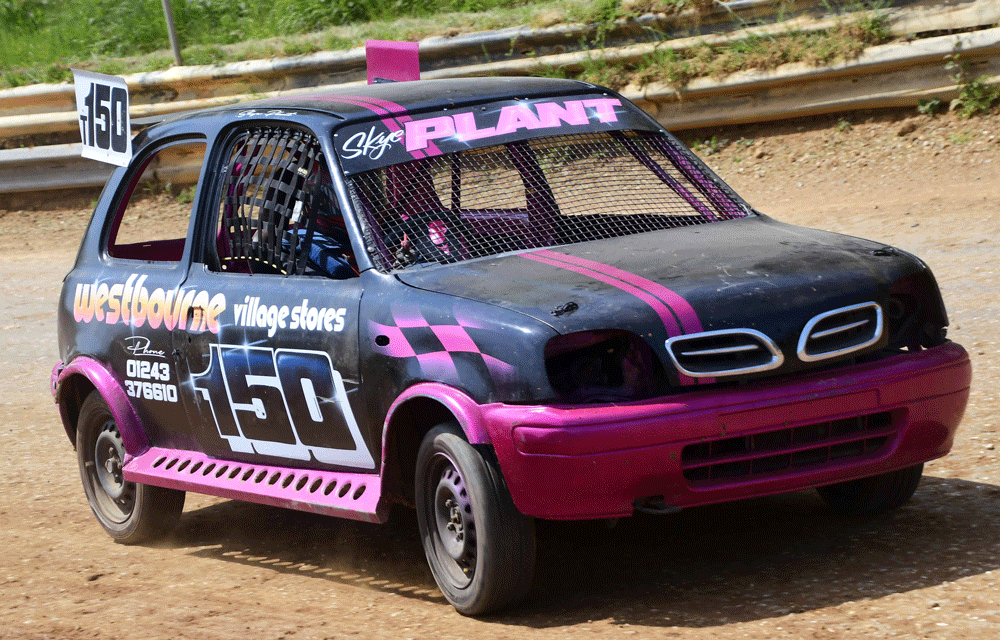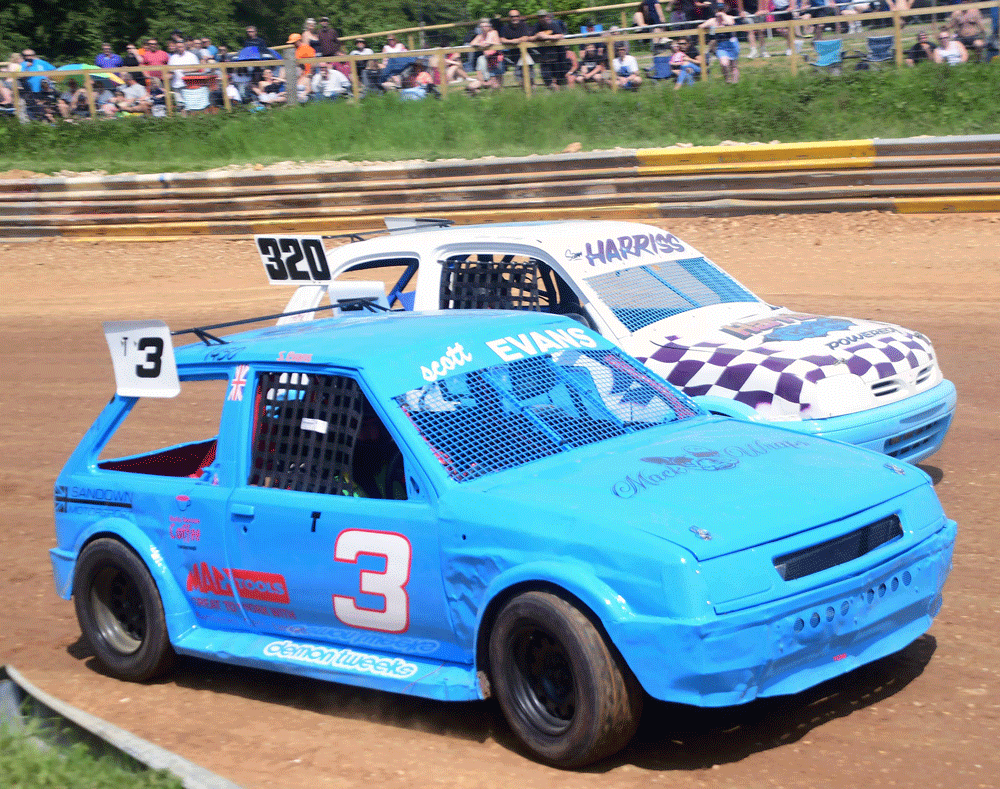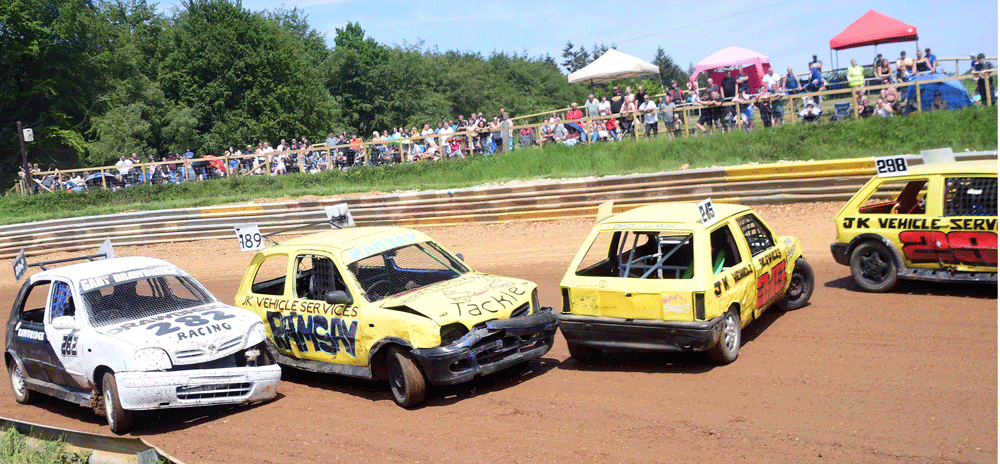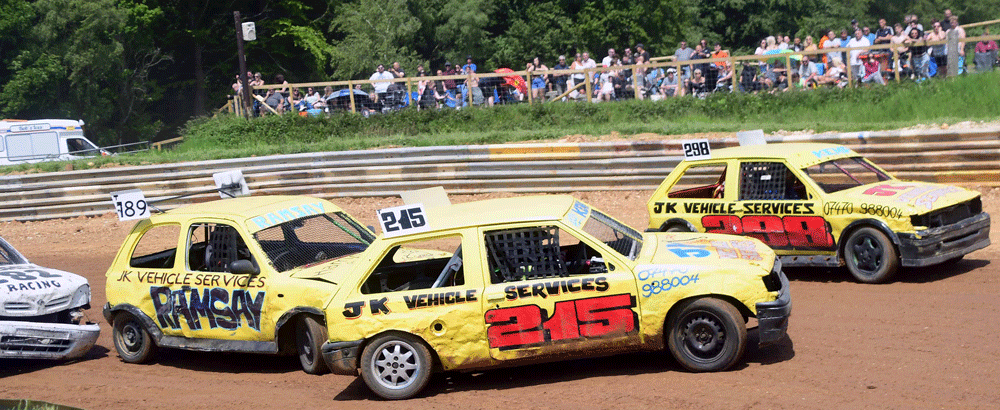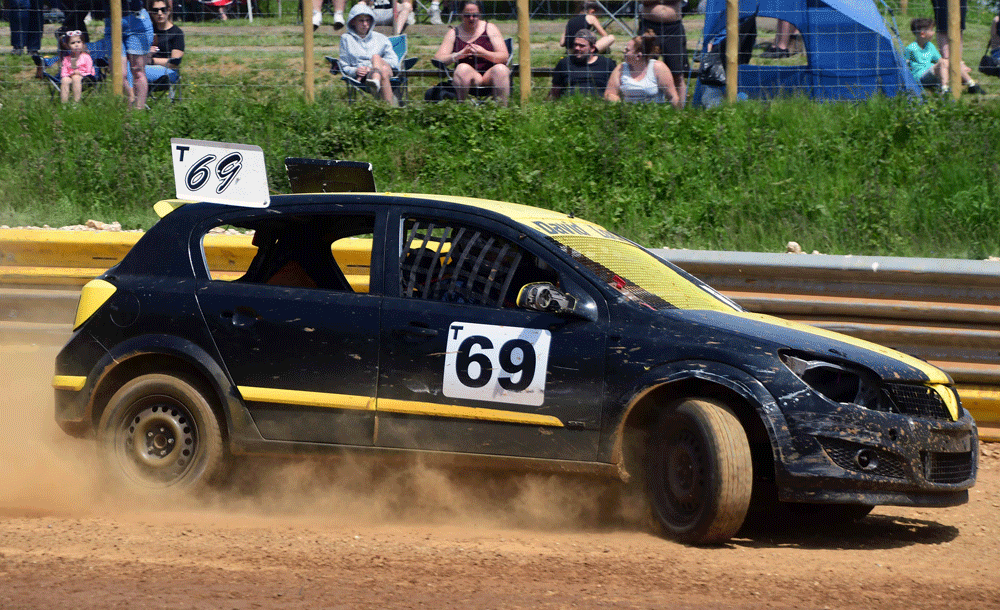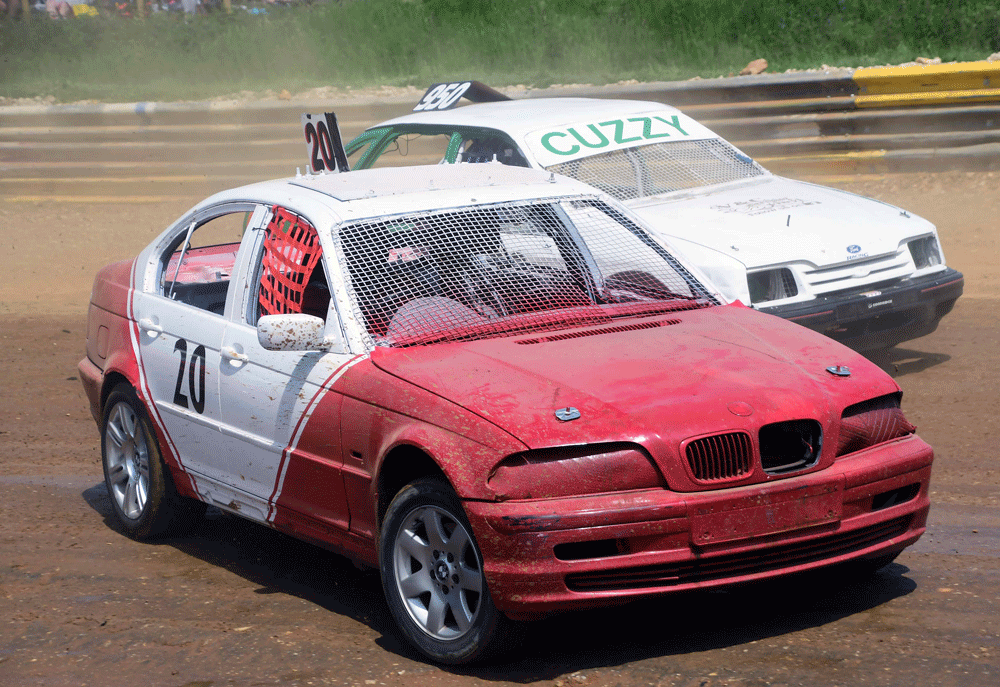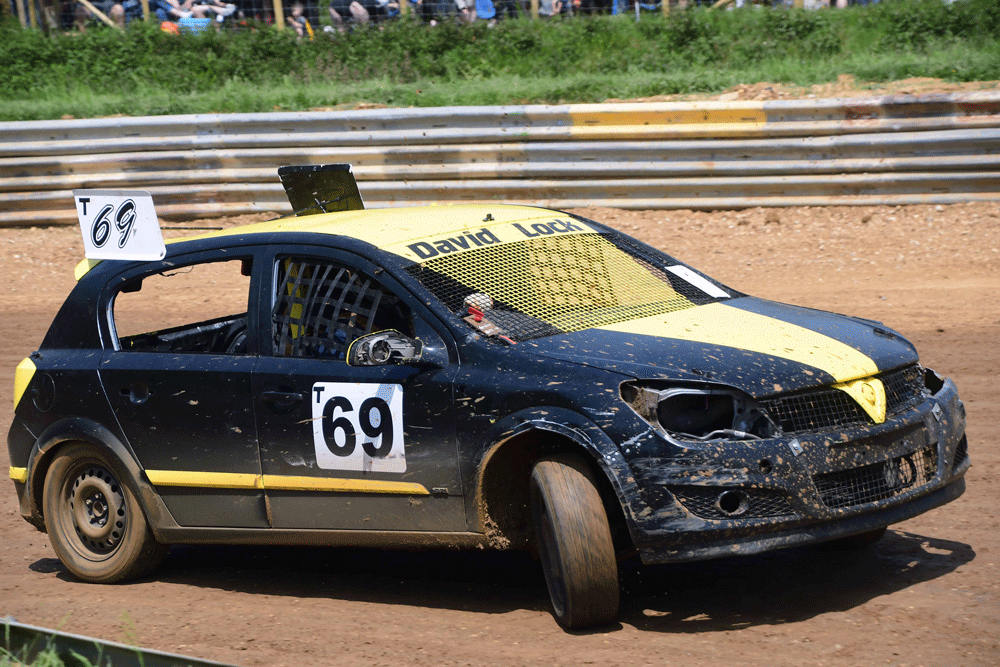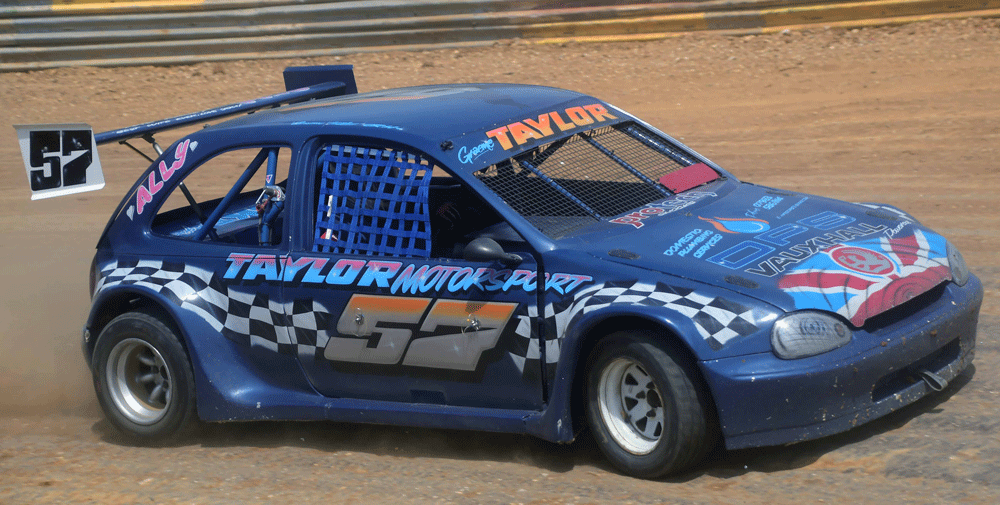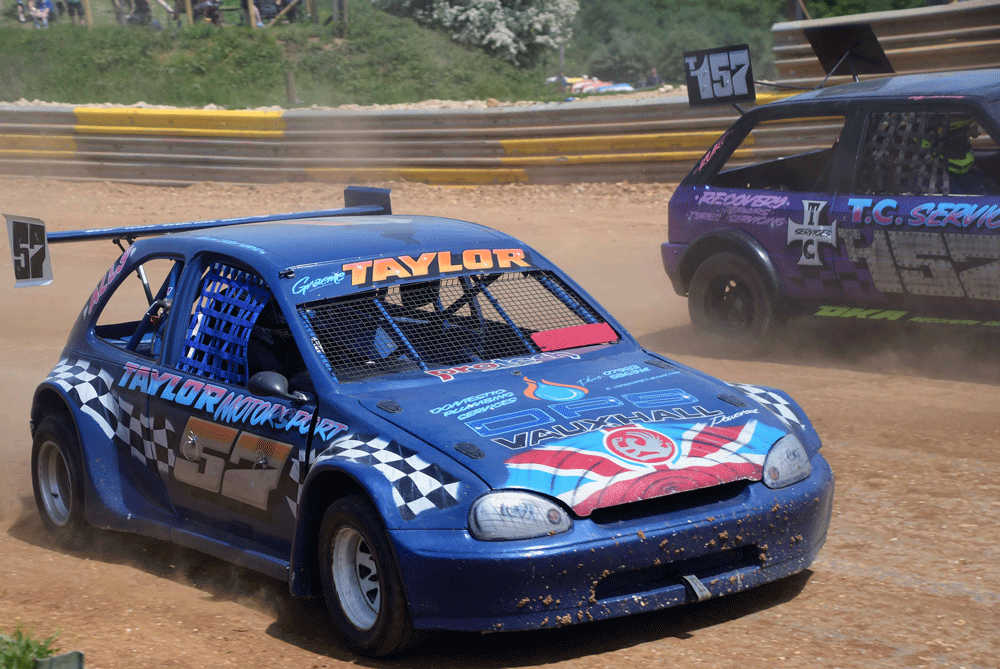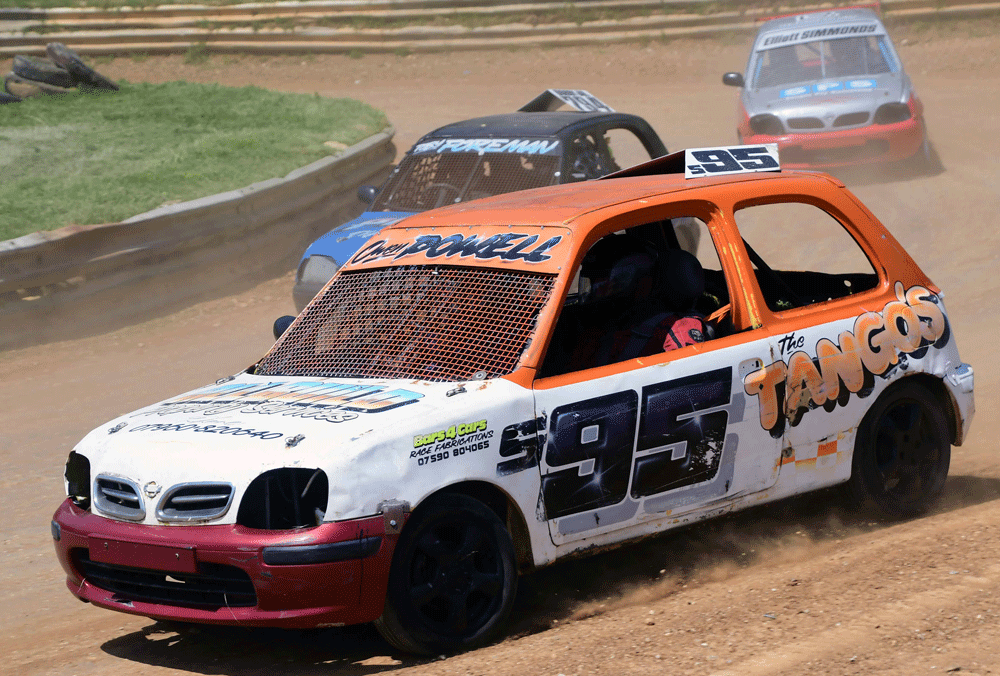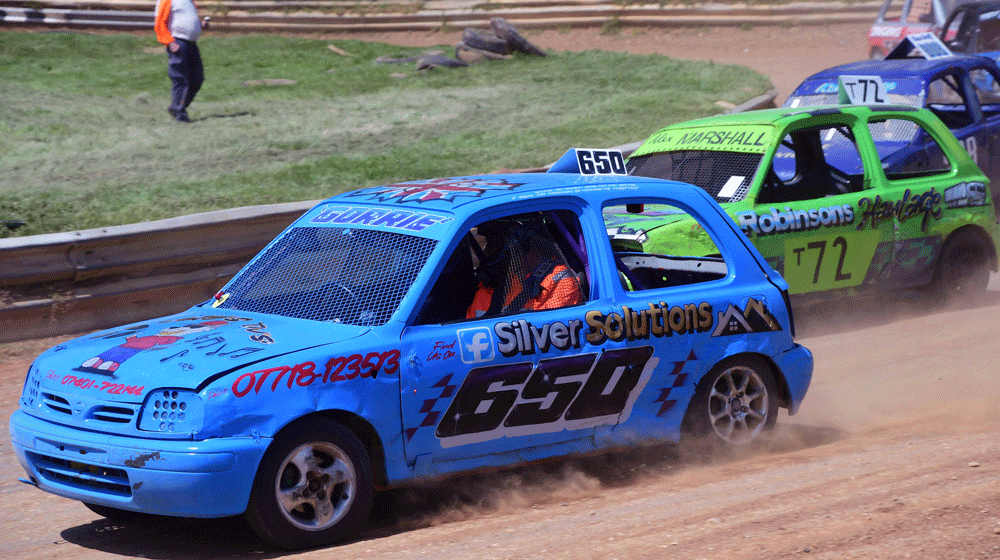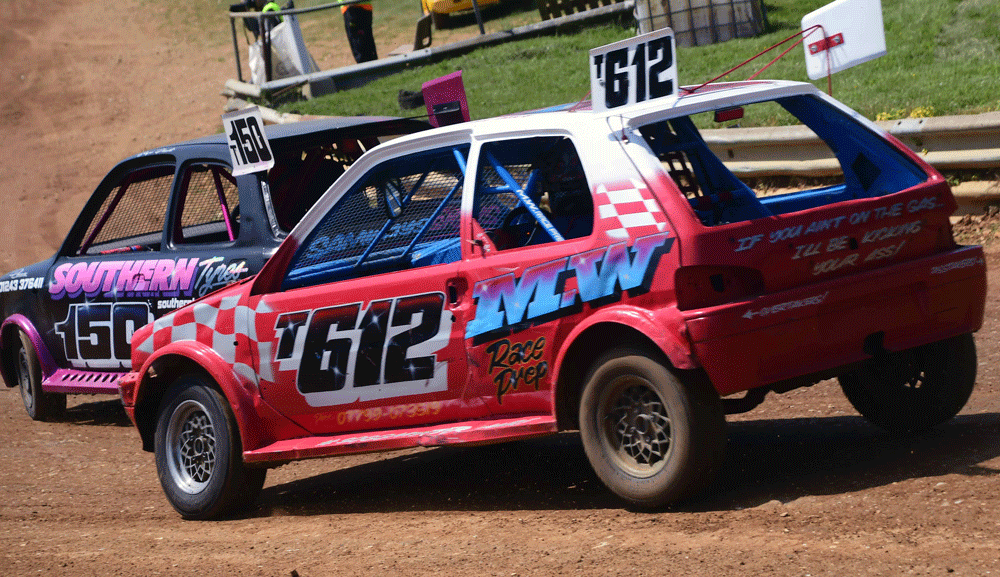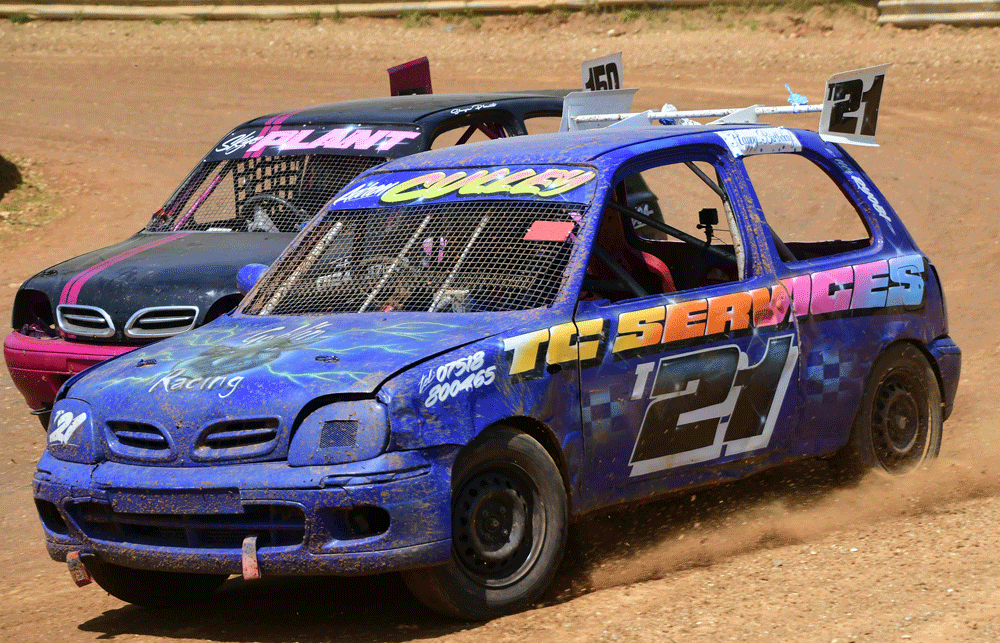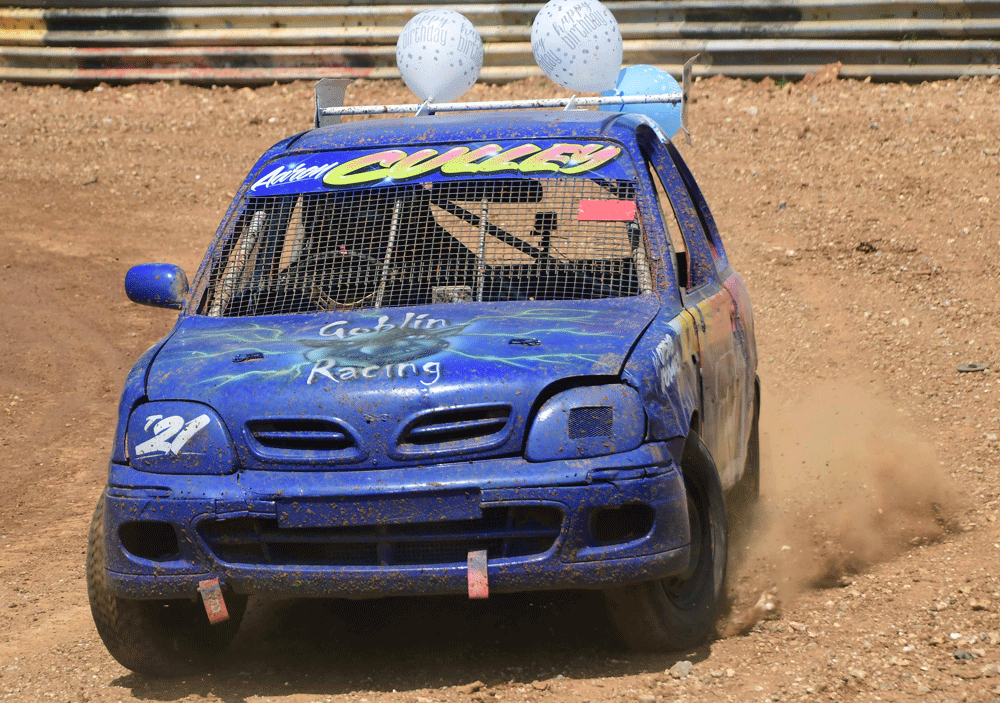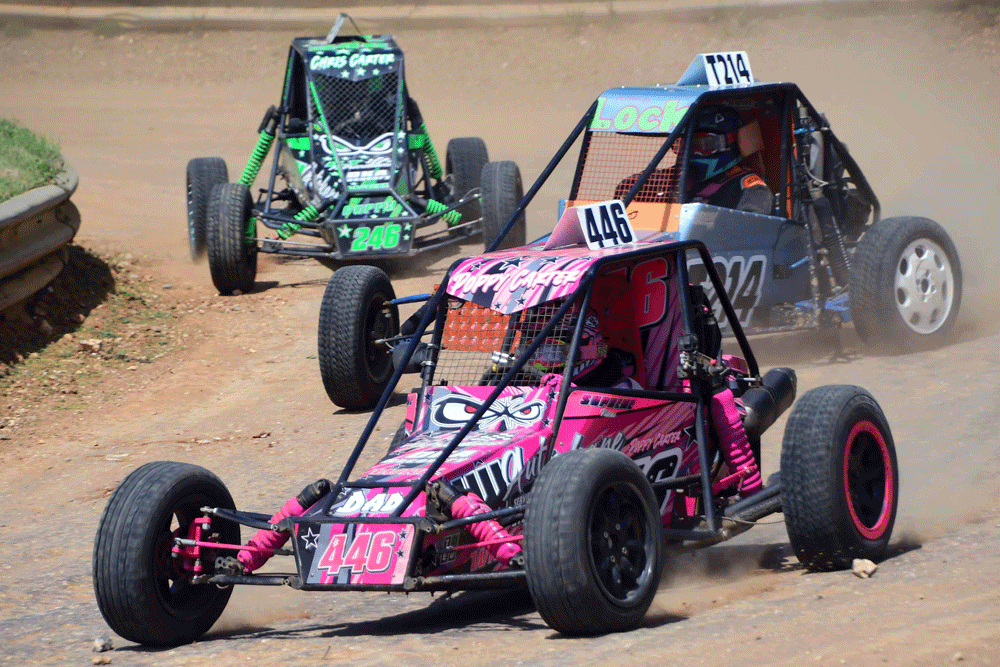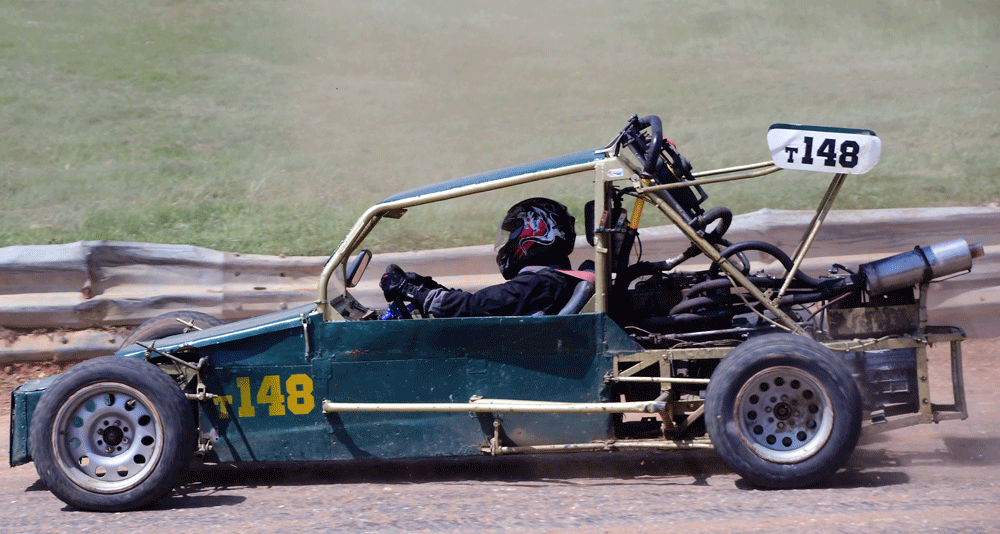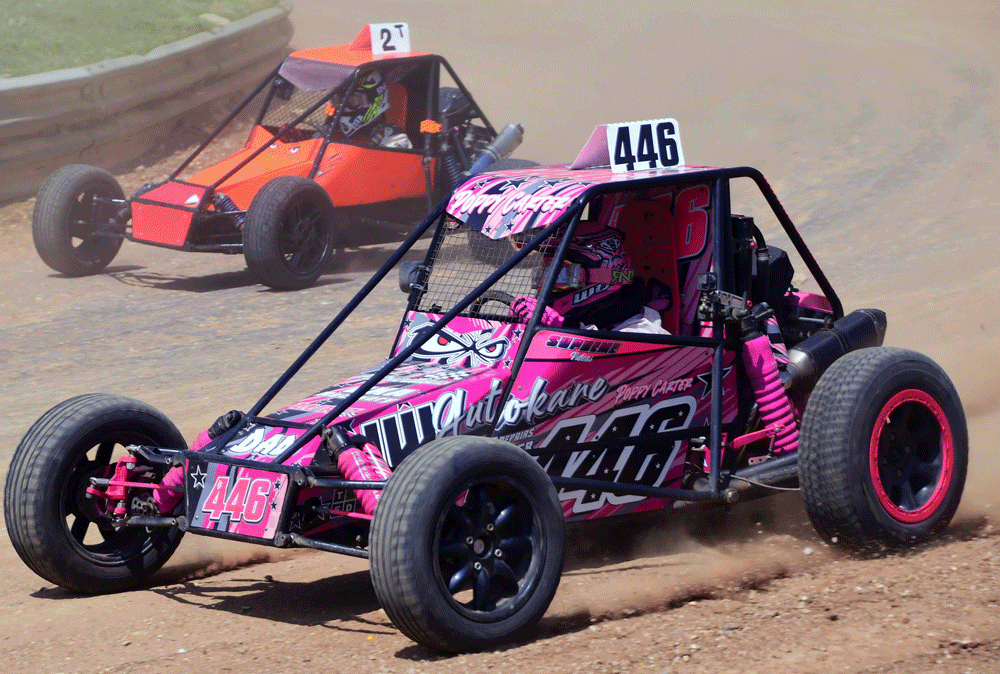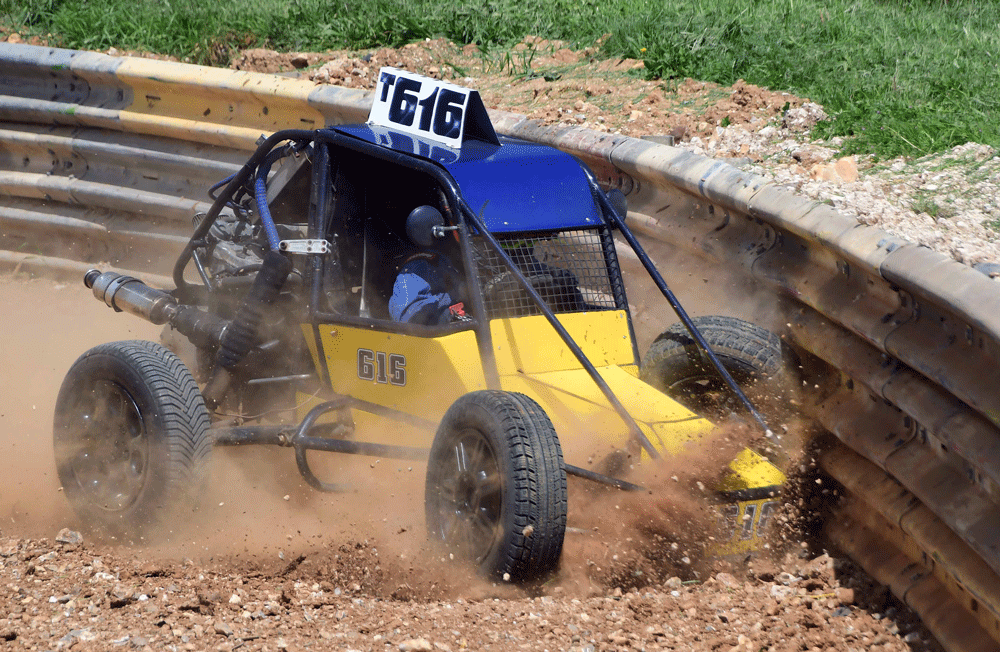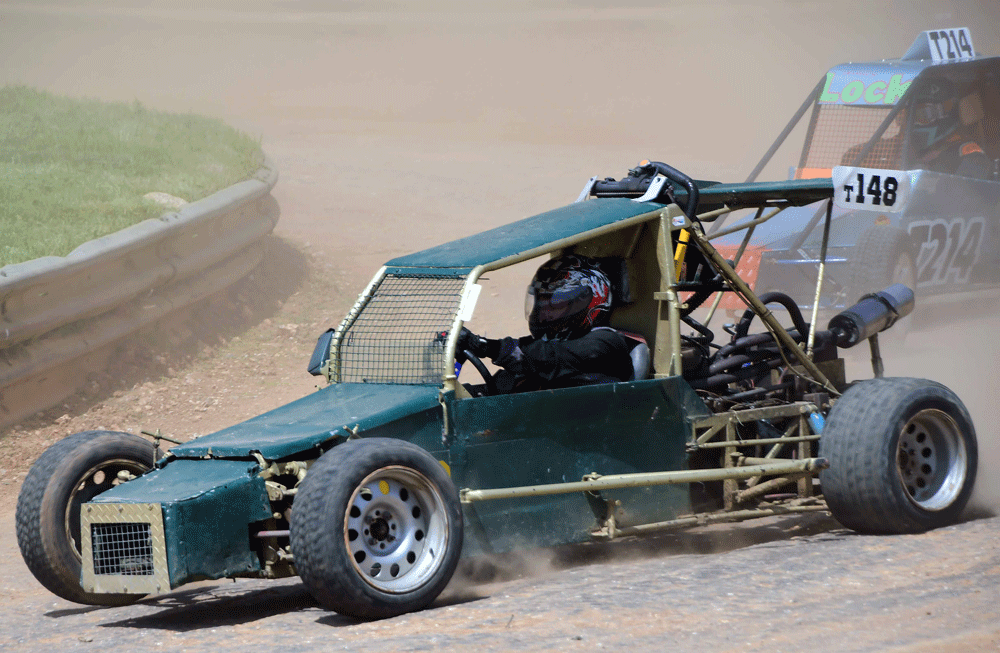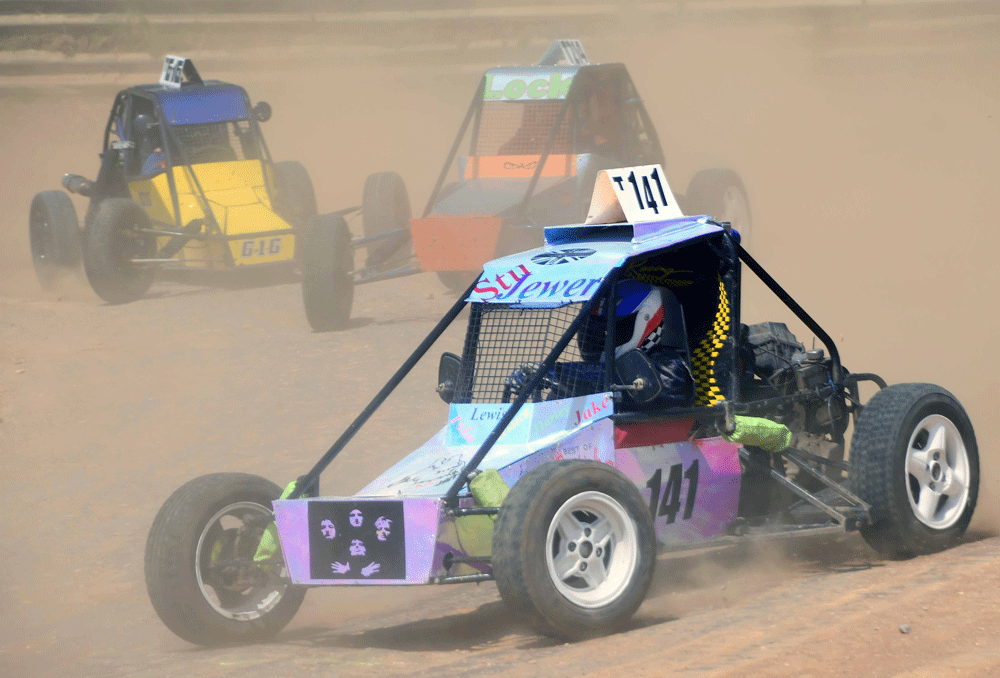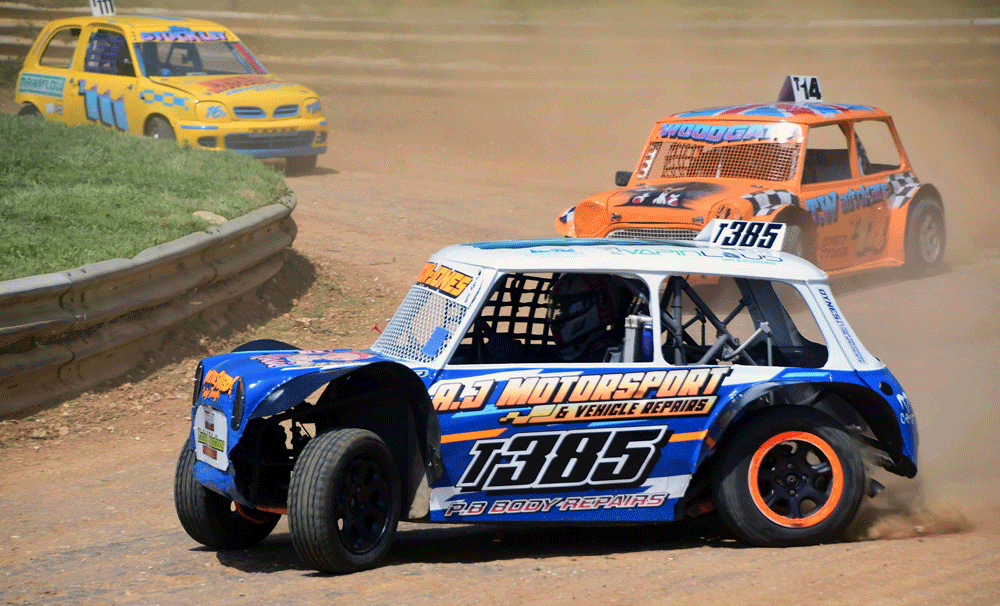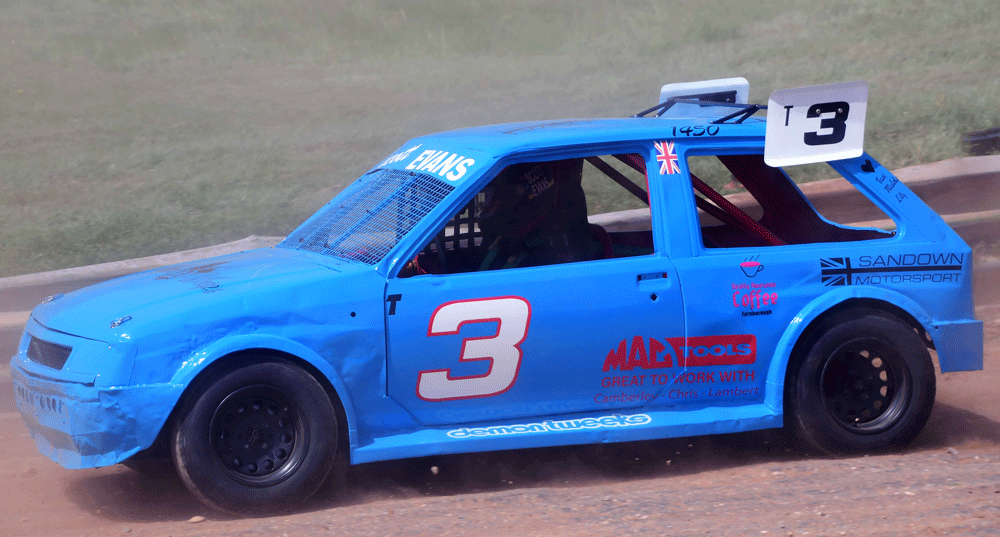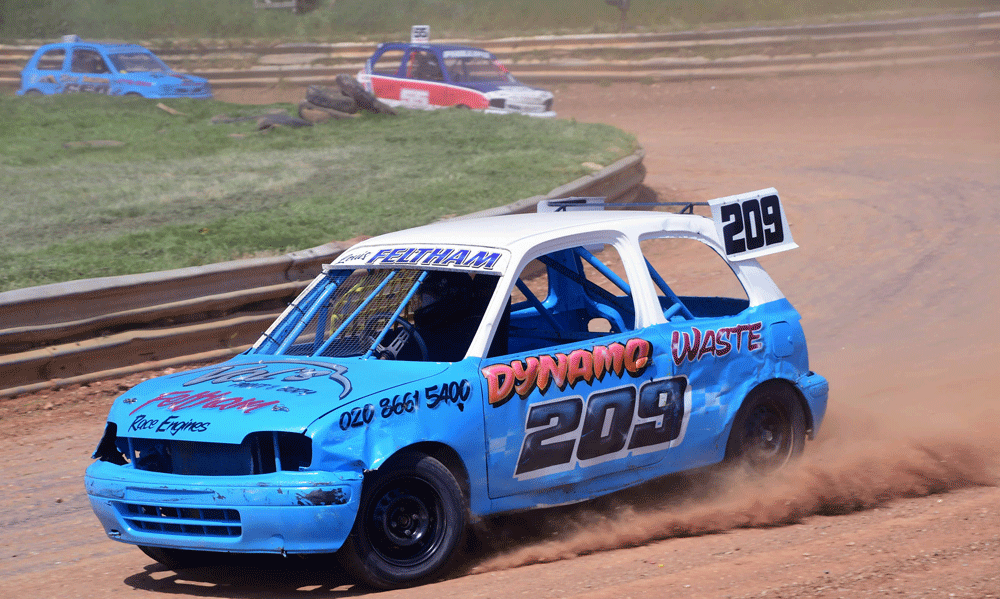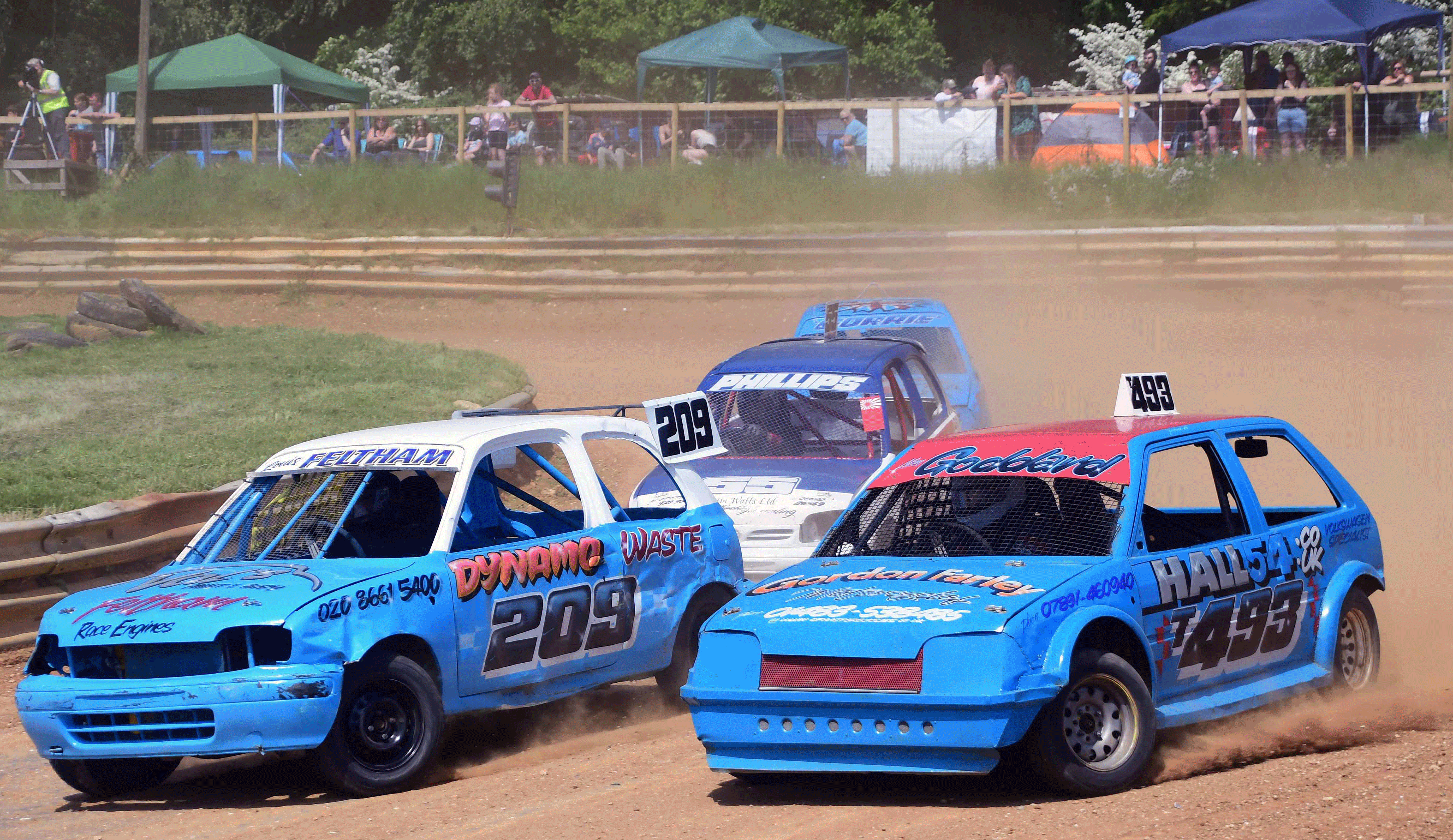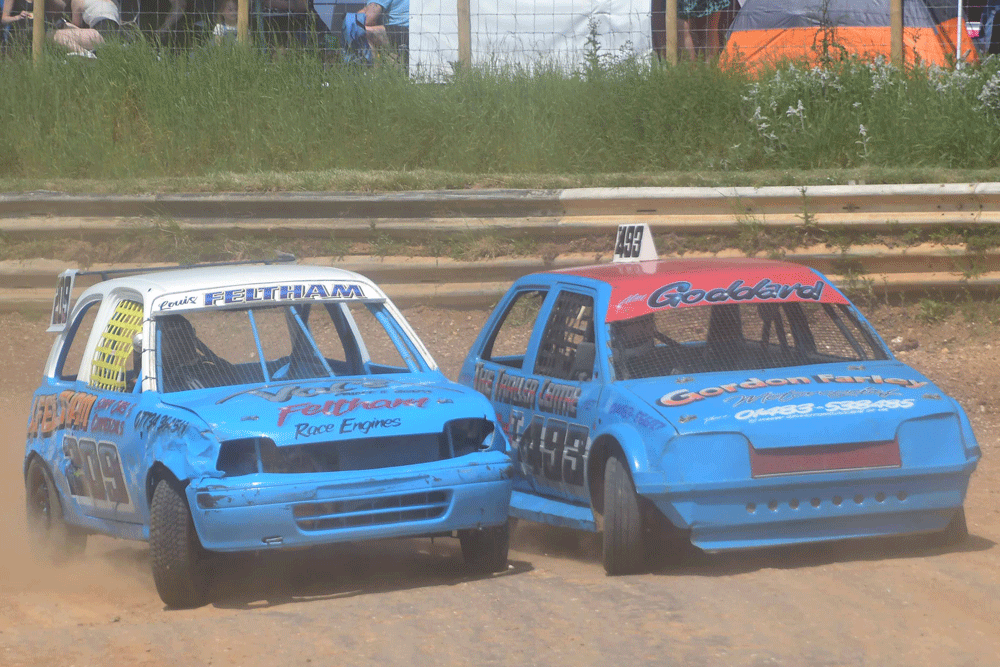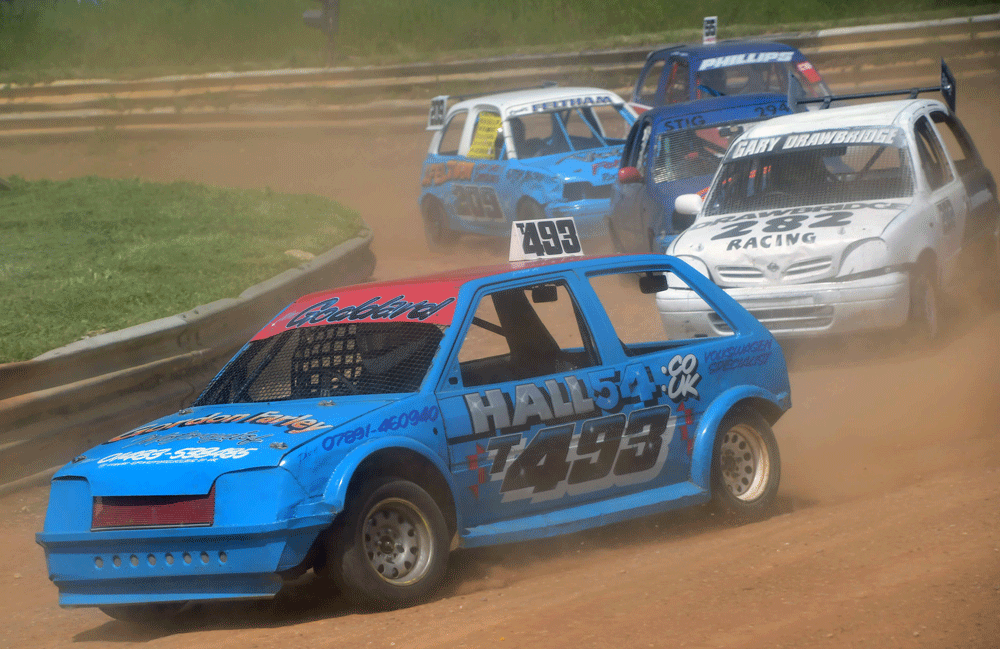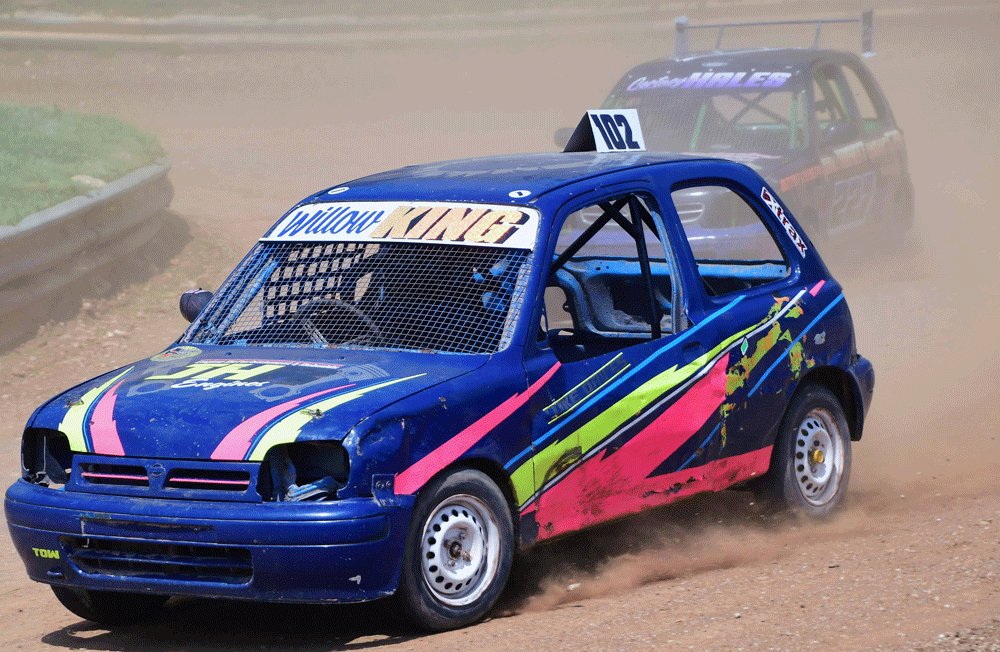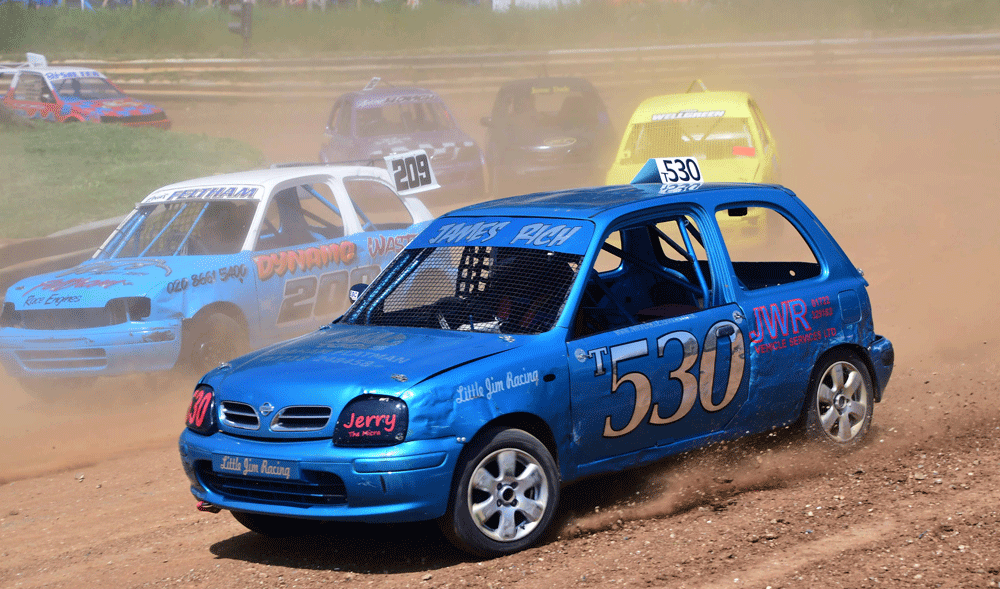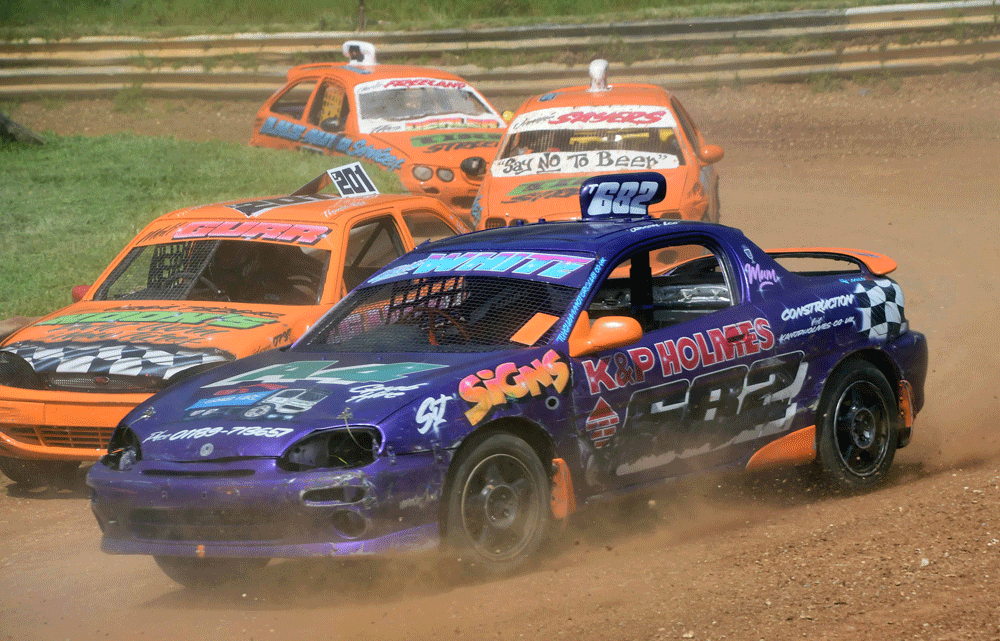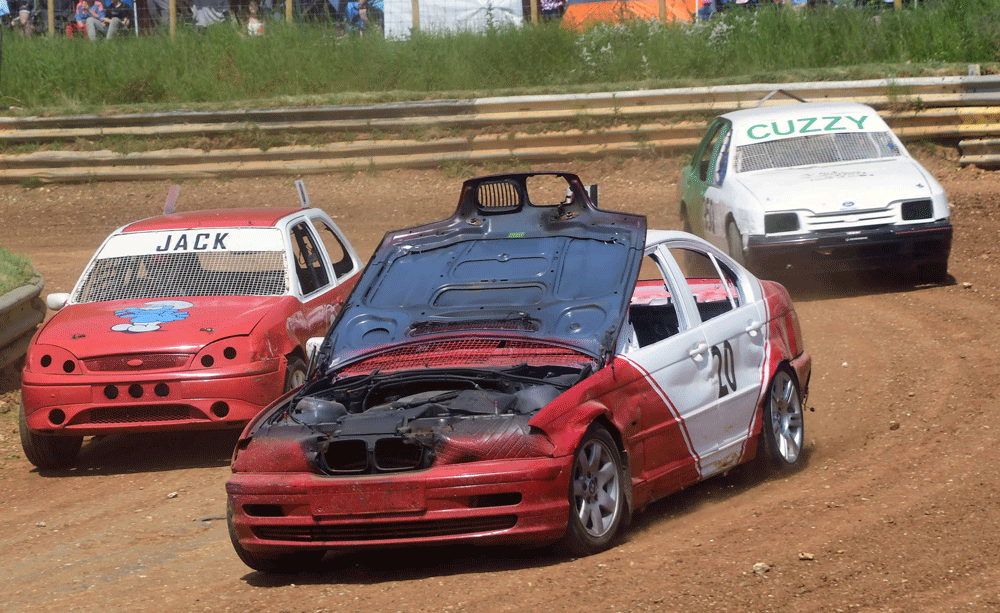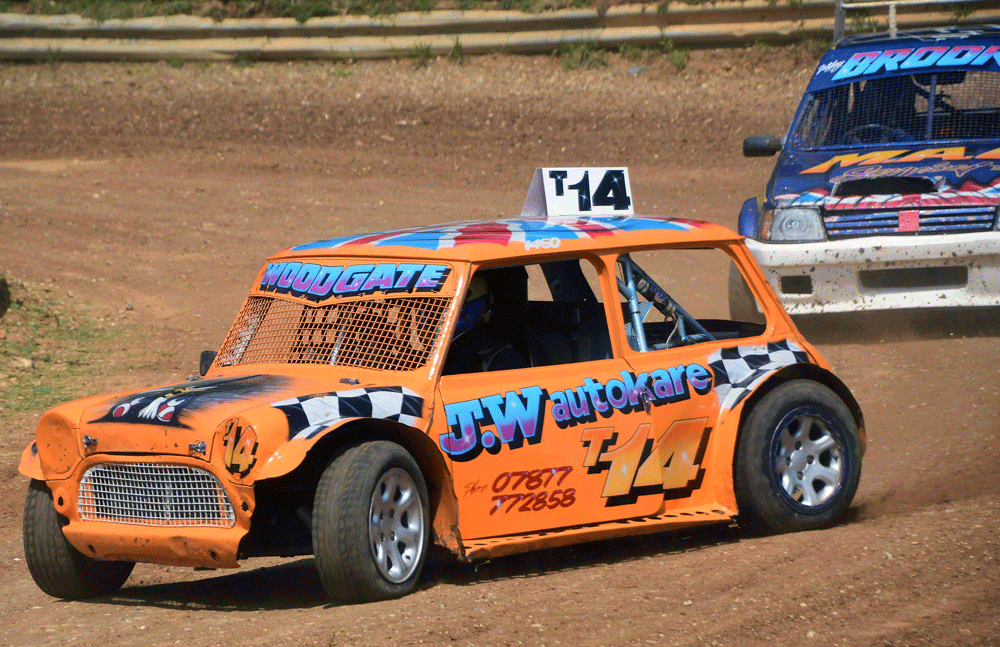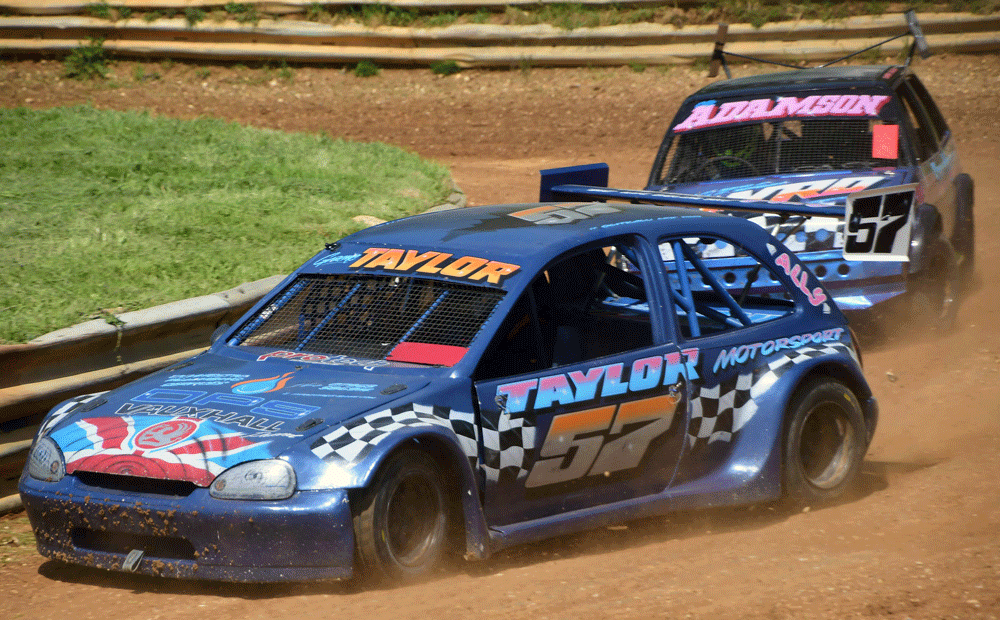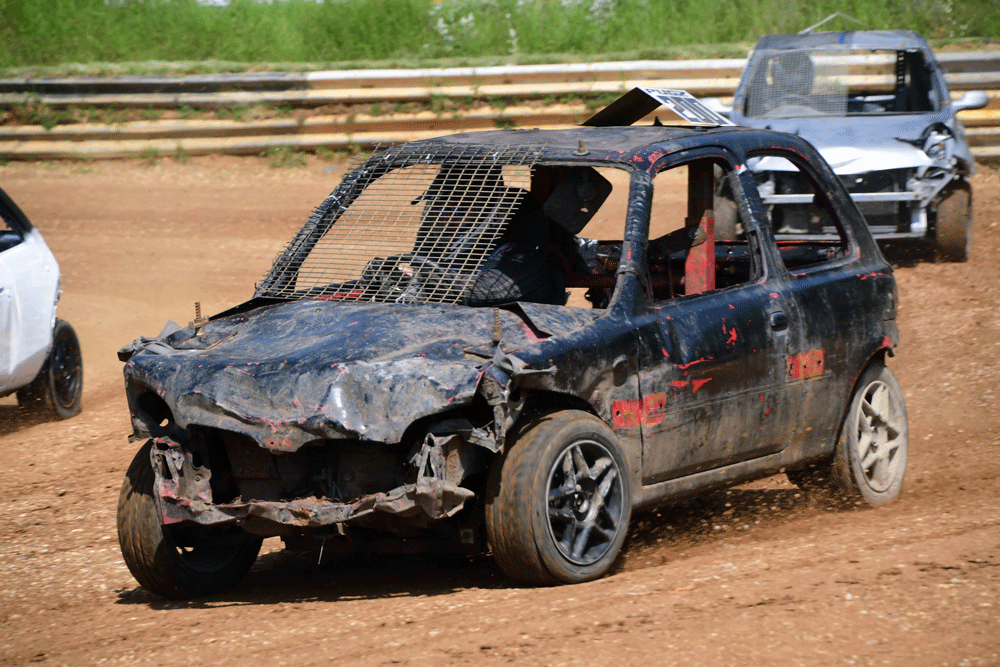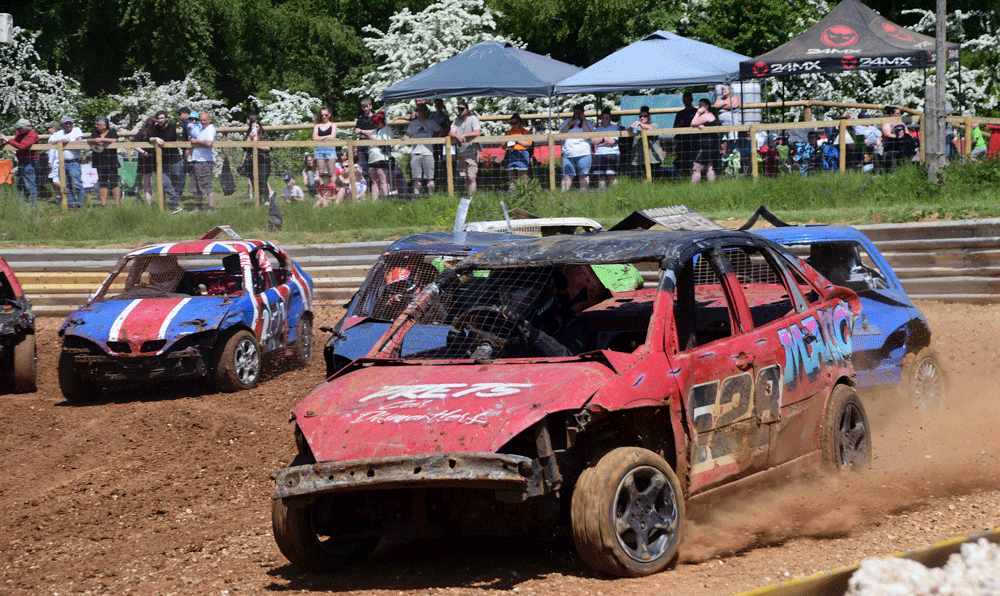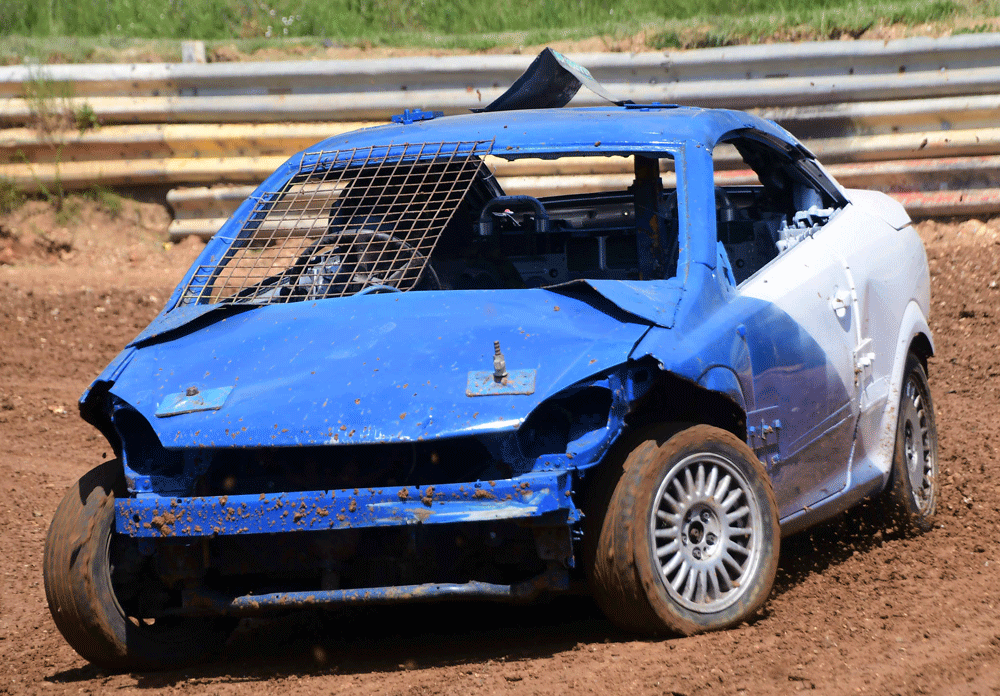 .