WATERFORD RACEWAY
Round 3 - 4 June 2023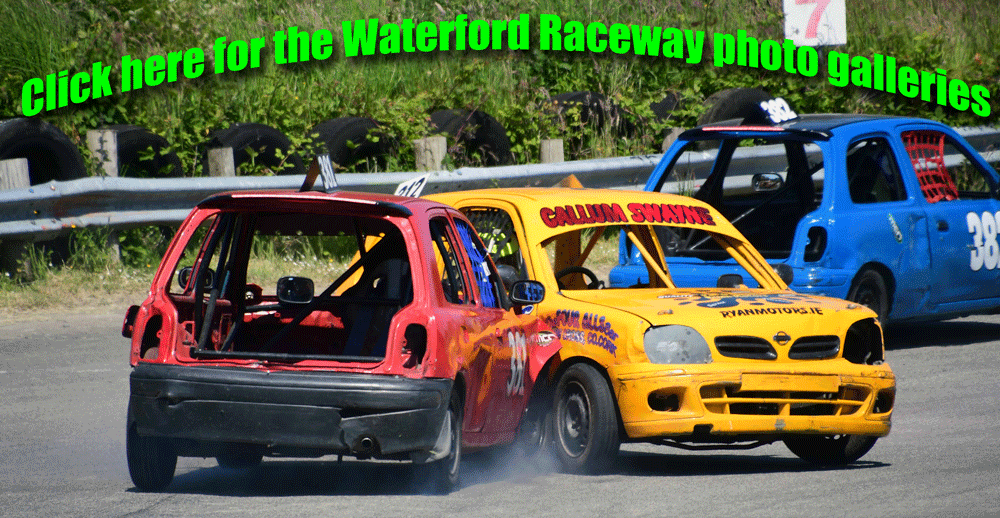 Waterford Raceway's third meeting since the re-opening under Motorsport Ireland affiliation showed again that it's taking time to rebuild the track's previous support, although there's still plenty of optimism that the Pike's unique appeal and atmosphere will start to bring the cars and drivers back.
The first meeting brought in 21 cars; round 2 at the end of April had 24 cars and this time 26 cars arrived, with 27 drivers signed on, although there were a few absentees, due to regular supporters being otherwise occupied on this hot and sunny June Bank Holiday weekend. Originally planned as a two day event, it was decided that only one day's racing would be viable. Naturally the low numbers meant a fairly compact programme, with classes consolidated into five groups, each having three races, but in the event there was no shortage of close racing action. Off track, it was nice to see everyone gather during the lunch break to remember popular Pike competitor Jamie Egan.
The fastest races were for CLASS 4 & 5, although Jim Scannell, with the only RWD car at the meeting, had to drop out after the first race with steering rack problems. That just left once car in each class; Killian Swayne's incredibly quick Micra in Class 4 and Andy Foley's Starlet-Honda in Class 5. After Killian won the first race, with nobody making much inroad into the start handicaps, he and Andy started side by side for the remaining races, and that is pretty well how they stayed. After an epic battle Andy held off Killian in heat two, and their final race was a repeat performance, until they got a bit too close and tangled, bringing out a red flag. Proof yet again that you only need two cars to make a race!
The other modified groups, CLASS 1, 2 & 3 raced together, with plenty of close battles as the handicaps between the classes unwound. Shane Hickey was unbeaten in Class 1, racing in the first two rounds against long serving Pike official Jeff Kiersey, having his first race outing for many a year to help sort out the Micra of James Organ, with James taking the car back over for the last race. Class 2 saw a promising performance by young Darragh Healy in his Starlet-Fiat, holding off Mick Boland's Micra to win the first heat. Mick then got ahead on the next two races, both times also catching Shane Hickey to win on the road, although the final race needed a last lap move. Mick was also hoping to do some demo runs with his Citroen C2 R2 rally car, but it developed a slight misfire in a practice run. Class 3 just comprised Alan D'Arcy's Starlet, which performed well in the first heat, and until the last lap of the second race, when the engine sounded horribly rattly before crossing the line in a cloud of steam from a burst water pipe.
CLASS 1B raced with the LADIES and STOCKS. With both this year's other lady contenders occupied elsewhere, Catherine Walsh was trying a newly acquired Class 1 Micra (an ex-Rosegreen Production class car) and, starting half a lap behind the main grid, was rapidly catching up at the end of race 1, although the leading 1Bs were just out of reach, with James Deane beating Michael Kiersey and Jonathan McGovern in a close fight. Nicholas O'Leary with his K10 Micra just lost out to East Cork club-mate Joe Dilworth's Focus, the only runner in the Stocks class, and the IBs were completed by James Organ, using Molly Walsh's Rookie car while Mollie was away.
Second time out Catherine Walsh made even quicker progress, taking the overall lead from Nicky O'Leary and pulling away to win, while Michael Kiersey took the IB win, as Nicky took a good second by fending off James Deane and Jonathan McGovern, with Joe Dilworth also joining in this scrap while James Organ brought up the rear after a couple of grass-cutting moments.
Based on this result, James Organ was given a good start handicap for the last race, but he'd been messing about with shocks and tyres at lunchtime, transforming the handling of Molly's car so that nobody could get near him, until with two laps to go, Catherine Walsh made it past the rest of the field and closed the gap. James Organ took the win from Catherine, with James Deane getting the better of Michael Kiersey, Joe Dilworth, Jonathan McGovern and Nicky O'Leary.
The ROOKIE JUNIORS, with their restricted Micras, fielded three cars. The first heat was delayed with Ronan Sisk's engine refusing to run; an ECU swop got him out and he then won all three races. Chasing Ronan in the first two were Dean Deasy and Ronan's sister Emily. In the last race Emily Sisk, who'd been getting quicker all day, got a good start to lead to halfway, and she held second from Dean.
The biggest field was nine cars in the PRODUCTION JUNIORS and they provided more than enough action. The first race saw an impressive charge from the back by Davon Leahy, who only took three laps to hit the front, going on to win from Conor Fitzgerald, while Callum Swayne pulled off a good move round the outside of the last corner to grab third from Paddy Fitzgerald and Darryl Deane. This group were chased home by Aoife Healy, Jack Roche and Daniel Fitzgerald.
The second race seemed to go on for most of the day! Daniel Fitzgerald led from the front of the grid, while Callum Swayne made the quickest progress through the pack. The very closely battling pack came unstuck though, with a pile-up by the pit exit which took out Jack Roche, Aoife Healy, Liam Kiersey and Conor Fitz, with varying degrees of damage.
They all made it out for a rerun after lunch, and this time Liam Kiersey took a good lead, with Callum Swayne again moving up quickly until it was stopped again, after a spin for Aoife Healy, who'd started from the back to make allowances for not all her wheels now touching the ground at the same time! The third attempt had a false start with Aoife still reversing into position. The fourth try was going well despite spins for Daniel Fitzgerald and Aoife, when the leaders suddenly slowed up. Callum Swayne had to anchor up mid-corner, went sideways and was firmly collected by Conor Fitz.
After more repair time, out they all came for another go. This time Daniel Fitzpatrick led most of the way, but Callum Swayne eventually came through to take the lead, just before another pile-up took out Daniel, Jack Roche, Darryl Deane and Liam Kiersey. That was the cue for all the Juniors to be gathered for a little pep talk by club officials!
This was rewarded by another very close, but this time incident-free race to finish the afternoon. Paddy Fitz was the one to set the pace this time, holding off Darryl Deane and Conor Fitz until Callum Swayne joined the battle with three laps to go. Darryl briefly hit the front, but Callum completed another impressive day by coming home the winner from Darryl, Davon Leahy, Conor and Paddy, the two Fitz boys looking very competitive on their first outing for a while. Liam Kiersey, Jack Roche, Daniel Fitzgerald and Aoife Healy completed a remarkable 100% finishing record, after all that action!
After that, it just remained for the prizegiving, with trophies presented by James Organ (including a couple to himself!), on behalf of meeting sponsors Podge Larrissey & Sons Autofactors.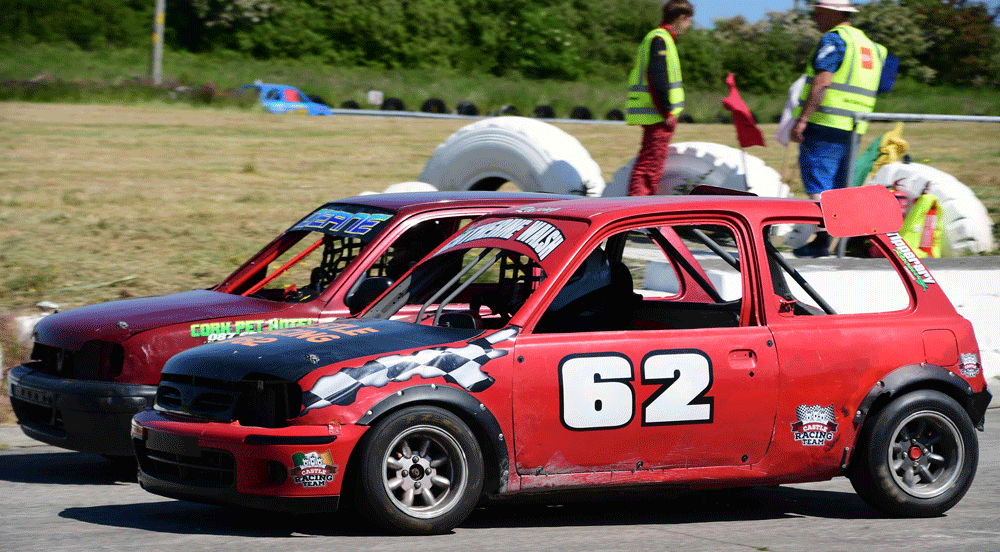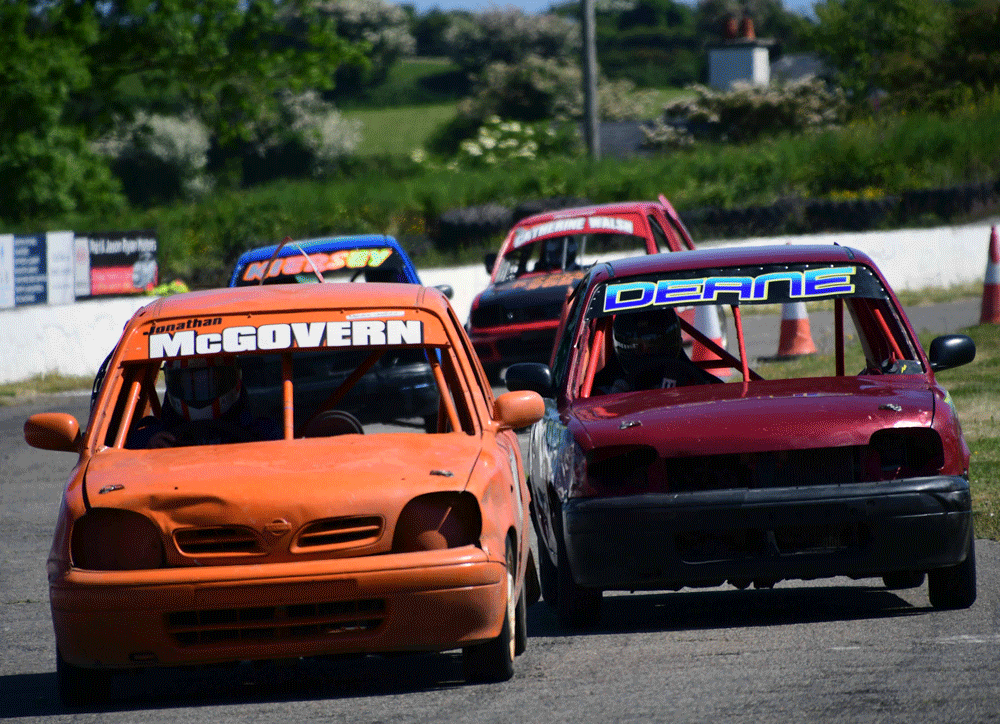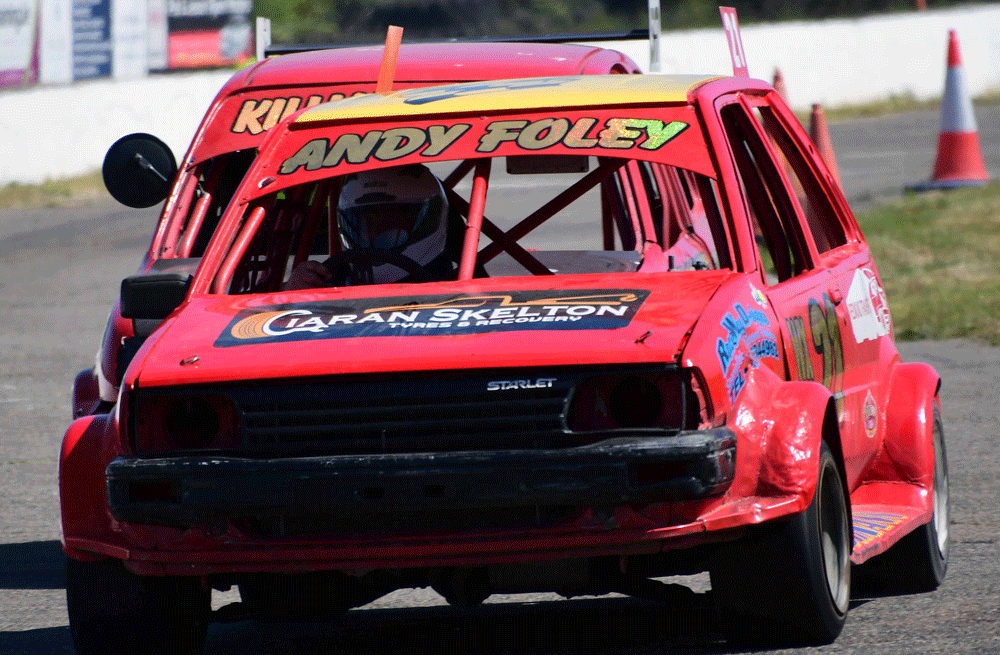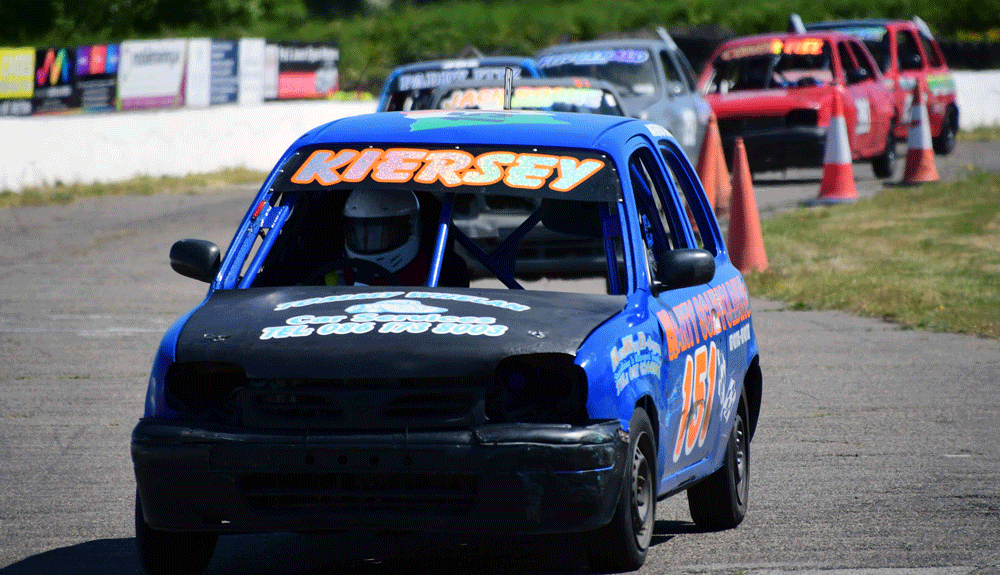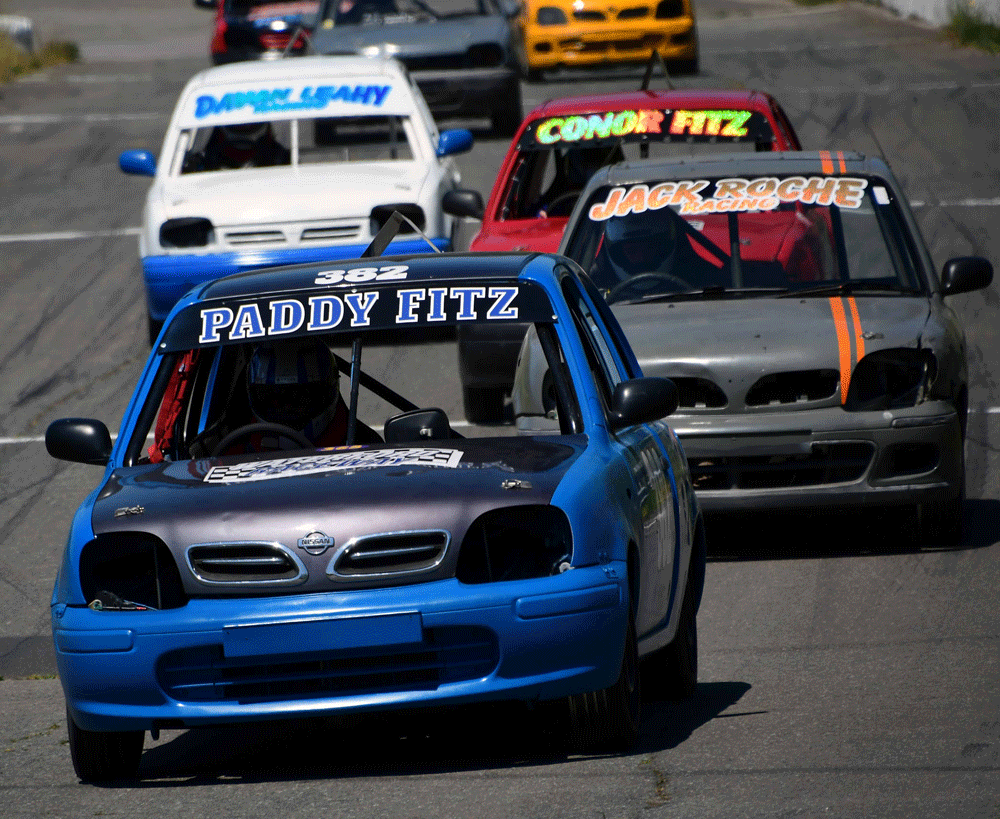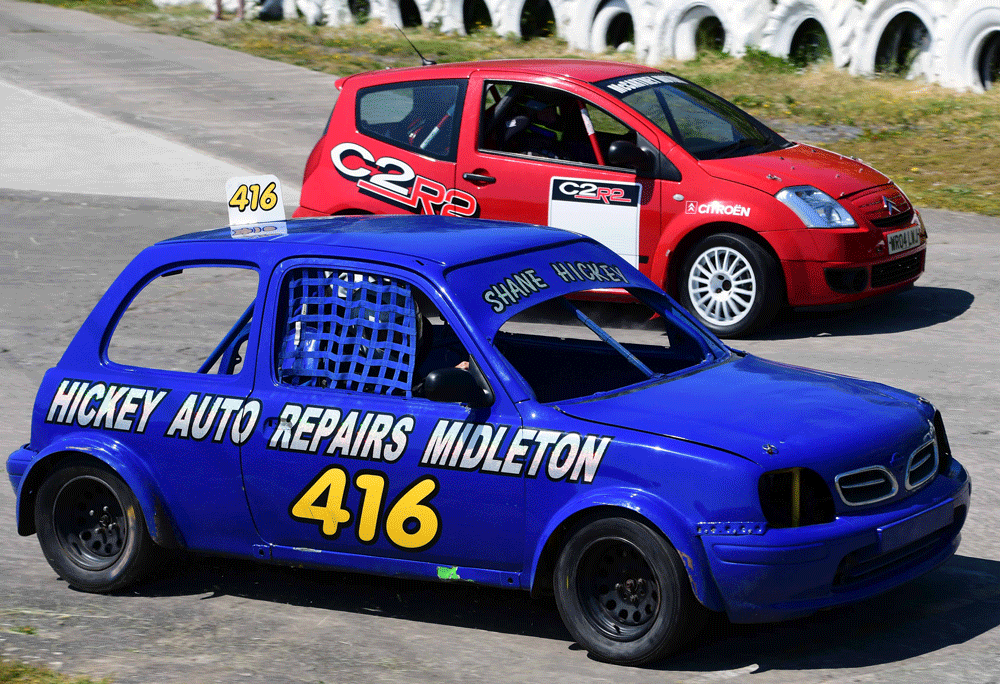 .