KENT OUTLAW OVAL RACING

Round 4 - Lydden Hill - 10 June 2023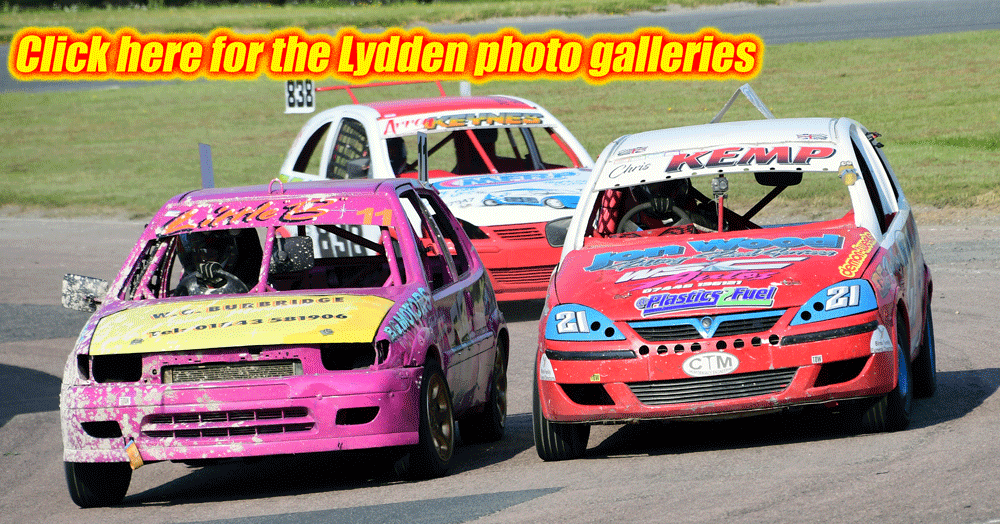 A shorter than usual gap between meetings, maybe combined with the expected heatwave conditions, meant that entries were slightly down for the fourth outing of the year for the Kent Outlaw Oval Racing classes, but there was still a respectable 65 drivers listed for the day, including two or three late entries, of which 59 actually arrived.
In contrast to the previous meeting, which ran out of time before the 6 pm curfew, after a series of incidents and stoppages, this one ran much more smoothly and the 18 races finished with 15 minutes to spare. Just a couple of incidents threatened to disrupt the day. The first of these we thankfully missed; after we'd enjoyed a rare trouble free run down to Kent, a major accident closed the M2 and as the start of racing approached the paddock was looking very thinly populated, with a large proportion of the North Kent and Essex drivers missing, including promoter Tony Rolfe! Fortunately everyone who was en route found their way through, or round, the blockage, in time for the drivers' briefing. The other problems built up to an unfortunate finish to the main Mini Rod final, resulting in a few penalties and a couple of driver bans being dished out. Unfortunate though it is to lose a couple of good drivers, the KOOR team rightly recognise that, in the long run, they'd lose a lot more if they didn't take effective action as soon as things began to get out of hand. Most successful, and growing, new racing classes have been through something similar at some stage, and we're sure that the firm hand applied at this point will help this popular entry level class continue to thrive.
This time the oval racing followed a car track day, rather than the bikes last time, which saw a few interesting cars in action, notably the V8 Mercedes CLK of Rich Moore, built for the Supermodified class in Rallycross but looking very spectacular on the tarmac, while the three BMWs from the Wardie Motors team, as well as racing on the oval, spent the rest of the day lapping the full circuit.
The oval action started 15 minutes late; although the track day sessions ended promptly there still seems to be a regular pre-race blockage due to the practice of waiting until cars are in the assembly area for their first race before starting noise testing. First group out were the "novice" class of MINI RODS, with a 5-car grid including four first time racers in the class. One of these, Sussex driver Harry Davies, who we remember as an Invicta Autograss Junior several years ago, took his newly acquired ex-Tom Merry car to a good win in his first race, chased by loyal KOOR supporter Peter Jones, ex-Euro Rod drivers (among other things) Matt Power and Ben Reynolds, and another newcomer, Bradley Needham. Second time out Harry Davies took another impressive win, with Matt Power getting to grips with his new car to pass Peter Jones for second. Matt continued to pick up speed in the final, quickly passing early leader Bradley Needham to take the win, with Harry Davies holding off Peter Jones for second. Ben Reynolds was fourth in a car he'd not sat in until just before the meeting started, borrowing the Chris Cake built ex-Keith Furminger car from Tony Rolfe to get a taste for the formula before his own car is ready. Bradley Needham chased Ben home.
Next on track were the OPEN RODS, reduced to seven cars for their opening heat as Marcus Reeve narrowly failed the noise test after converting his previously Pinto-powered Sierra to Zetec spec. The Poole-based BMW drivers Bob Oxenbury and Jamie Ward were quickly past the father and daughter Lexus team of Andy and Lily may Burbridge in the first heat, but Chris Reeve's Sierra had shot from the back of the grid to challenge the two black BMWs. Lap after lap Chris tried to get round the outside of Jamie, while Bob fended off the pair of them, and that's how the laps ran out, with Bob taking a well deserved win over Jamie and Chris. Martin Wise brought his slightly off song Mondeo Rod into fourth ahead of Lily May Burbridge, with Barry Ward's BMW also suffering a sick engine and Andy Burbridge getting flagged off with a loose bonnet.
Marcus Reeve joined his dad at the back of the grid for the second heat, but swept round the outside of the entire pack rounding Chessons' Drift and completed the first lap in front, where he stayed to win, just ahead of a repeat of the earlier battle between Bob Oxenbury, Jamie Ward and Chris Reeve. Andy Burbridge, Martin Wise, Lily May Burbridge and Barry Ward completed the runners.
Lily May didn't get past the pit gate for the final, so it was down to seven cars again and this time Marcus Reeve made an even quicker getaway, leading before they hit Chessons for the first time. Marcus kept a safe lead to the finish, while the three-way battle continued behind, Bob Oxenbury again just beating Jamie Ward and Chris Reeve. Andy Burbridge, Martin Wise and Barry Ward were all lapped by the flying Marcus in the end. Local driver Dan Astbury should have debuted an ex-Lightning Rod Sapphire but decided to play safe after some problems getting its wheels tight, but he'll hopefully be back.
The EURO RODS fielded ten cars although Danny Reeve's didn't make it onto the track. Joining the regulars were Ryan Ersser, having his first outing of the year, and Andy Gillman, who was testing the Burbridge team's new rental car, actually a recycled version of Grayci's old Corsa. Aaron Keynes didn't take long getting to the front in heat one, with Chris Kemp holding off the on-form Grayci Burbridge in her Saxo for second. Then came Darren Carpenter, Darryl Mundy, David Growns and Ryan Ersser, with Andy Gillman completing the field.
Aaron Keynes again made short work of getting through the field in race two, passing Mick Letchford for the lead. A battle developed for second, which broke up a bit when Mick Letchford attacked the infield grass, kicking up a dust storm that stopped Andy Gillman in his tracks. Gayci Burbridge chased Aaron home in second, Darren Carpenter fought back to third from Chris Kemp and Mick Letchford, and Darryl Mundy, Ryan Ersser, Andy Gillman and David Growns took the next places.
The final was probably the race of the day as Chris Kemp got past Andy Gillman and Mick Letchford to take the lead. Aaron Keynes was soon up to third, but couldn't make much impression on Grayci Burbridge in second, and Grayci then closed right up on the leader. Each time she got her nose inside Chris, Grayci had to back off, but the last corner was a different matter and Grayci kept on coming, got alongside Chris and then just edged ahead to take a very popular win by the width of her bumper. Aaron took third and Darren Carpenter had another close battle for fourth, in front of Mick Letchford and Darryl Mundy, with Andy Gillman, David Growns and Ryan Ersser behind them.
The main MINI ROD group provided plenty to talk about, with 14 of the top 15 in the points in action. Starting up front, thanks to only having scored at one meeting so far, Tommy Langley led the first race all the way. Nearly everyone else battled for second place, until the battle was broken up when the close racing resulted in Jake Langley having to save a couple of very sideways moments, while Adam Rossiter pulled off with his rear bumper missing, closely followed into the paddock by Vic Bilkey Jr. Joe Bullen held on well for second ahead of Vic Bilkey Sr and Nick Langley, quickly coming from the back of the grid. Wayne Wallace came in fifth, but was closely followed by a smell of oil smoke and wasn't seen again. Kev Ellis, Mark Robinson, Matt Haines, Lewis Follet, Tom Merry, Jake Langley and Matt Coburn battled for the next places.
The second race was again led all the way by Tommy Langley, chased by Joe Bullen and Vic Bilkey Sr. Nick Langley quickly moved up to fourth but couldn't make much more impression on the top three. There was more action in the pack behind, with Lewis Follett spinning out avoiding a sideways Adam Rossiter, while Vic Bilkey Jr just managed to avoid this but knocked a wheelarch off against Matt Haines in the process! Mark Robinson kept his nose clean to head Adam home in fifth, with Vic Jr next ahead of Matt Coburn, Jake Langley, Matt Haines, Tom Merry and Kev Ellis.
Tom Merry failed to get away from the dummy grid in the final, but up front it was another convincing flag to flag win by Tommy Langley, this time chased home by his dad, who managed to get through and clear of the pack in second. Matt Coburn was heading for third until he lost drive, while Vic Bilkey Sr spun onto the infield and Joe Bullen pulled off. Adam Rossiter ran wide with a lap to go, letting Vic Jr back into contention for third, but into the last corner Vic seemed to have trouble stopping, and he and Adam finished in a heap. Vic Sr crossed the line in third, but was excluded, so with the reds coming out and the result taken back a lap, Adam regained third, with Jake Langley, Matt Haines, Mark Robinson and Kev Ellls the only other finishers.
On to what it was hoped would be slightly calmer racing from a 14 car field of LYDDEN RODS. Dan Green, in one of the increasing number of locally based Ford Pumas, made his first appearance of the year, and led the first heat all the way. He was closely chased by another returning local driver, Phil Kennewell in his smart Fiesta, but Phil went out with a blown tyre, while David Burke's Suzuki was sent off after an accidental bump sent Jon Fowler's Puma off course on the first lap. After damage to his previously immaculate Fiesta last time, Robin Miles tried a rare, and to be fair showroom looking, Renault Sport 1600-spec Twingo, and it emerged in a very impressive second from Steve Green's Puma and Michael Burke's CRX. Robin Bishop returned with his SEGTO 1450-spec Micra and came through to sixth from Scott Dalton (Puma). Neil Longshaw (Puma), Gemma Bernhauser (Honda Del Sol), Jack Miles (Fiesta), Ryan Martin (Focus), Paul Apps (Del Sol) and Jon Fowler.
The second race saw Phil Kennewell looking good in the lead, but he pulled off soon after being caught and passed by Michael Burke, so the Honda expert won, with brother David bringing his Swift through to a very close second from Scott Dalton and Robin Miles. Robin Bishop again progressed well to take fifth from Gemma Bernhauser, while Neil Longshaw headed a close bunch battling for the remaining places, with Paul Apps, Dan Green, recovering from an early spin, Steve Green, who'd also dropped to the back after overshooting the oval link, Jack Miles and Ryan Martin.
The final saw Dan Green making the early running, but Michael Burke was rapidly coming through the traffic, getting to third on lap three, taking second from Steve Green a lap or so later and then catching Dan and taking the lead before Dan pulled off to retire. The focus was then on Rob Bishop's Micra, getting quicker all the time and closing right up on the Honda, but Michael held on to win from Rob, with Scott Dalton recovering from a dusty moment to beat Steve Green for third. Neil Longshaw was next, just beating Gemma Bernhauser and Paul Apps, with David Burke beating Jon Fowler for eighth and Jack Miles and Ryan Martin battling for tenth.
Last on the running order again were the OUTLAW and 2 LITRE HOT RODS, with numbers a little reduced after problems for a few drivers last time. Joining the regulars was circuit racer Glen Rossiter with a new Mazda RX8-shaped car built for the "Intermarque" Silhouette class, and needing some testing laps before the following weekend's Brands Hatch "Speedfest". The first race saw Colin Smith quickly come through to take the lead on the second lap, chased home by Jason Anderson and Stuart Davis, with Joe Cato just ahead of Glen Rossiter. The second race was led most of the way by Jason, but Colin had just taken the lead when the reds came out after a spin for Glen Rossiter, followed by a marshal apparently mistaking a flame from the exhaust for a fire. Stuart Davis was again closely chasing the two established front runners. In the final though Stuart had to pull off while Colin led Jason home, as Joe Cato took third. There were just two cars in the 2-litre group, with Jayden Anderson leading brother Shay home in the first heat. Second time out Shay was the winner after Jayden's engine cut out, but in the final Shay didn't get off the grid as Jayden chased the Outlaw cars home.