TONGHAM MOTOR CLUB

Round 4 - 11 June 2023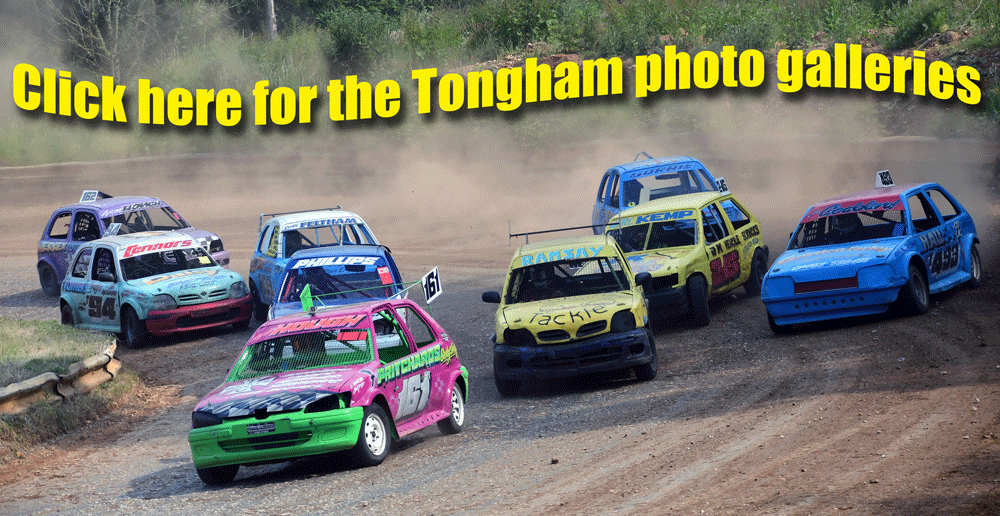 A slightly smaller entry was expected at Tongham's fourth meeting of the year, with some of the more irregular visitors opting to race at Smallfield instead, while others were catching their breath after three meetings in quick succession, and a few had no doubt opted out of the expected heatwave conditions, with the threat of thunderstorms.
The racing started in overcast and muggy conditions, but the sun came out before the end of the first heats, and it was very warm indeed until the thunder and lightning finally approached towards the end of the finals. Rain began to fall during the last scheduled final, for Novice Juniors, which was sensibly stopped with a couple of laps to go, and then those with a bit less sense chose to race in torrential rain in the Allcomers' race that rounded off the day. The grand total of 119 cars that raced was 40 or 50 down on the previous meetings, but there were still healthy grids in all the classes, with rather fewer stoppages needed!
The biggest grid was for the SEGTO JUNIORS, with 16 Micras plus a lone Saxo and Nova in the line-up. All the recent graduations from the Novice class meant there was an unusually large block of white tops, who at Tongham get about a quarter of a lap start on the rest of the field. With some quick drivers among them it was a challenge for the graded drivers to get into the placings, and Todd Wallace led the first heat all the way, to come home a clear winner. Former Angmering regulars Kayleigh Sewell and Justin Johnson finished side by side for second and third, while the previous round winner, Archie Ginns, had to fight through from the back of the white grade and just held fourth from the best of the higher graded drivers, Harvey Green, with Fin Chance close behind in sixth. The rest of the field finished in one big crowd, with James Rich in seventh ahead of points leader Teddy McGovern-Kemp, Robert Light, Lacey Chance, Brayden Dixon, Alexia Bowen, Cherie Wells, in a smart new car, Harry Loader, Bailey Ramsay and Harvey Wareham, who got spun out in the early laps. Ryan Blair and Annabelle Palser didn't make it to the end.
The second heat saw Todd Wallace take another runaway win, with Justin Johnson this time taking second from Alexia Bowen and Harvey Wareham. Harvey Green again headed the graded drivers, beating Fin Chance and Harry Loader to the line, while Brayden Dixon just headed the next group from Archie Ginns, Ryan Blair, Robert Light, Teddy Kemp, Cherie Wells, Kayleigh Sewell, Annabelle Palser and Lacey Chance, with Bailey Ramsay and James Rich dropping out.
In the final Todd Wallace made it three out of three in what will certainly be his last experience of starting at the front! Harvey Wareham also kept clear of the chasing pack in second, while Kayleigh Sewell held on in third, closely chased by Alexia Bowen, Fin Chance, Ryan Blair, Harry Loader, James Rich, Harvey Green, Cherie Wells and Robert Light. The next closely packed group over the line was headed by Lacey Chance from Bailey Ramsay, Annabelle Palser, Teddy Kemp, Archie Ginns and Justin Johnson, with Brayden Dixon completing the field.
Todd Wallace obviously took the trophy for the day's top scorer, but there was a three-way tie for second between Fin Chance, Kayleigh Sewell and Justin Johnson.
12 cars turned up for the NOVICE JUNIORS, although only 11 of them raced, including two first timers, Nathan Pidgeley in a Micra and Tom Breen, with a Corsa. The first race saw some of the drivers who impressed at the previous meeting at the front again, and Josh Stilwell led all the way to win from Alex Marshall, Jaymee-Lee Gorrie and Ella Dade, with Charlie Plant having a good run to fifth. Stan Dench came in next from Ethan Palser and Nathan Pidgeley, who was quickly getting up to speed, with Tom Breen and Freya Dixon completing the order after Riley Bowden pulled off. The second race had a close finish, with Stan Dench holding on in front of Ethan Palser, Josh Stilwell and Jaymee-Lee Gorrie. Nathan Pidgeley continued to improve with fifth ahead of Riley Bowden, Alex Marshall and Ella Dade, and Tom Breen again did well with a steady finish. The final was the last scheduled race of the day, with the thunder and lightning getting ever closer. As the rain began to fall halfway through the race was stopped, with no result recorded, but at the time Riley Bowden was looking good in the lead, from Josh Stilwell, Alex Marshall, Charlie Plant, Ella Dade, the ever more confident looking Tom Breen, Stan Dench and Nathan Pidgeley, after Jaymee-Lee Gorrie pulled off on the first lap.
The THUNDER ROD field had thinned out a bit, with 13 cars lining up, including just a couple of RWDs this time. That was maybe just as well as they were greeted with a watered track for their first two heats, with most of the FWD cars pushing straight on into the pits bend. Connor Wright's Fiesta, the only car in the white grade, led most of the first heat before swapping ends under braking into the pits turn. Yet again it was Lewis White in his rare Mazda MX3 who'd steered the steadiest course through the traffic, and he held off Matt Gurr's Fiesta for the win, with the MGs of Jamie Sayers and Pete Stevens close behind. Then came Jack Soper's Fiesta and David Lock's Astra ahead of the big Vectra of John Burt, which stayed in front of the BMWs of Carl Noble and Jon Eyers, with the former Ringwood regular Jon having his second Tongham outing. Chris Snooks' Fiesta, Simon Croucher's Civic, Charlie Freeland's MG and Connor Wright completed the field.
The second heat was once more treated to a watered track. Connor Wright again led the early laps, but this time it was Jamie Sayers who made the quickest progress of the graded drivers, and he came home ahead of Lewis White to claim the win, with Pete Stevens, David Lock, Connor Wright and Charlie Freeland next. Chris Snooks came in seventh from John Burt and Carl Noble, after a first lap spin, with Jon Eyers completing the top ten and Simon Croucher the final finisher. Matt Gurr retired and Jack Soper didn't start.
Ten cars came out for the final and this time Carl Noble's BMW got out front at the start, before being passed by Jamie Sayers. The battle for second came to an unfortunate end, though, when Matt Gurr got out of shape lapping Simon Croucher in the Farm bend, taking Charlie Freeland wide. As they all funnelled on to the straight, Lewis White had grabbed the inside line but Charlie ran out of room and bounced off Lewis, headlong onto the armco. The reds came out and Jamie Sayers was awarded the win, with Matt Gurr second from Lewis, who was later excluded, and Pete Stevens. Chris Snooks was fifth, Jon Eyers came through well from the back to sixth, and Jon Burt, Carl Noble and Simon Croucher took the other places.
The trophy positions saw Jamie Sayers first, Pete Stephens second and Lewis White still in third.
On to the main SEGTO classes, with the PRODUCTION A field reduced to a more manageable 15 cars, which was probably just as well after their recent hectic races. No newcomers this time but two drivers had moved from shared cars to their own; after a few meetings in his daughter's car, Jamie Hales had taken over Willow King's Micra as Willow moved to 1450s, while Oliver Hester had acquired one of the Turner family's many Micras. One who was still sharing a Junior car was Sadie Plant, who had an excellent run in the first heat, building up a big lead from the start and only getting caught with two laps to go. Alan Goddard took over and held on to win by a bumper, with Zak Gorrie alongside and Aaron Hough close behind, while Sadie came a very creditable fourth in front of the previous round winner Louis Feltham. Then came a jostling queue headed by Oliver Hester, who was minus a bumper but still ahead of Jamie Hales, Bob Salter, Shane Phillips, Laura Connors, Woody Kemp, Mark Ramsay and Cameron Wellgreen. Jamie Dade stopped on the last lap and Kyle Hough pulled off on the first lap.
The second heat was quickly red flagged with both white grade starters, Sadie Plant and Oliver Hester, having problems. From the restart Jamie Hales took the lead but was soon passed by Laura Connors, and Laura then held on under increasing pressure to eventually cross the line with a very deserved win, by the narrowest of margins from Alan Goddard, Kyle Hough, Shane Phillips, Louis Feltham, Aaron Hough and Zak Gorrie. Jamie Hales led Bob Salter home for eighth, with Woody Kemp and Mark Ramsay still glued together in tenth and eleventh, ahead of Cameron Wellgreen and Adam Dade.
The final was just as closely fought, but unfortunately a bit more controversial! Sadie Plant again took a good lead, but ran wide at half distance, letting Oliver Hester challenge. Sadie regained the lead but Shane Phillips was now in a position to dive through on the inside, with Oliver and Jamie Hales running wide into the fence. Shane then led to the last lap, when he pulled off after a black flag, with Louis Feltham emerging in front to cross the line ahead of Kyle Hough, Alan Goddard, Zak Gorrie, Aaron Hough, Sadie Plant, Bob Salter and Laura Connors. Mark Ramsay this time headed Woody Kemp in their private battle, while Jamie Hales, Cameron Wellgreen and Adam Dade completed the order. Unfortunately that wasn't the end of it, with Louis Feltham getting docked a place, and then getting excluded altogether, leaving Kyle Hough the winner. On points Alan Goddard was the day's winner with, as far as we could work out, Zak Gorrie and Aaron Hough joint second.
PRODUCTION B had an 8 car entry with the same three cars battling for honours for most of the day, but several others getting in among them. Callum Penfold was still having a few problems with his Corsa, but on a watered track he led the early stages of heat 1 before being passed by Dave Blackburn, before Thomas Connors' sideways K10 Micra came past. Kodi Page's Micra and Rob Salter's Peugeot raced side by side most of the way for second, and caught Thomas at the end, but Thomas held on from Kodi and Rob, with Dave Blackburn fourth from Aaron Culley, Skye Plant and Ryan Stafford.
The second heat was drier and dustier but had the same outcome for Thomas Connors, who passed early leader Callum Penfold and then held off Rob salter for the win. Kodi Page beat Aaron Culley in the battle of the blue Micras for third, with Callum Penfold having a better run to take fifth from Dave Blackburn, after Skye Plant and Ryan Stafford.
The final saw Rob Salter grab an early advantage over Thomas Connors and after they both found a way past Callum Penfold, and Rob carried on to win, chased by Thomas and Kodi. A last corner tangle between Dave Blackburn, Aaron Culley and Callum Penfold meant that there were only three finishers recorded.
Overall top three were Thomas, Rob and Kodi.
There were a couple of newcomers to the 1450 HOT RODS; former Angmering ProdStox regular Willow King moved up from Prod A with the ex-Ben Reynolds Stock Hatch/Lydden Rod/Euro Rod Citroen AX. Bridport man Ash Cousins had sent his Thunder Rod Sierra to a new home in Cornwall and debuted a newly acquired NASA Class 2 Nova. The first race got off to a bad start for Sam Harriss, whose Micra bonnet flipped up, but at the front Wayne Hibberd was again going well in the ex-Johnsey Nova, despite a lot of popping and banging on the straights, and he led until Tim Ashton-Jones' RWD Mini took over. Tim came in the winner from Wayne, with Jason Woodgate this time not quite catching them at the end. Ash Cousins did well to take fifth with the Class 2 car, ahead of Mo Penfold and Willow King.
Second time out Ash Cousins raced side by side for the lead with Wayne Hibberd for a couple of laps until Ash sadly had to pull off, and then the usual order was resumed with Jason Woodgate eventually hitting the front to win from Tim Ashton-Jones, while Wayne was still the top FWD, chased by Sam Harriss, Mo Penfold and Willow King.
Tim and Ash were missing from the final and Jason Woodgate, after passing Wayne Hibberd for the lead, pulled away to win as Wayne eventually pulled out with a misfiring engine. Sam Harriss took second from Mo Penfold and Willow King.
Overall, Jason won with Mo Penfold taking second ahead of Tim Ashton-Jones.
SUPER SALOONS had a six car grid, with the top five in points lining up behind Shaun Maynard's ex-Thunder Rod Fiesta, although Shaun's engine then expired on his first lap. Chris Jewer's RWD 106 spun onto the infield at the start, as Mike Brooke FWD 205 took a lead that he held to the finish of the first heat. Graeme Taylor, again in his Corsa, slipped inside Laurence Connors for second, and Ryan Adamson in his AX also demoted Laurence with Chris Jewer bringing up the rear – this time! It was a bit different for Chris in the second heat as he made a perfect start and then held a nice drift round every corner so that there was no scope for Graeme's ex-National Hot Rod car to sneak up the inside. As Chris took a well deserved win, Graeme dropped back to third behind Mike Brooke, with Laurence and Olly close behind. In the final Chris, now lacking first gear, was slower away and Graeme Taylor led all the way. Mike Brooke took second from the start, but was passed by Olly Adamson, closely followed by Laurence Connors. Olly eventually had to pull off, leaving Laurance second from Mike and Chris.
The trophy positions saw a tie for first between Graeme Taylor and Mike Brooke, with a first, second and third each, and another tie for third between Chris Jewer and Laurance Connors!
The SPECIALS marked the end of Poppy Carter's time racing from the white grade, and she certainly made the best of it. In the first race her rapid start saw her actually close the gap on her dad Chris, starting in front of her at the back of the grid. It then took until the last three laps for Chris to get the better of Ashley Lock before he caught and passed Poppy, so Chris won with Poppy just holding off Ashley for second. Mick Baigent was the first car-engined contender to finish, ahead of Stuart Jewer, while Shaun Page pulled off after another close encounter with the armco. The second heat saw Poppy go one better, still well clear of Chris at the finish, while the battle for second was only resolved on the last lap when Ash Lock got too sideways and couldn't reverse out of the infield barrier! Mich Baigent and Stuart Jewer took third and fourth. Poppy repeated the performance in the final to take another win as Chris claimed second and Mick Baigent just pipped Ash Lock to third in a spectacular finish as Ash broke a cv in the last corner and then blew a hose as well as he scrambled for the line. Stuart Jewer and Shaun Page pulled out, while Graham Baker had more problems with his historic ex-Danny Stafford car and never made it onto the track all day.
Poppy took the overall winner's trophy with dad second and the always hard trying Mick Baigent third.
As the thunderstorm raged and the rain lashed down, there were still ten drivers keen enough to come out for the ALLCOMERS race to end the day. Aaron Hough led away from Laura and Thomas Connors, while Chris Carter's Special caught and worked through a bunch of Thunder Rods. On the last lap Chris made it through to take the lead, but his goggles were completely filled in by then and he slightly lost his way, letting Aaron back past to win, with Thomas second ahead of Laura, Matt Gurr, John Burt, Willow King and Connor Wright, with Brad Wells (putting the first dent in Cherie's new car), Chris Snooks and Shaun Maynard pulling off.
That just leaves the ROOKIE BANGERS with the first "small" race being perhaps the craziest of the year so far. Francesca Ellis led most of the way, quickly disposing of fellow Junior graduate Riley Rogers when he passed her. Rather than pick up the win, though, Francesca opted for a demolition job on Lee Winter's Micra, which had previously tangled with her father John. That finished Francesca for the day, although Lee managed to drag the front half of his Micra out to provide more target practice in the final. Out of 14 cars, three were running at the end, Riley Rogers winning from Albert-Lee Garrett and Matt Gould. Just six cars made the second race and four finished. Team-mates Jayden Cushing and Riley Rogers had nobody else to attack so took each other out at every opportunity, also involving Albert-Lee Garrett, all three of them Junior drivers from last year. Jayden won from Riley, Matt Gould's fairly well crippled Ka and Albert-Lee. Ten cars made it for the final, with Albert-Lee leading until he ran into a parked car with a lap to go. Three survived, Len Bowen took the win in Emily Gould's Ka, and John Ellis re-emerged to take second from Albert-Lee.
Albert-Lee was the day's overall winner from Riley Rogers and Matt Gould.
The larger Rookies fielded 19 cars but did less damage, although Bobby Pidgeley put his Focus on its roof early in the first race. Simon Renshaw led most of the restarted race, spinning out challenger Shane King, but Simon's Focus Estate eventually died and Lee Claxton took the win from Stephen Pankhurst, Shane King and Harry Westbrook. Second time out Bobby Pidgeley stayed the right way up and ended up winning, holding off former SEGTO racer Jason Greener at the end with Rhys Miles and Stephen Pankhurst next up. This time there were ten finishers out of the 17 starters. 14 cars made the final, with Simon Renshaw again going well in the lead until he was spun out by Jason Greener. Jason's Astra ended up the winner from Bobby Pidgeley, Adam Rowell, Rhys Miles, Dave Cushing, Stephen Pankhurst, James Guppy, the shared Wayne Griggs/Wayne Prince car and Daniel Hunt.
Top scorer for the day was Stephen Pankhurst, with a tie for second between Bobby Pidgeley and Jason Greener,