SWAFFHAM RACEWAY
Rolling Thunder Show Round 8 - 17 June 2023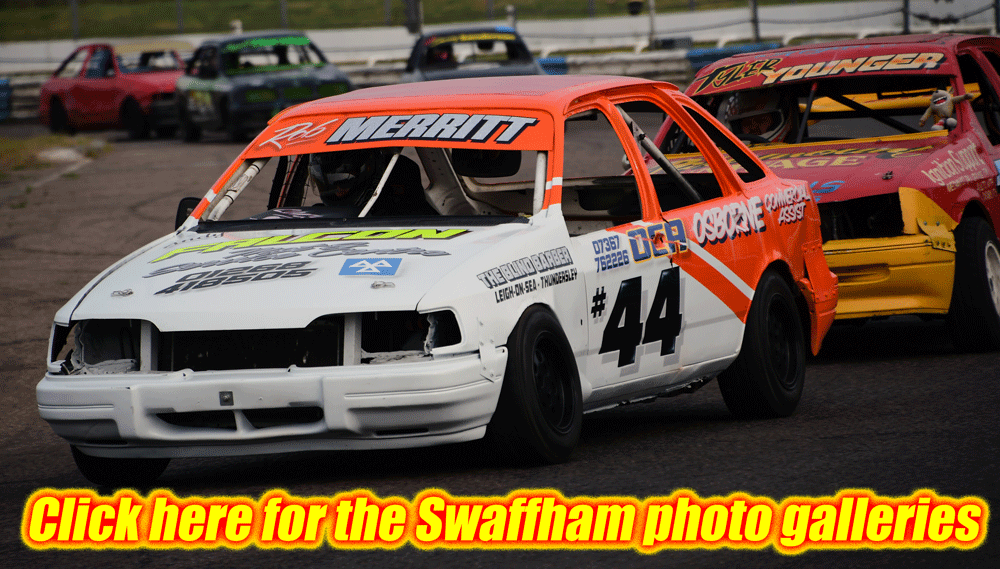 After a couple of meetings with visiting formulae in the mix, it was down to the RTS regulars to make up the programme for the mid-June Saturday evening session. The event got off to a bit of a slow start, with sparsely populated pits and a very brief rain shower during the afternoon, but several late arrivals brought the turnout up to a reasonable 37 cars between the six classes. Conditions were ideal by the time racing started, not quite so warm as the previous few days, and as can often happened, what looked likely to be a quite routine meeting actually produced some of the best close racing action seen at Swaffham all year.
Racing started 45 minutes later than the theoretical 3 pm, and there was a lengthy stoppage two laps in to the first race, but after that the RTS' usual slick turn-around kicked in and the 18 races were completed in two and a half hours.
The LIGHTNING RODS had recovered from one or two recent small turnouts to field seven cars. Tyler Younger led most of the way in the first heat, but towards the end he had the gold roofed Dave Imber on his outside and on the last lap Dave finally managed to pull clear and take the win from Tyler, with the smartly rebuilt car of Rob Merritt holding off Danny Sanderson and Russ Thornton for third. Kevin Goddard completed the runners after Sam Shirmer pulled off in the early laps.
Second time out Rob Merritt got away ahead of Tyler Younger from the yellow grade, and soon passed white top Kevin Goddard for the lead. Rob then held off Tyler all the way, with Sam Shirmer catching up in third at the end, after his battle with Dave Imber ended with Dave pulling off. Russ Thornton got the better of his running battle with Danny Sanderson this time.
The final, despite Dave Imber being missing, turned into am epic battle although it got a bit too close with some three abreast action resulting in gentle side-to-side contact, sending the unlucky Sam Shirmer off with a puncture. The race settled down with Rob Merritt holding off Danny Sanderson until Danny found a gap on the inside to grab the lead. Danny then drifted sideways round the next bend and in an instant Rob was back in front, and this time he wasn't going to leave a gap. There was a clear lack of grip on the outside and Danny's slightly tail happy car wasn't going to let him force the issue on the inside, so Rob held on in front of Danny after a tense 20 laps, with Russ Thornton close behind in third and Tyler Younger the last finisher in fourth after Kevin Goddard pulled off.
The FWD HOT RODS also had a seven car field, with six of the regulars (Chris Head being unable to make this meeting) joined by Bury St Edmunds-based Ricky Lofthouse, an experienced Stock Rod racer after starting in Class 6 at Cambridge Autograss. Ricky brought out his Stock Rod Nova for its first outing in three years, just for a taster of the class, expecting to be at a big power and weight disadvantage, but it didn't turn out quite like that! Chris Cole's immaculate Puma ran away with the first heat, helped by Kev Head and Chris Thirkettle demonstrating the typical side-by-side racing of this class most of the way, with Chris finally getting the advantage over Kev's older Fiesta. Andrew Buckett's C2 was running well in fourth, but Ricky Lofthouse closed up and was alongside at the finish, while Kev Brocklesby was an early retirement with his Corsa looking a bit smoky.
Andrew Buckett led the second heat away, but Chris Thirkettle found a way past and then narrowly held off Chris Cole all the way, while Andrew took third with Kev Head and Ricky Lofthouse right behind. Kev Brocklesby's car was now relatively smoke-free, but a bit off his usual pace.
With 25 laps to sort out the final, Chris Thirkettle ended up leading all the way, but it was anything but dull. For the first half of the race he had Chris Cole trying everything to get by on the outside, but then Ricky Lofhouse's Nova dumped a load of oil or water, spinning Ricky out of the race and giving the leaders an interesting moment when they found it. That helped Kev Head close right up, soon to be joined by Kev Brocklesby, setting up a four car battle over the last ten laps. Whatever grip there had been on the outside was gone, but Chris Cole was still obliged to pull out and look for possibilities over the last few laps before tucking back in as Chris Thirkettle won an excellent race from Chris Cole, Kev Head and Kev Brocklesby, with Andrew Buckett relatively lonely in fifth.
Yet another 7-car grid lined up for the 1-LITRE HOT RODS, with Karl Renwick leading the field away each time. Soon Freddie Chandler, Chester Wood and Sid Pearl were challenging for the lead in the first race, but once Sid got his nose in front he pulled away to a convincing win, with Emilie Smith holding off Chester for second and Freddie ahead of Danny Coombes and Karl Renwick for fourth. Next time out Karl again led before Chester Wood, again showing excellent form in his third meeting, took over, under pressure from Sid Pearl and Emilie Smith. Sid finally squeezed by on the inside and then held on to win from Emilie and Chester, although the close action left Sid with a smoking rear tyre at the end. Freddie Chandler again held off Danny Coombes and Karl Renwick for fourth.
Two heat wins saw Sid Pearl upgraded to red for the final, setting up an epic 20 lap battle. Karl Renwick made a good gap for himself in the early laps and held on in front until well into the second half, with Freddie Chandler fending off Chester, Sid and Emile for second. Sid finally moved to pass Freddie on the outside, giving Emilie the chance to pass both of them on the inside, only for Sid to switch back to the inside and emerge in second. Sid then finally caught and passed Karl, so Sid ended up with three very hard-earned wins, with Emilie and Chester right behind, and Karl hanging on to fourth from Danny Coombes and Freddie Chandler. Completing the field was Dominic Thornton, steadily picking up experience from the back of the grid.
The NINJA KARTS started with 8 karts on track, but an unfortunate coming-together early in the first race put Harley Flegg out for the rest of the day. Tommy Talbot Jr led most of the way after the restart, but was caught on the last lap with Parker Smith winning from Tommy, Tyler Stevens, Stanley Mattioli and Freddie Taber, with Daniel Holland and Dolly Rae Keenan completing the order.
The second race saw the striking blue karts of Dolly Rae Keenan and Tommy Talbot heading the field, but after a synchronised spin for Tommy, Tyler Stephens and Stanley Mattioli, Freddie Taber emerged in front and held off Parker Smith for the win, with Tyler and Stanley recovering for third and fourth.
Dolly Rae and Tommy both had turns in the lead in the final, but this time Tyler Stephens came through quickly to take it up at half distance, and he came home a comfortable winner. Tommy took second from Freddie Taber, Daniel Holland and Parker Smith, with Stanley Mattioli spinning out of that battle and coming in sixth ahead of Dolly Rae.
The JUNIOR SCREAMERS only had three cars but still laid on good close racing. Charlie Barber Jr is settling in well to his Fiesta after moving up from the Ninjas and won the first race from Rosie Taber's Micra and Logan Wick's Corsa, which spun out with a flat tyre on the last lap. The second race saw Rosie leading all the way, with Charlie closing right up at the end as Rosie came up behind Logan. The three cars were handicapped for the start of the final, giving Logan a chance to hold on well to the lead for a few laps until Charlie got past, with Charlie then holding off Rosie all the way, but only just as Rosie got alongside for a photo finish.
As ever, the programme was completed by the SCRAPYARD SCREAMERS, with a few latecomers bringing the field to seven cars. Gary Carter's Rover held off Scott Davis' Astra to win the first race, but Gary left a trail of oil leaving the track and wasn't seen again. Joe Barber led the early laps and finished third from Dan Booker, with Mick Meekings taking fifth but also not coming out again. With just four cars in the second race, Dan Booker won, chased by Joe Barber with Tom Cornell third, first time out in a Renault Scenic. Dan Cannon's Corsa rejoined the field for the final, which was led nearly all the way by Joe Barber. Into the last lap Joe ran wide lapping Tom Cornell, letting Dan Booker through to take the win, and then Tom took Joe into the fence on the last corner. Dan Cannon took second, Joe rejoined in third and Scott Davis' struggling Astra was lapped in fourth.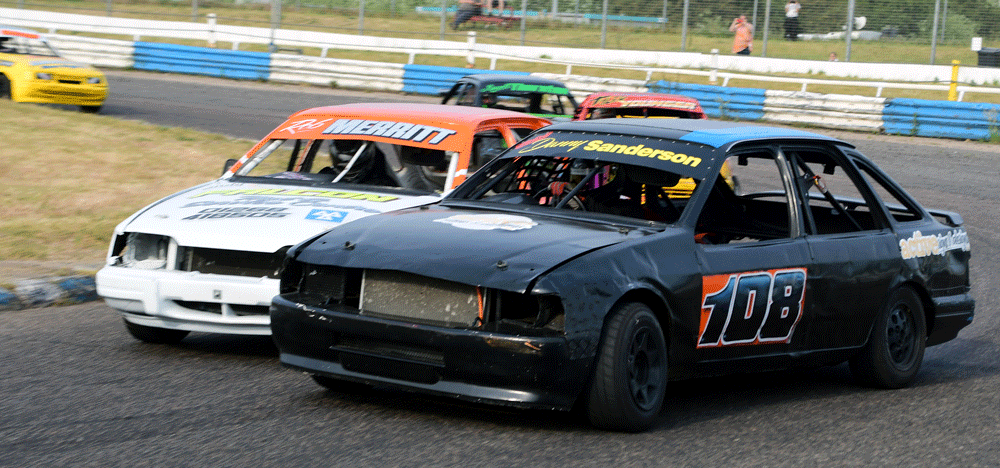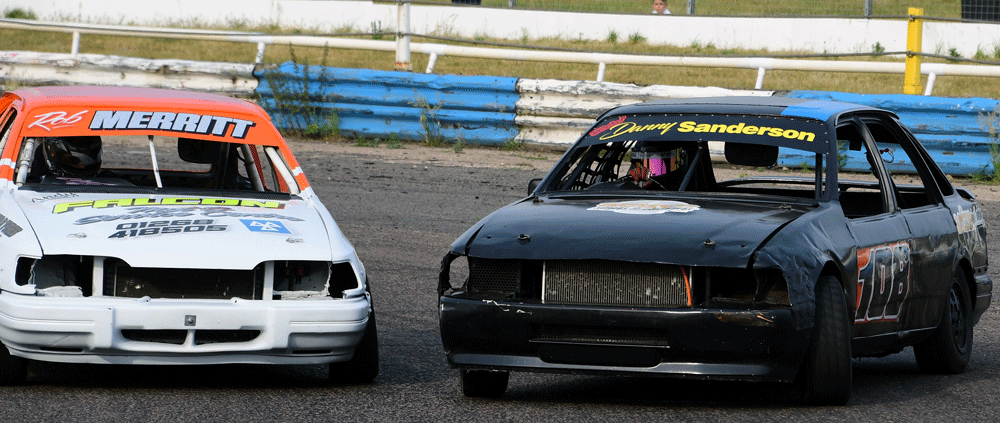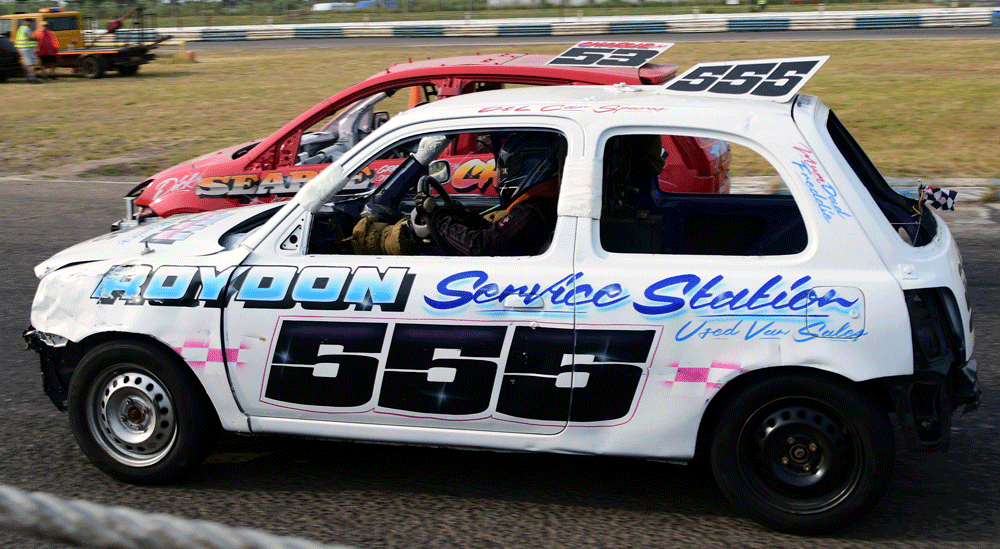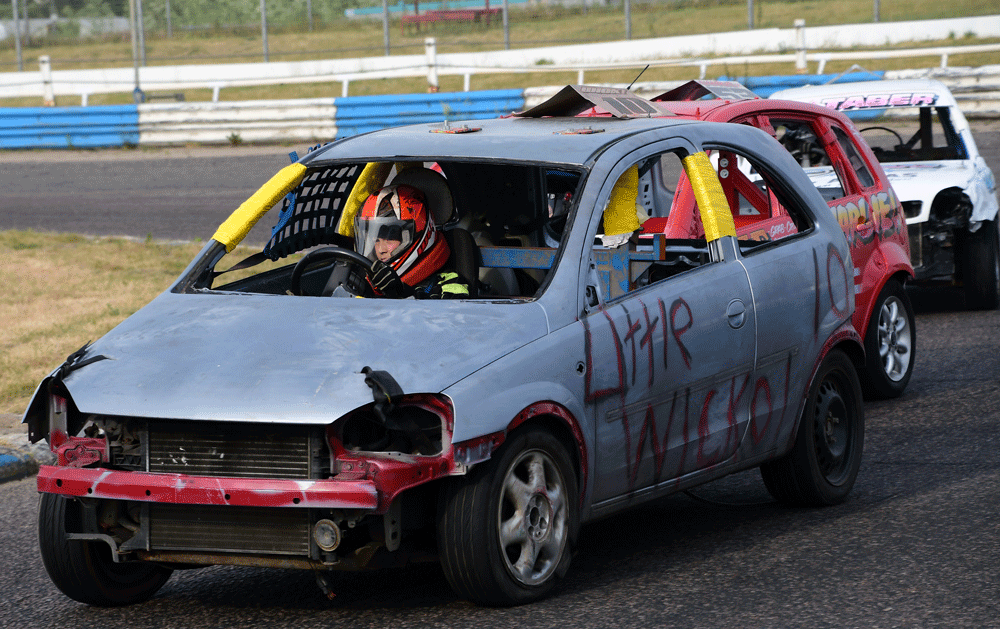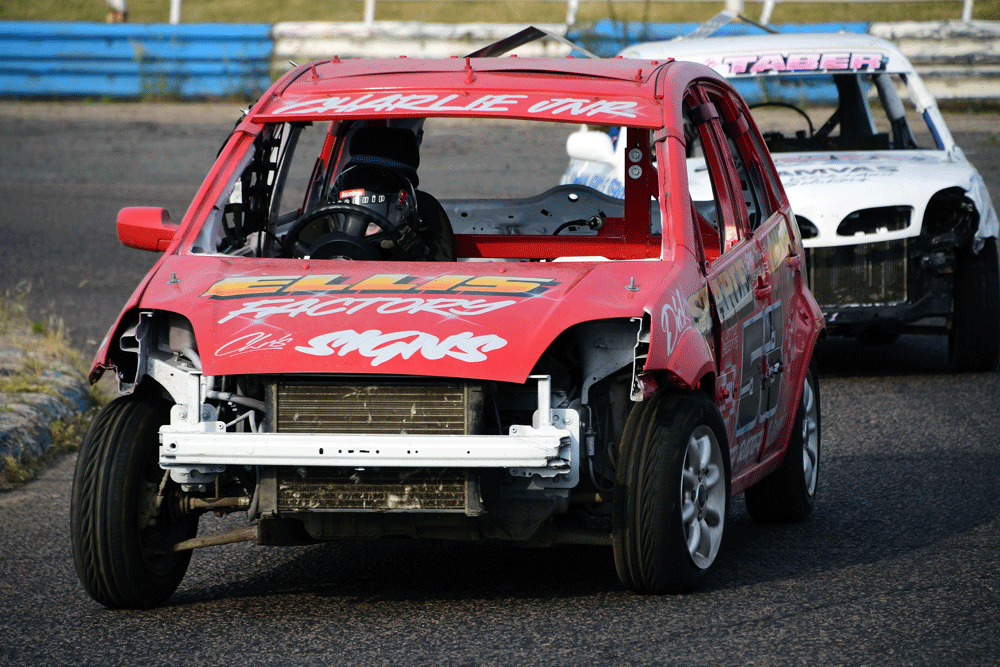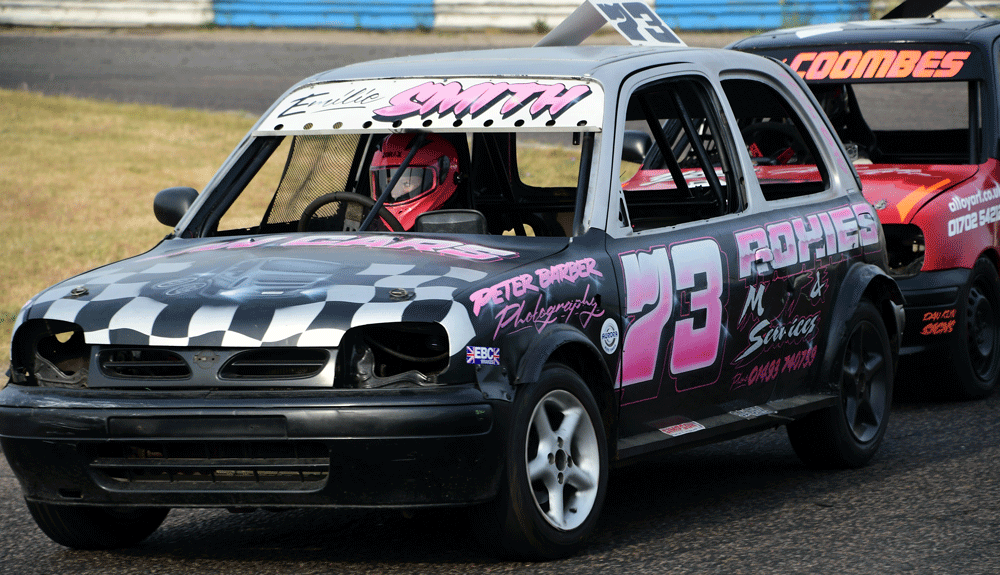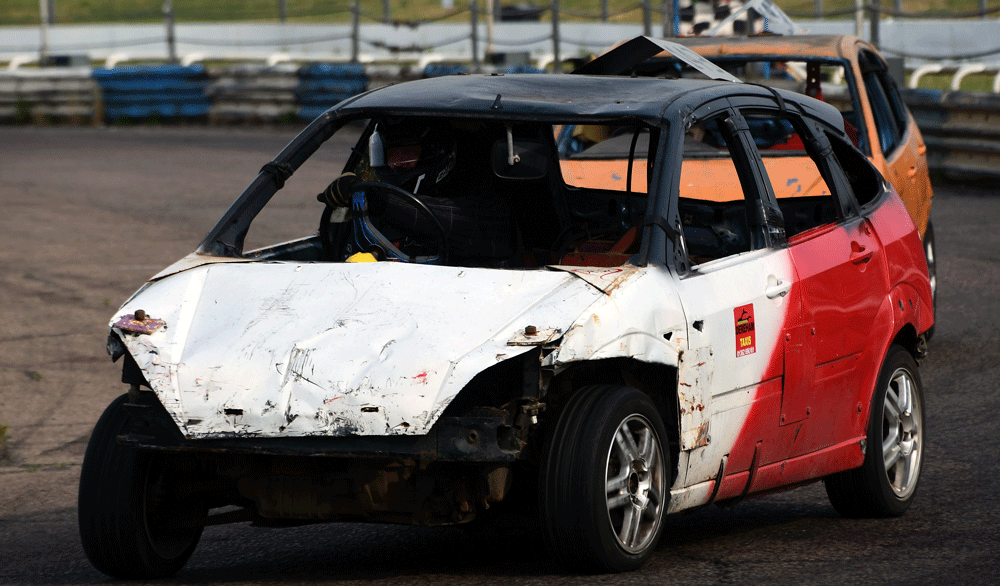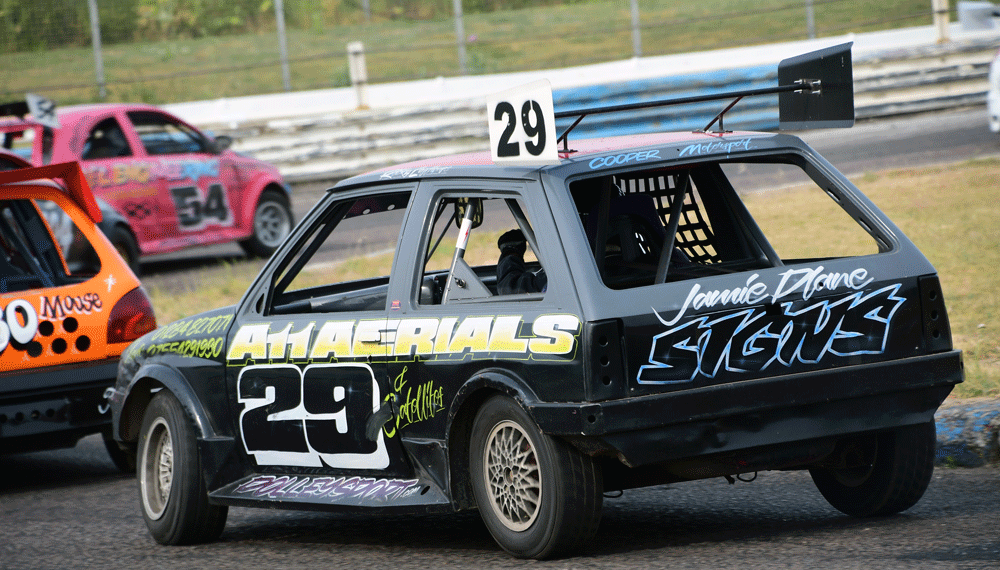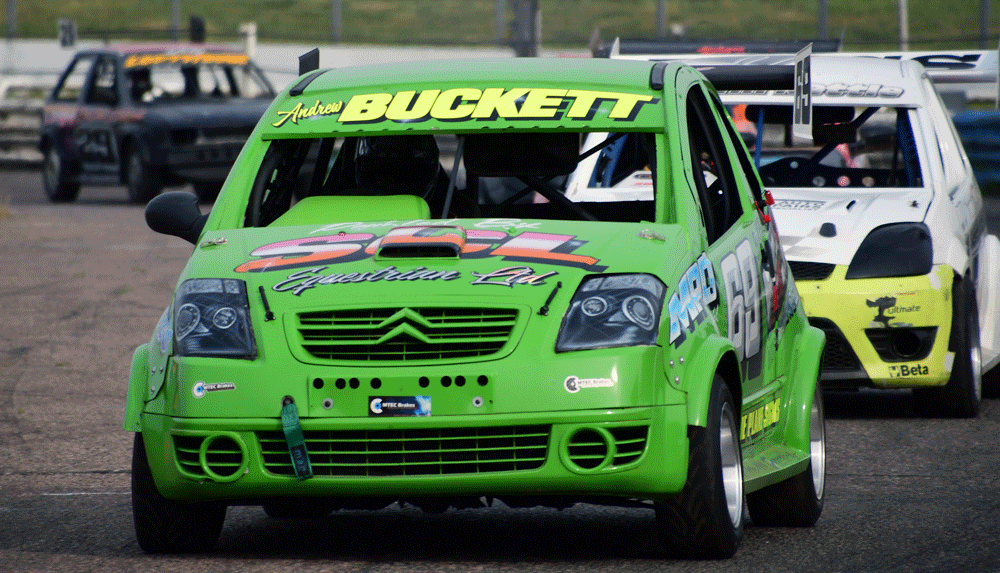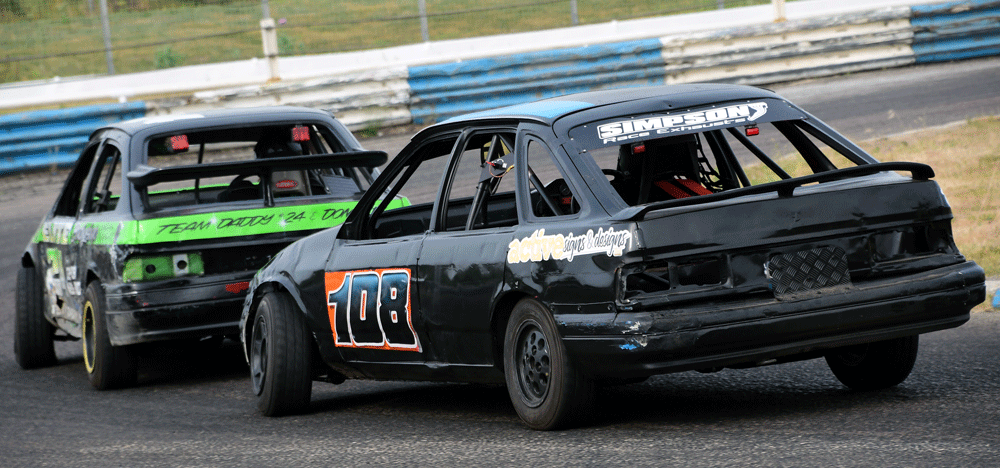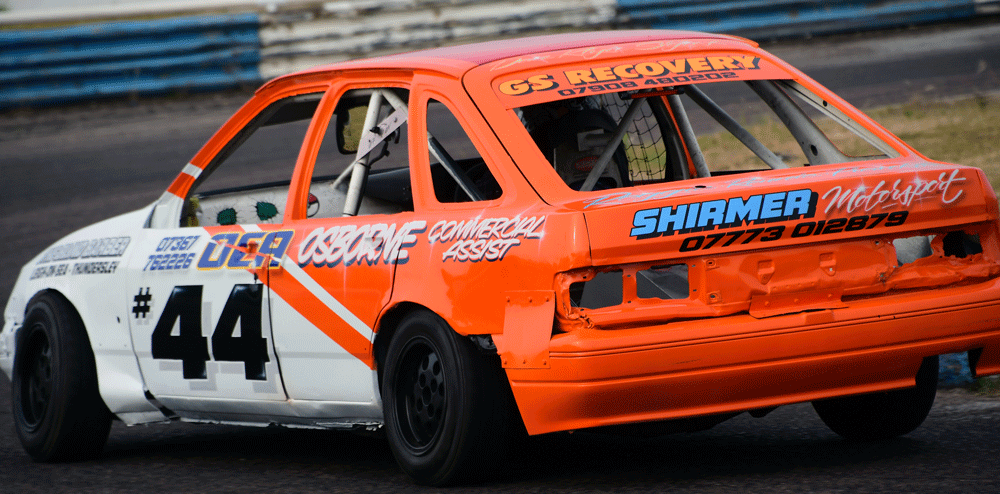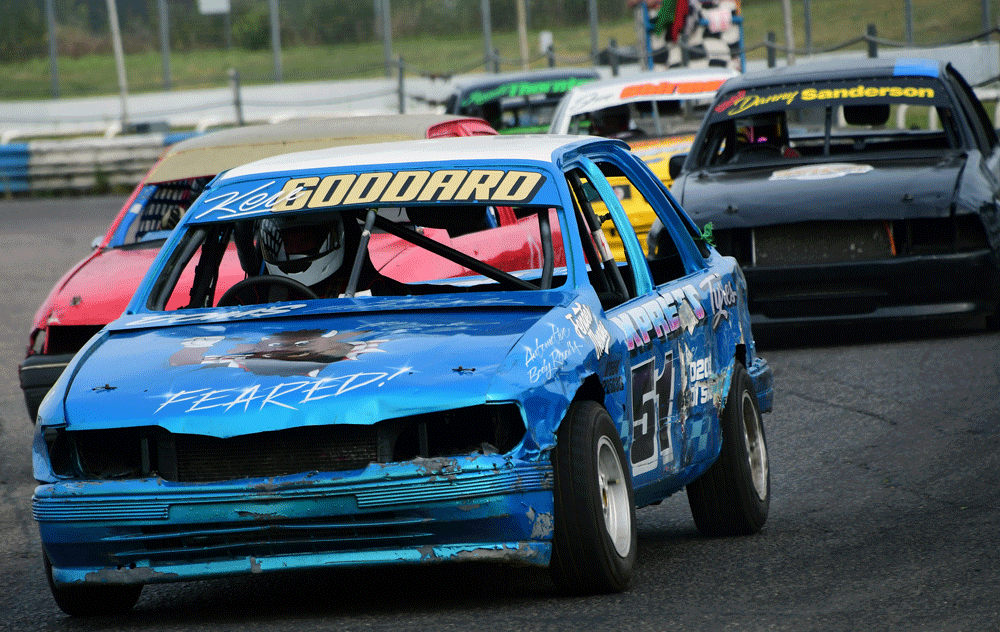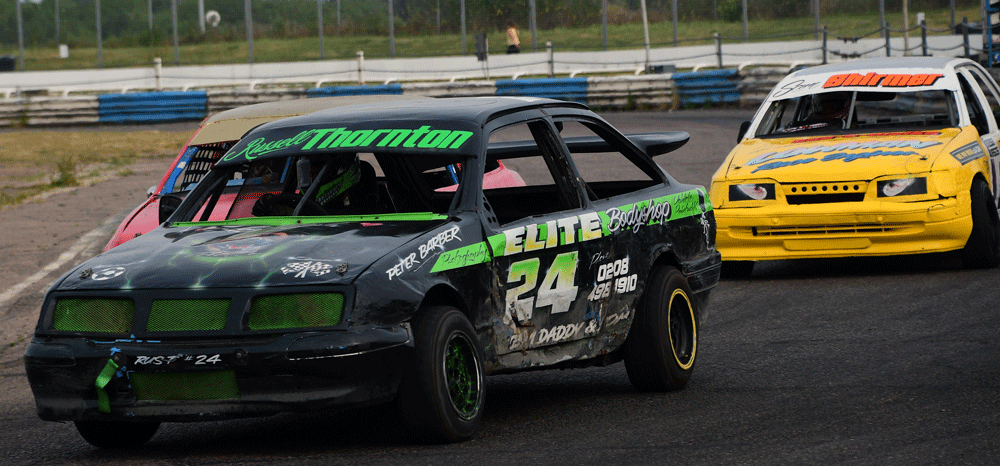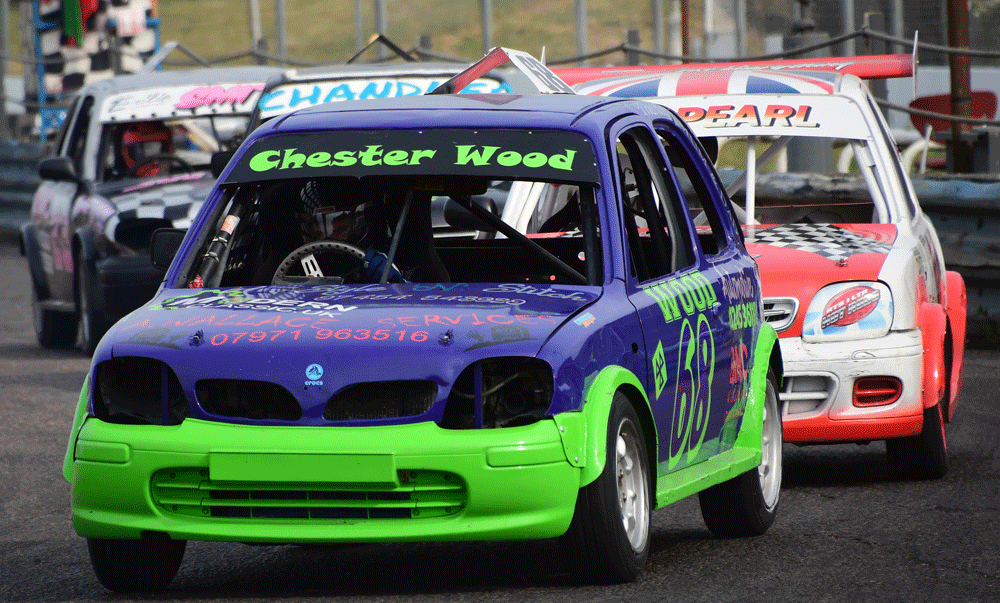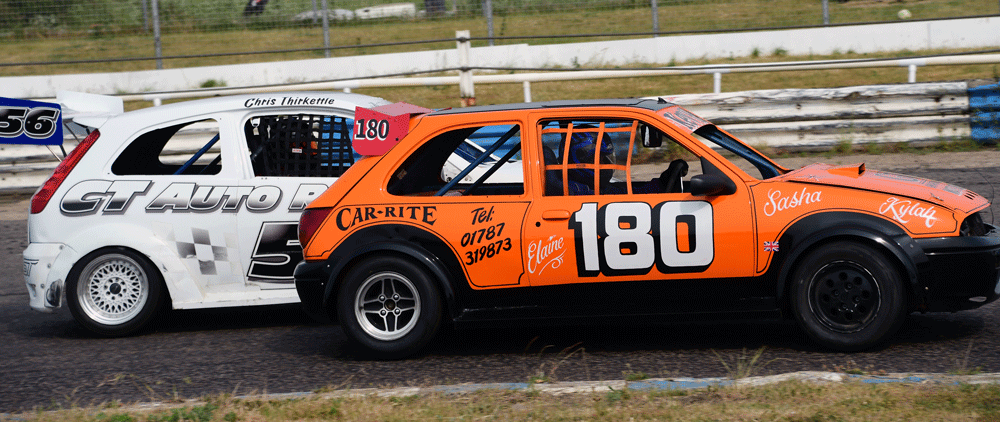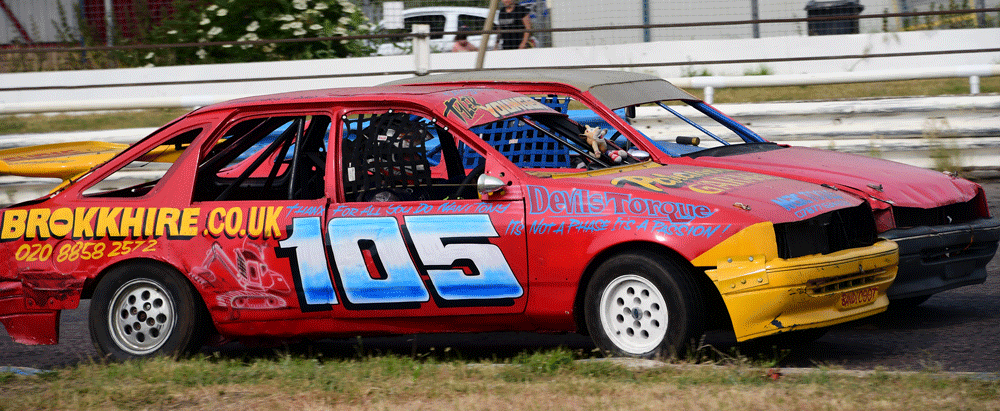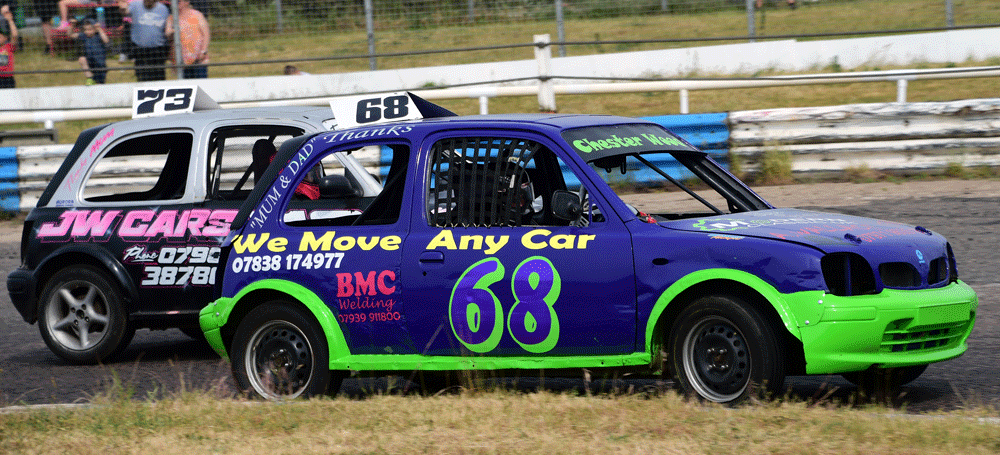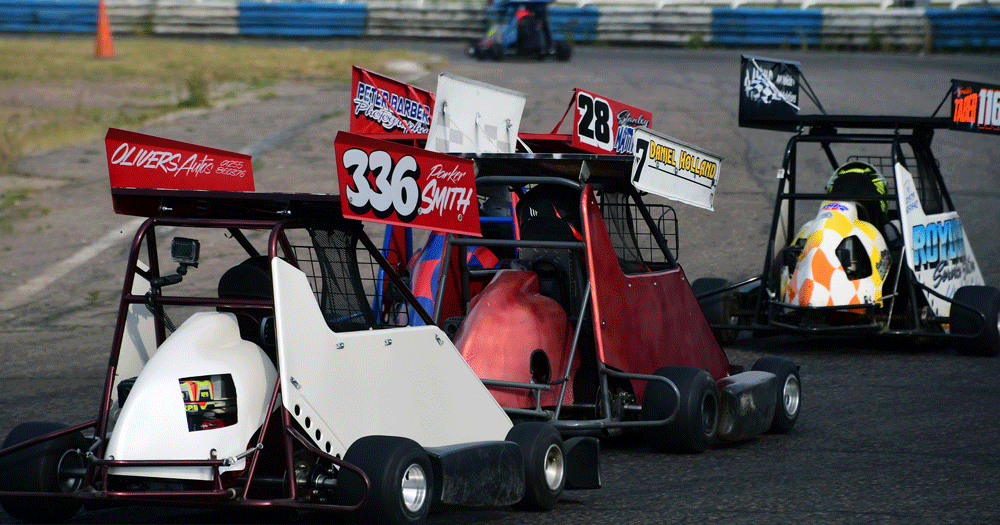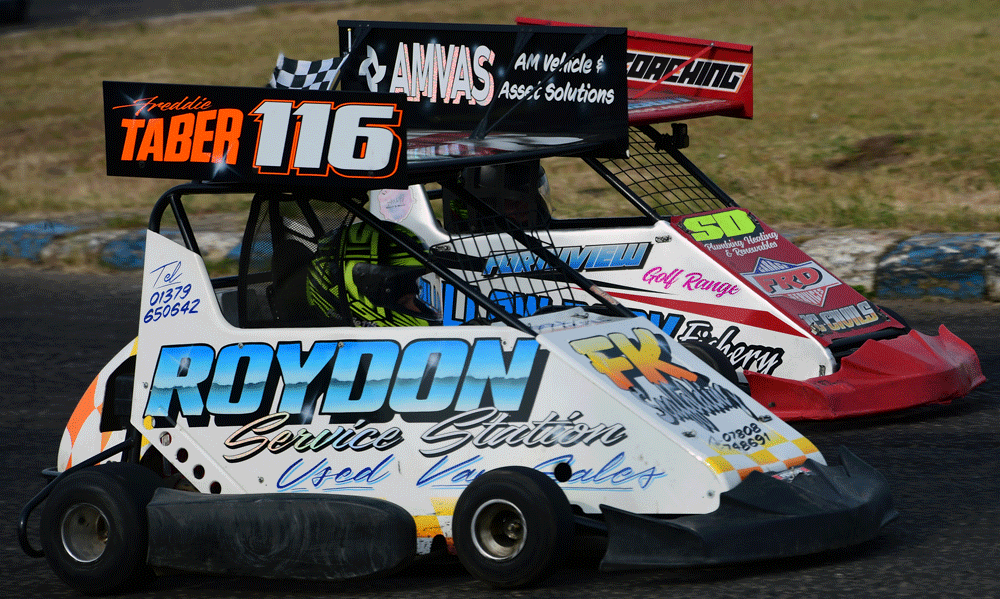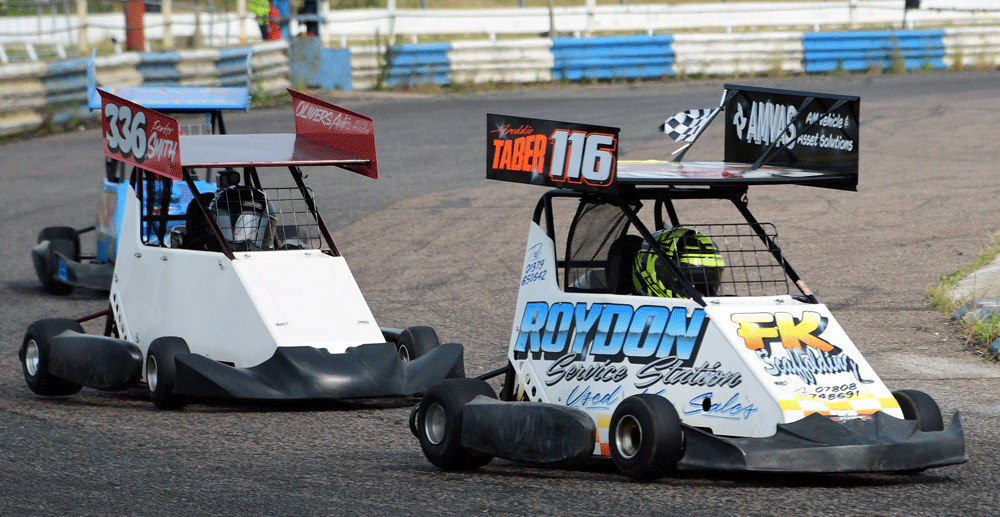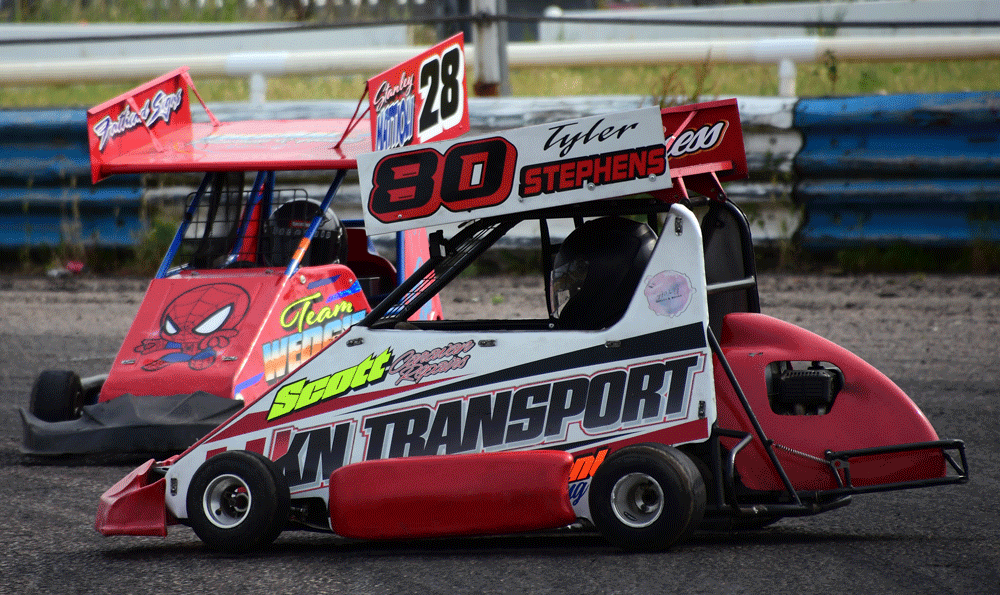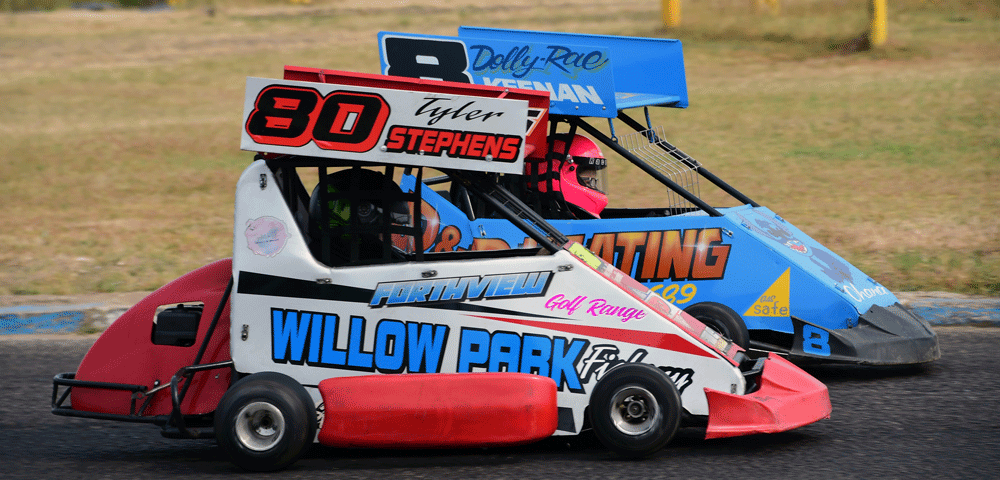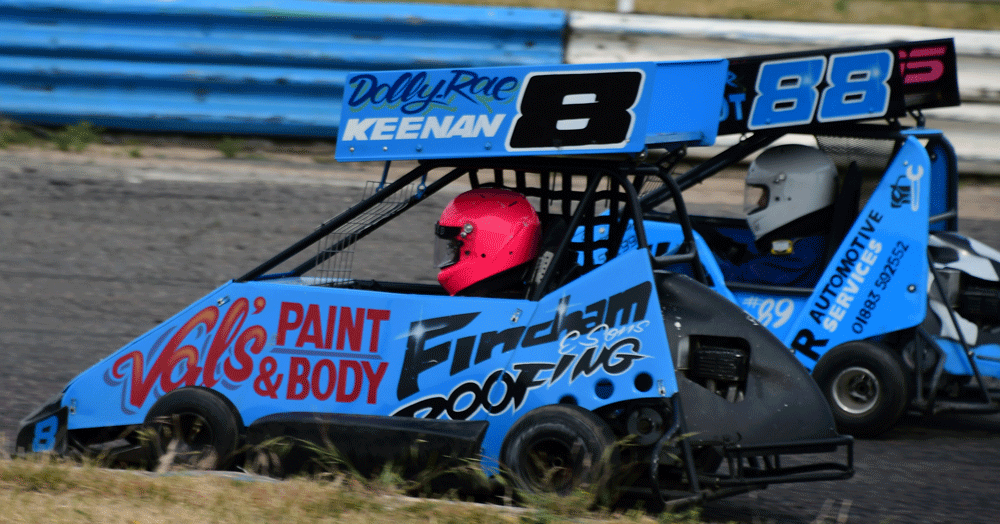 .