TONGHAM MOTOR CLUB

Round 5 - 25 June 2023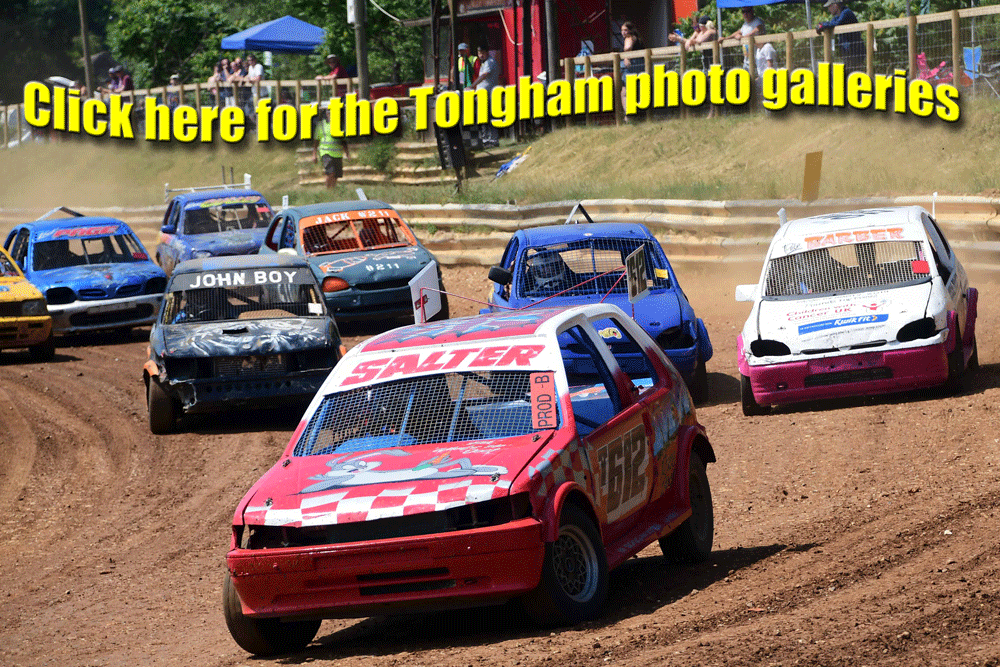 Another hot, dry and dusty day for Tongham Motor Club brought out a strong entry with 142 cars in the pits and a good sprinkling of new or returning racers through the classes. The racing was as close and competitive as we always expect at Tongham, although the warm weather did bring its issues. A breakdown for the water cart resulted in a delayed start and, although the track's (racing) landowners stepped in to solve that one, dust continued to be an inevitable problem all day. The temperatures also meant a few hot heads, and the committee had a bit of extra work to do calming down one or two over excited drivers and supporters!
There were a few on track problems to deal with in the first half of the meeting, with Production A and both Junior classes not having completed a full race between them up to the lunch break, and lengthy clear-ups after some of the Banger races, but most of the racing went a bit smoother during the finals, finishing an hour later than the 5pm target.
PRODUCTION A had another pretty full field, with 17 cars on the grid, and recent upgradings meant that Oliver Hester sat on his own in the white grade. Oliver's speed at the previous meeting, his first in his own Micra, meant that he was expected to be difficult to catch, and so it proved on a watered track, with no real inroad being made on his lead after six laps, when the red flag came out for Carl Sewell's stranded car, leaving Oliver as the winner. Jamie Hales was holding off Jamie Dade for second, and they'd been caught from the back of the grid by Louis Feltham, whose progress was interrupted by the red flag although he'd come far enough to grab the championship lead. He was followed in by the two Peugeots of Kyle Hough and Bob Salter, and then the rest of the field with Laura Connors just ahead of Aaron Hough, James Rich, Alan Goddard, Sadie Plant, Jamie Duff (just arriving in time to sign on after missing the Isle of Wight ferry!) and Woody Kemp, whose Nova had just spun out of fourth place. Cameron Wellgreen dropped out, as did Shane Phillips when his battery died, and Zak Gorrie stopped on the first lap.
Second time out Oliver Hester again led the way but, without him noticing, his passenger door skin was flapping loose and eventually fell off, leaving him wondering why he was being black flagged! Jamie Hales took up the lead, which quickly became the win when the reds came out, this time with Laura Connors suffering a broken wishbone that pulled a driveshaft out and left her immobile. Bob Salter was holding second place and Kyle Hough had just moved up to third, ahead of Louis Feltham, James Rich, Zak Gorrie and Alan Goddard. Jamie Dade was eighth in front of Aaron Hough, Cameron Wellgreen, Shane Phillips, Woody Kemp, Jamie Duff, Sadie Plant and Carl Sewell.
The final again saw the track watered, and again Oliver Hester stayed in the lead for most of the race, but as the lap boards came out, Kyle Hough moved ahead and held on to win despite Louis Feltham closing right up in second. Zak Gorrie took third and Oliver Hester held on for a good fourth, fending off Aaron Hough, Jamie Dade, Jamie Hales, James Rich and Cameron Wellgreen. Bob Salter won the battle for the last point, from Laura Connors, Shane Phillips, Alan Goddard and Jamie Duff, with Woody Kemp, Sadie Plant and Carl Sewell lapped at the end, Sadie having lost a good place when she collected Carl's spinning car. Overall winner of the day was Kyle Hough, from Jamie Hales and Louis Feltham.
PRODUCTION B saw Peter Barber make his first appearance of the year in his familiar Corsa, bringing the field up to ten cars. Callum Penfold set off in the lead in his Corsa, but yet again it cut out on him and as he pulled off, Rob Salter's Peugeot had already made it through the rest of the traffic, leading the rest of the way to win from Peter Barber, who was immediately back on the pace, and Thomas Connors. Kodi Page and Aaron Culley had another battle to end up fourth and fifth, ahead of John Beck, Jack Lucas and Ryan Stafford, with Skye Plant's car looking a bit off song before pulling off.
A watered track greeted the second heat, but it didn't last long before John Beck's Nova shed a front wheel, sending him firmly into the armco. By the restart the track was already drying out. Callum Penfold again pulled out after leading the first couple of laps, and this time it was Peter Barber who took it up, chased all the way to the finish by Rob Salter, Kodi Page and Thomas Connors. Aaron Culley headed Jack Lucas over the line, with Skye Plant and Ryan Stafford in seventh and eighth, although that order was shuffled a bit after penalties for both Rob Salter and Kodi Page.
Once more Callum Penfold's lead in the final only lasted a lap before his cutting out problem returned, which put Ryan Stafford briefly in the lead before Rob Salter took over, closely chased by Kodi Page. When the leaders hit traffic, Rob got boxed in and Kodi scraped past on the outside, Kodi then holding Rob off to the flag, with Thomas Connors in third. Aaron Culley got the better of Peter Barber for fourth, with John Beck, Skye Plant and Ryan Stafford completing the order after Jack Lucas went out with a puncture. The overall trophy positions were a win for Rob Salter ahead of Peter Barber and Thomas Connors.
There were a few additions to the 1450 HOT ROD field, including one blast from the past. The Talbot Horizon of the Hudson brothers from Bexleyheath had been a regular feature of this class at the Croydon club, but disappeared into a shed for the fifteen years since the Layhams Farm track closed. Now it was pulled out, still bearing its Croydon number, and ready for action with Neil Hudson at the wheel. Meanwhile, Dorset driver Callum Gosney had swapped his ex-NASA Class 6 Peugeot/Saab Turbo for a Class 2 Nova and dropped into the 1450s, while Alex Templeman made his debut in the ex-Chris Searle Nova. Jason Woodcate was finding his engine rather down on power, but it didn't stop him shooting from the back of the grid to head the first heat into the first corner, then leading all the way and lapping everyone except second placed Tim Ashton-Jones! Sam Harriss headed the evenly matched FWD cars in third from Willow King's AX, Callum Gosney and Neil Hudson, with the Horizon immediately looking competitive again as he came home in front of Mo Penfold and Alex Templeman.
The second heat saw a much closer fight for the win as Tim Ashton-Jones led until Jason Woodgate got past with four laps to go. As Jason caught all the battling FWD cars on the last lap Tim was still close behind and they crossed the line side by side, but with Jason just ahead of Tim. Sam Harriss took another third, holding off Mo Penfold, Willow King, Neil Hudson and Callum Gosney, with Alex Templeman this time the only one the two RWD Minis managed to lap.
Tim again led away in the final, but this time Jason got past after a couple of laps and then kept a safe gap to win from Tim, whose engine was also sounding a bit poorly. Sam Harriss made a late pass on Willow King to again "win" the FWD battle and at the same time Neil Hudson completed his impressive comeback by moving ahead of Mo Penfold for fifth, while Alex Templeman dropped out after losing drive. Jason took the first place trophy before heading off to strip his engine, with Tim second and Sam third.
Although there were seven SUPER SALOONS in the pits, only five made it to the track after pre-race problems affected both Chris Jewer and Rory Bennetts. That left a battle between the top four in the points, with the fifth car being a slightly surprising replacement for Shaun Maynard's blown-up Fiesta; a 2-litre Rover 600. Graeme Taylor's Hot Rod Corsa led the first heat all the way, chased by the two quick FWDs of Mike Brooke and Olly Adamson, with Laurence Connors dropping back a bit in fourth. Olly didn't come out again and the second heat was another win for Graeme, this time chased by Laurence and Mike. Laurence rocketed off the line in the final, and with the three totally different cars so evenly matched round the track, the start was the deciding factor and Laurence held on all the way for an excellent win over Graeme and Mike. Shaun Maynard put up a good show in the big Rover, finishing all three races and staying on the lead lap in the last two. Graeme took the overall win from Laurence and Mike.
The SPECIALS had a new contender with Ash Cousins now on his third car of the year, having swapped the Class 2 Nova he raced in the 1450s for what he believed was a 2013 Xtreme chassis, with Honda Blackbird power. After her double win last time, Poppy Carter had been upgraded to yellow, halving her starting advantage over her dad, but Poppy still set off with a good lead. Ash Lock pulled out early on, but Chris Carter still had a fight on his hands, with his car wanting to overshoot the pits bend a couple of times as Mick Baigent fought back in his Vauxhall-powered car. Eventually Chris cleared Mick and caught Poppy a moment too late, crossing the line side by side, but with Poppy recording her third win in a row. Behind Mick Baigent came Stuart Jewer, with Ash Cousins quickly mastering his new toy, and defying his own predictions by not spinning it!
In heat two Chris Carter and Ash Lock resumed their usual battle and this time they both caught Poppy together, with Chris taking over to win from Ash, but Poppy still holding off the next group to claim a good third. Mick Baigent, Ash Cousins and Graham Baker were all in contention for the next places, with Mick taking fourth from Ash as Graham slowed after a good run, with his ex-Danny Stafford car, Pinto-powered these days, steaming well.
The final was reduced to four cars, with Graham Baker and Ash Cousins missing, together with Mick Baigent, who wasn't risking it with a dodgy wheel bearing. Poppy Carter showed the pace of her improvement as, for lap after lap, the gap between her and her dad wasn't shrinking. Chris eventually got Poppy in his sights, but that was all, and Poppy came home to another win over Chris, with Ash Lock limping in with a very sick engine and Stuart Jewer retiring. Poppy was again the overall winner, from Chris and Ash Lock.
The SEGTO JUNIORS had an even more crowded field, with 19 cars, but again there was one driver alone on the white grade who'd be difficult to catch, Lily Nye, in a Micra more set up for Smallfield than for Tongham's rock hard surface. Lily controlled the bouncing car well, and had only just been caught by Annabelle Palser in the first heat when Justin Johnson bounced off the infield armco into the middle of the pack, bringing the reds out and leaving Lily the winner from Annabelle. Harvey Wareham was leading a battle for third with Robert Light and Lacey Chance, and the rest of the field were right behind with Bailey Ramsay leading Cortney Hales, Ryan Blair, Harvey Green, Harry Loader, Teddy Kemp, Cherie Wells, Fin Chance, Todd Wallace, James Rich, Archie Ginn and Kayleigh Sewell, with Alexia Bowen having pulled off.
Race two was stopped with at least six cars caught up in a pile-up, and a second red flag followed as Archie Ginns collected the pit gate. A restart over a reduced distance was led all the way by Lily Nye, chased by Robert Light and Annabelle Palser, but the leaders seemed to be caught by surprise by the early finish and as they slowed after the flag, Robert got sideways and collected Annabelle. The main pack all anchored up to avoid them, causing chaos with Cortney Hales ending up on her roof. Over the line Lacey Chance was fourth from Bailey Ramsay, Harvey Wareham, Kayleigh Sewell, Harry Loader, Cortney, Todd Wallace, Ryan Blair, Cherie Wells, whose nice new car was now looking a bit secondhand, James Rich, Teddy Kemp, Fin Chance, Justin Johnson, in more or less that order!
Lily Nye led the way in the final, with Annabelle Palser holding second until she slowed and dropped back, with Robert Light taking over the chase. Harry Loader had made quick progress through the traffic though, taking second from robert after eight laps and then catching and passing Lily with two to go, Harry taking the win with Robert second and Lily completing an excellent day with third, ahead of Harvey Wareham, Lacey Chance, Annabelle Palser, Todd Wallace, Teddy Kemp, James Rich, Archie Ginns, Fin Chance, Cortney Hales, Bailey Ramsay, Kayleigh Sewell, and Cherie Wells. Alexia Bowen and Harvey Green both had problems all day and pulled off. Lily Nye took the overall first place trophy from Robert light and Annabelle Palser.
The NOVICE JUNIORS were nearly as busy, with 18 cars on the grid. There was a first outing at Tongham for Smallfield regular Lyndon Miles while Lyla Gould was having her first ever drive, in Cherie Wells' old car. A fair bit of chaos in the first heat saw a couple of red flags and the race was abandoned before any sort of order had been established, although Elliott Simmonds had found his way to the front ahead of Owen Powell, Lyndon Miles and Nathan Pidgeley. Out of luck was Alex Marshall, who'd shown a good turn of speed in the last couple of meetings, but whose car expired on the first lap.
The second heat made it to five laps before it was stopped with Lyla Gould having a problem and getting collected by Jaymee-Lee Gorrie. Owen Powell, Elliott Simmonds and Lilly Green had been making the quickest progress up to then and Elliott took the win over Owen, Lilly, Josh Stilwell and Lyndon Miles. Toby Foreman was running sixth ahead of Nathan Pidgeley, Fin Lucas, Jaymee-Lee, Riley Bowden, Ella Dade, Kara Duff, Freya Dixon, Charlie Plant, Tom Breen and Ellie Lines.
The final also needed a couple of restarts. As the novices don't race for points there was no need to line them up in any particular order each time so different drivers popped up at the front on each attempt. Initially Sam Powell was chased by Lilly Green, Toby Foreman, Lyndon Miles, until he came to a smoky stop, and Nathan Pidgeley. On the restart Elliott Simmonds emerged in front, with Owen Powell and Lilly Green again coming through to chase him, before a shunt involving Charlie Plant brought the reds out again. The third attempt was a five lap dash and this time Lilly Green took the lead from the start and led all the way, coming home to her first win with Elliott Simmonds beating Josh Stilwell and Ella Dade for second. The rest of the finishers were Nathan Pidgeley, Kara Duff, Riley Bowden, Jaymee-Lee Gorrie, Owen Powell, Toby Foreman, Fin Lucas and Freya Dixon. The trophies for the "most improved drivers" were awarded to Lilly Green, Josh Stilwell and Ella Dade.
The THUNDER RODS had a relatively small field by their standards, with 13 cars turning up. A very dusty first heat was led by Jordan Emery-Barker's Puma until he was challenged by Les Croucher's Civic, but the Lewis White in the Mazda MK3 came past on his way to what he made look like an effortless win, with Matt Gurr's Fiesta following in second ahead of Les Croucher, Pete Stevens' MG, Jordan Emery-Barkepr, Jack Soper's Fiesta, Chris Prince's Fiesta and the first RWD car, Lee Jones' Ford Sapphire. Then came Dean Page's Sierra Estate, the Fiestas of Chris Snooks and Connor Wright, and the shared ex-Shane King Fiesta of Wayne Prince and Wayne Griggs, who alternated their drives in this and a Banger.
The field was joined second time out by Stuart Pateman in a very standard looking Honda Accord, although he soon went out with a puncture. Matt Gurr was another puncture leader while Lewis White, after again coming through to lead, pulled off steaming. Jack Soper then re-took the lead and went on to win from Lee Jones, Chris Prince, Les Croucher, Dean Page, Jordan Emery-Barker and Connor Wright, with Wayne Griggs the last to finish.
The final saw some early casualties, with Lee Jones and Lewis White going out on the bottom straight on the second lap, and Les Croucher picking up a puncture. Up front, Jack Soper took the lead from Jordan Emery-Barker and stayed in front to the end, with Matt Gurr taking second from Jordan and Chris Prince. Pete Stevens was further back than usual in fifth, with Wayne Prince and Chris Snooks both lapped at the end. Connor Wright pulled off, while Stuart Pateman's big Honda held seventh until the closing stages, but unfortunately ended up heavily crunched in the armco.
There was a big entry of ROOKIE BANGERS with 14 in the "small" section and 28 in the "large". A delayed start to the first race, after the water cart problems, led to a very dusty start, and then another delay after Francesca Ellis' Micra went up in flames. Brian Pugsley's Micra was never headed in all three races for the small cars, but there was plenty of action behind him, with only four other finishers in the first two races. Lee Jones' Ka was second both times, with John Ellis, Albert-Lee Garrett and Riley Rogers, also surviving the first heat, and Aaron Message and Mart Caisley taking places in the second race, along with the Clio of Joe Burns, which made it to the flag despite being a bit of a target all race. The final was again headed by Brian Pugsley, chased by Lee Jones, and this time John Ellis took third, with Aaron Message, Jayden Cushing, Mart Caisley and, some way back after various distractions, Francesca Ellis, completing the runners.
The big grid of "large" cars (mainly Focus-sized) managed to complete all their races with no stoppages, but left a fair bit of wreckage behind them. Shane King's Focus was setting the pace in the first race to begin with, but after he was eliminated Lee Vaughan outran most of the trouble to win. Brett Wheeler placed second ahead of Wayne Griggs, Brad Wells, Marcus Smith, Daniel Hunt, Dave Cushing, Richard Davis (supposedly having his last outing before "retiring"), Lewis Carter and Kyle Nash. Second time out the Focuses of Marcus Smith and Brett Wheeler battled for the lead, with Marcus beating Brett, while Harvey Hunt's Fiesta came home third in front of Rich Watts, Brad Wells, Lee Vaughan, Dave Cushing, Adam Rowell, Troy Goodwin and Jack Allen. The final saw Shane King back in action, and leading the way, but his car expired again and Lee Vaughan took it up for another runaway win, over Brett Wheeler. With a fair proportion of the field joining a big pile near the pit gate, there were just six finishers this time, Lewis Carter taking third from Marcus Smith, Richard Davis and Adam Rowell.
With the early delays having set the timetable back an hour or so, the ALLCOMERS and the MECHANICS' RACE were cancelled yet again, but the Bangers were allowed back out for a 4-car Allcomers' race, in which Shane King finally went the distance to win, and a 12-car turnout for a DESTRUCTION DERBY, in which the last car moving, slightly, appeared to be Riley Rogers.