WATERFORD RACEWAY
Round 5 - 20 August 2023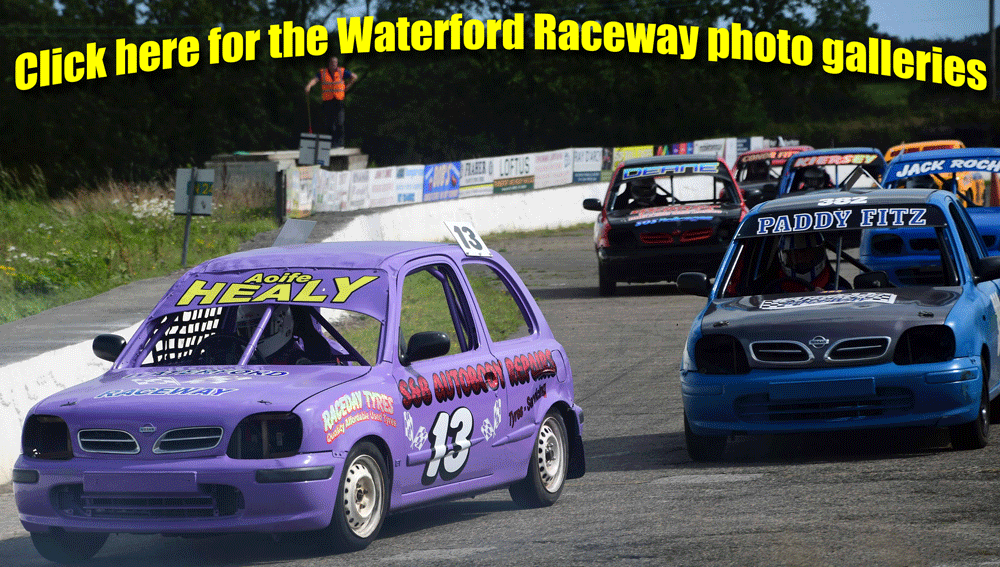 The mid-August date for Waterford Raceway's fifth championship round of 2023 proved again the virtual impossibility of selecting a date that's free of any clashing attractions. After the turnout for the previous meeting crept up to 38 drivers (albeit with quite a few car sharing), this time it was back down to a total of 27 cars and 28 drivers signed on, with holidays and clashes with most notably the Cork Forestry Rally taking quite a few of the regular entries out of circulation.
However, the Pike doesn't need big grids of cars to produce close and competitive racing, and a slickly run event in dry and mainly sunny conditions provided a very entertaining afternoon, in which everyone had the chance of four races.
The busiest class was the PRODUCTION JUNIORS, with a grid of eight Micras. From the front of the grid, Cork driver Daniel Fitzgerald held onto the lead for six laps in the first race before Waterford's Conor Fitzgerald took over, to be greeted quickly by red flags as Daniel spun at the hairpin bend. Conor Fitz took the win with Callum Swayne having just taken second place from the back of the grid, beating Jack Roche, Aoife Healy, Liam Kiersey, Paddy Fitz and Darryl Deane.
The second race lost Jack Roche, after an oil leak was spotted on the startline, but this time Darryl Deane was drawn at the front and he took off into a good lead as the rest got involved in their usual close battles. Points leader Callum Swayne again picked off the opposition from his back row starting spot, and made it through to second, chased by Connor Fitz, while Daniel Fitzgerald just fended off Liam Kiersey, Paddy Fitz and Aoife Healy.
The third race saw Daniel Fitzgerald once more at the front, while Aoife Healy was going well in her nicely refreshed car to hold off the rest of the pack for second. Eventually Darryl Deane and Callum Swayne passed Aoife and immediately challenged Daniel for the lead. Callum took the inside as Darryl went for the outside, but Daniel got out of shape, sending Darryl off while Jack Roche and Connor Fitz got caught up with Daniel to bring out the reds again, leaving Callum the winner from Daniel, Aoife, Liam Kiersey and Paddy Fitz.
The bonus fourth race, counting towards the day's trophies but not championship points was led until halfway by Daniel Fitzgerald, but Callum Swayne was making even faster progress through the pack and passed Daniel on the outside before going on to win from Connor Fitz, with Daniel doing well to hold on to third in front of Aoife Healy, who had her rear bumper removed on the first lap, Darryl Deane, Liam Kirsey and Jack Roche, with Paddy Fitz dropping back from this pack after an off course excursion.
The ROOKIE JUNIORS had four cars out of the ten who've competed so far this year, and they divided into two battling pairs. Ben Fitzgerald, on his first Pike outing, won the first race, but the other three races went to Sherise O'Shea, who drove very well to keep Ben behind her. The two less experienced drivers in the field, Anna Fitzgerald and Molly Walsh, had their own battle with Anna beating Molly three times but Molly getting the upper hand in the last race.
CLASSES 1 and 2 ran together. Shane Hickey was the only Class 1 entry, but did well to hold off the bigger cars although he could do nothing about Mick Boland, who took his 1300 Micra to four convincing wins. Wayne O'Shea's very nicely turned out Micra made its first Pike appearance and battled with Shane all day on his way to second in Class 2, ahead of Darragh Healy's Starlet-Fiat, with the lack of a clutch meaning Darrah was getting away with a push out of the pit gate for the later races.
CLASSES 3 and 5 were also combined, with Alan D'Arcy's familiar Starlet up against the two beautifully prepared 1400 Honda-powered Starlets of Tommy Daly and Jason Murphy, who had debuted their new cars at the previous meeting. They'd had a few teething problems that time but today Tommy, returning to the Pike around 16 years after he last raced, and Jason, a newcomer to the track, were on great form as they battled with Alan to provide the most spectacular racing of the day. Joining them was the only Class 5 entry, Luke O'Donovan, back at the Pike after four years away, having recently been racing his 1600 Vtec Starlet mainly at Rosegreen and Coolronan. Tommy won the first race from Alan, while Luke had three goes at getting past Jason, with his car faltering the first couple of times but finally making it stick on the last lap. Second time out the battle went all the way to the flag, with Tommy just holding off Alan and Jason, and Luke right on the tail of the smaller engined cars, but not able to find a way past. The third race was just as close, but this time Alan managed to fend off all three Honda-powered cars, as Tommy just held second from Luke and Jason. Alan sat out the fourth race, which was mixed in with Class 1 and 2, and although they couldn't catch Mick Boland's Class 2, there was a spectacular last few laps as the flying Starlets caught the Micras of Shane Hickey and Wayne O'Shea. Tommy took second overall to secure the Class 3 win, with Shane, Jason, Wayne and Luke bunched up behind him.
CLASS 1B was a bit depleted compared to normal, especially after Nicholas O'Leary's K10 Micra broke a shaft in practice and he found the only spare he had with him wouldn't fit. There was still some good battling through, with Jonathan McGovern leading the way in the first three races before Killian Swayne and James Deane got past. Killian held off James and Jonathan in the first two runs, but third time out James just managed to stay in front of Killian. On their final outing James and Killian were neck and neck until Killian skimmed some concrete off the back straight wall, leaving James to finish on his own and take the overall win.
The LADIES and STOCKS ran together, with two entries in each. Catherine Walsh, in her 1300 Micra, passed Teresa Boland and pulled away to win the first heat, but it got exciting for Catherine as she came up to lap the two Stocks. Joe Dilworth's Focus was joined by Kevin Healy in the ex-Laura Keegan BMW Mini, mainly to learn about the things before Aoife joins the Junior Mini class at Mondello. The first thing learned was that they, or this one anyway, like to turn left under braking, but after Kevin bounced off the tyre wall he set off after Joe again, catching him just as Catherine was trying to lap them both. Poor Catherine got sandwiched in the middle, but they all survived with Catherine still between them as Kevin took the win from Joe. Next time out Teresa was given a bigger start, but Catherine caught her with two laps to go, taking another win, while Kevin again got past Joe to win the Stocks. By the third race Catherine's car wasn't sounding as though it wanted to rev, and Teresa was never caught, winning the Ladies while Kevin held off Catherine with Joe close behind. Catherine didn't do the last race, and Teresa pulled out after spinning on the first lap, leaving Catherine as the ladies' overall winner, while Kevin once more held off Joe.
A good day's racing ended with the usual prizegiving, with the usual reluctance of drivers to either join in on the podium or collect their trophies at all. Trophies this time were sponsored by John O'Connor Engineering and Welding Supplies, with the next round due on 10 September.