SWAFFHAM RACEWAY
Sunday 3 September 2023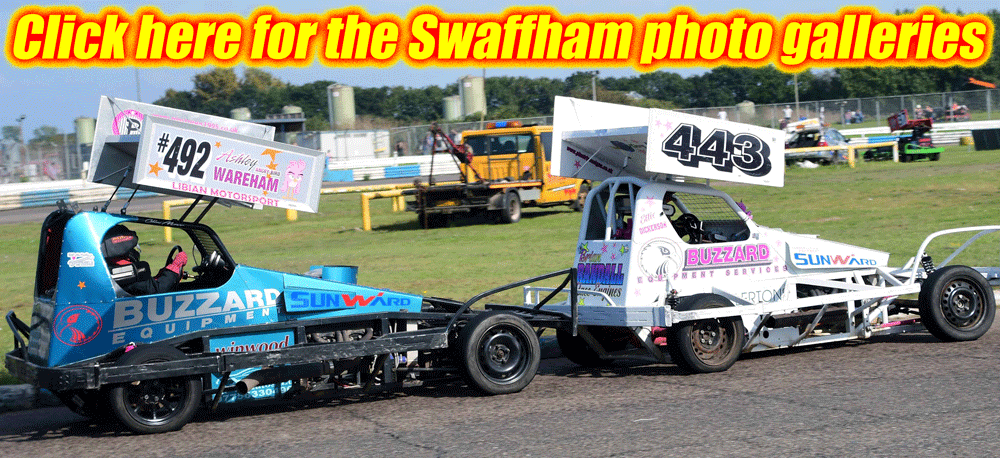 Although we've been following the Rolling Thunder Show's Saturday evening meetings on a regular basis, we hadn't yet sampled one of the related Swaffham Raceway Sunday promotions, until the first weekend of September gave us an opportunity, with the latest instalment of the V8 Stock Car Tour topping the bill. Although the end of the holiday season meant a reduced turnout for some of the regular classes, there was enough to provide plenty of entertainment during a friendly and relaxed, yet efficiently run, 24 race, 8 formula programme, on a very warm and sunny afternoon.
The V8 STOCK CARS had their best entry of the year for their final points meeting before their championship showdown, that this year runs alongside the Outlaw F2 Open Championship at Standlake Arena on 24 September. 17 cars were on the list, of which 14 arrived, with one or two regulars missing through holidays, etc, but some new names on the grid to balance that. After her debut final win at Swaffham's last meeting, Ashleigh Wareham had picked up a heat and final win next time out at Grimley, and was now firmly where she belonged, with the star grade drivers at the back of the grid. In the first race Ashleigh's ultra smooth style saw her coming rapidly through the pack in close company with F1/Hotstox veteran Rob Scriven, while Dave White built a good lead from the front, only to lose his advantage as Dan Jennings spun and collected Max White and Marc Holmes to bring out the second caution of the race. From the restart Dave held on well for a few laps, but couldn't stop Rob Scriven going through into a lead he held until the closing stages, when a neat application of the front bumper saw him moved aside by Ashleigh. Despite a last corner whack from Rob, Ashleigh took the win from Rob, with Marc Holmes a good third from Dave White, Brad Moss, Pete Scott, Ellie Dickerson and Bill Chance, all in a close pack. Dave Williamson and long time Hot Stox racer Malc Ayris, a welcome recent addition to the tour, completed the top ten, with newcomer John Sullivan in an ex-Rob Scriven car ending up a lap down, while Mick Jennings, Max White and Dan Jennings retired.
Dave White again built a good lead in the second heat, but was kept busy as John Sullivan, the newcomer starting at the back, repassed the leader after being lapped and then proved well on the pace. Marc Holmes eventually caught Dave going into the final laps, only to get caught up in chaos as Bill Chance, recovering from an earlier tangle with Dan Jennings, spun in front of the leaders to bring the yellows out. Ellie Dickerson and Ashleigh Wareham had been heading the chasing pack, with Ashleigh just getting ahead of Ellie, which put these two onto Dave White's tail for the restart, with Pete Scott and Brad Moss next in line. Max White and Brad went spinning as the green came out and Ashleigh took the lead for the dash to the flag, just holding off Dave White as Ellie spun Pete Scott to claim third. Rob Scriven took fourth from Bill Chance, Marc Holmes, Pete Scott, Dave Williamson and Dan and Mick Jennings, with John Sullivan and Max White completing the finishers.
The final started with Mick Jennings spinning onto the infield, but Dave White was again up and away at the front, at one stage building a half lap lead as Ellie Dickerson, Ashleigh Wareham, Brad Moss, Rob Scriven and Pete Scott battled for second. Ashleigh soon moved to the front of the queue and then steadily reeled in Dave before taking the lead, although she couldn't pull away as Dave fended off the rest of the star graders for second. Ashleigh didn't put a wheel wrong on her way to her third win of the day, and took the flag with Dave White still holding on for an excellent second and Pete Scott propelling Rob Scriven wide at the last corner for Pete to grab third from Ellie and Rob, with Brad Moss and Marc Holmes right with them. Dave Williamson claimed eighth from Malc Ayris, John Sullivan and Max White, with Bill Chance having spun out in the closing laps and Dan Jennings also sidelined.
After the V8s had echoed round the track, there were some V6 sounds as well! A well established attraction at Swaffham is the V6 CLASSIC MODIFIED class, with their totally unique brand of beautifully turned out, spectacular and noisy machinery, which we hadn't seen in action since their occasional past visits to Arena Essex and Lydden. Six of them turned out, which we believe to be about half of the cars currently in circulation. The two Capri-bodied cars of Nigel "Nogger" Hoskins and Al Fanning headed the first heat, and then Al beat Nigel's JPS-liveried car second time out, with ex-Autograss racer Simon Roose's Anglia in a close third after much side-by-side racing with the two Capris. Simon then headed the field in the final, narrowly holding off Julian Meakins' Triumph Stag, with Nigel Hoskins and Al Fanning battling with Darren Burkitt's Vitesse. Completing the field was Chris Pedley, making his debut in the Daf-shelled car that was being reunited with the formula after passing through a few owners, including Vinny Gibbons!
Apart from the V8s and Classic Modifieds, the rest of the race programme was a bit of a mystery until we arrived, as things have moved on a little since Swaffham's fixture list was last updated. A couple of classes we'd like to have seen have fallen by the wayside; the "Retro Hot Rods" concept has brought out some very nice cars during the year, but sadly it appears only one at a time. Outlaw F2s, like the RTS Superstox class, despite having plenty of drivers potentially keen to race, has been a victim of the absence of any published entry lists; without having an idea of who else might be attending, drivers seem unwilling to risk turning up to find they're the only one there! The Junior Rods (which we understand to be the old "8 valve" formula catering mainly for Novas and 106/Saxos) made it as far as the day's running order, but there was none present.
ROOKIE RODS are still going strong at Swaffham, with typical turnouts of a dozen cars, up to 18 at one point we're told, but this time there were seven of the 1.2 Corsas present. From the front of the grid, Lee Sparkes just held on to win the first heat after being caught by Ford Stonebridge, Tom Aldrich, Toby Parker and Lucas Durrant. Ford Stonebridge got ahead in the second race and hung on to win in a photo finish with Tom Aldrich. Tom made it to the front in the final and won with Lee Sparkes in second and Ford Stonebridge third over the line, but penalised to drop behind Toby Parker, with Elliot Walton and Siani Martin completing the finishers.
You can always rely on a good field of NINJA KARTS at Swaffham and there were sixteen of them on the grid. Thomas Wilkins came all the way through the field to win the first heat, with Parker Smith, Leo Mayes, Connor Watson, Riley Lynn and Tommy Talbot Jr heading the rest. The second race was interrupted by a heavy coming together between Ralph Payne and Dolly Rae Keenan, although Ralph was straight back on the line for the restart and Dolly Rae was back out for the final. Riley Lynn took the lead from Frankie Read after the restart and Riley won, chased by Freddie Taber, Leo Mayes, Parker Smith and Thomas Wilkins. The final was stopped after a first lap spin, but everyone made the restart with Leo Mayes coming through to take the flag ahead of Parker Smith, with Thomas Wilkins just beating Riley Lynn for third, closely followed by Tommy Talbot, Freddie Taber, Stanley Mattioli, Ted Emmett, Harry Harwin and Connor Watson. Frankie Read, Dolly Rae Keenan, William Myatt, Harley Flegg and Harrison Myson were next over the line after Ralph Payne pulled off.
JUNIOR SCREAMERS were a late addition to the programme, but Rosie Taber in her Micra ended up having three solo practice runs. Her second outing was rerun when the other car present, a Suzuki Ignis for newcomer Stanley Taylor, was ready to go, but that was abandoned after the Ignis bounced off the wall.
The rest of the programme was made up with three Banger classes. UNLIMITED ROOKIE BANGERS was a new concept backed by Swaffham's Oval TV, and three of the six entries turned up. Danny Elton's V6 Cougar outran Chris Bartram's Supra and Ed Hanser's Granada.
The regular ROOKIE BANGERS brought out eight cars, of which Chris Bartrum's Focus won the first heat and final, with Scott Davis' Astra taking the other heat. Also in contention were George Davis and Ross Lucas in more matching Astras, plus Gary West Jnr in a Focus, and Josh Garrard's Astra. Grace Penn's Corsa was a casualty of the second heat and Ronnie Russell's Astra gave problems all day.
Completing the line-up was a ten car field of BACK TO BASICS BANGERS providing the full contact action, coming to an early halt in the final as Rosie Thompson's Micra got rolled. Both heats were won by Dean Thompson in a Vectra Estate, although Adam Pearce's Celica kept ahead of all the fun and games to win the final from Dean Thompson and Axl Johnson's Fiesta. Also in the thick of the action were were Alysha Sayers' Beetle, Michael Smith's Astra, Scott Lake's Zafira, Danny Elton in a Nissan Almera, Sam Clarke in a Vectra and Julie Cawthorne, making her debut in an Astra.