WATERFORD RACEWAY
Round 6 - 10 September 2023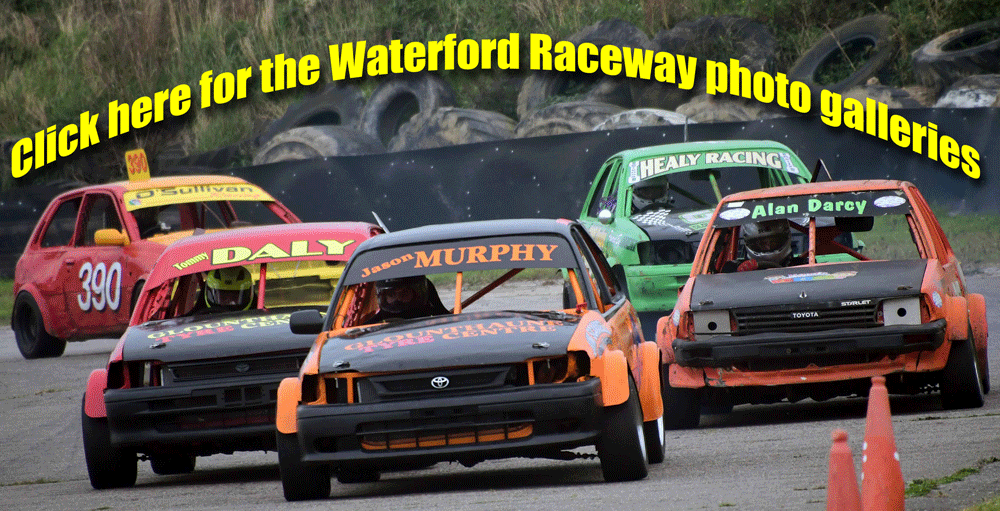 Entries showed a welcome upturn for Waterford Raceway's sixth championship round; still obviously nowhere near the sixty plus cars that were arriving in the last "normal" season, in 2019, but sill an entry of 35 cars and 37 drivers for the September round was a healthy improvement on this year's average so far, with an encouraging number of drivers now investing in the Motorsport Ireland licences that are necessarily to let this level of grass roots racing survive.
The early September "Indian Summer" had not been quite as scorching in Ireland as it had back in the East of England, but anyway it was well and truly over on this day, with distant rumbles of thunder and the mountains disappearing in low cloud, yet the threatening skies never managed more than a drop or two of rain over the Pike. Expecting some heavy showers at the least, the programme was rushed through with no lunch break, but when the rain failed to arrive, a fourth round of racing was added to give everyone a very full day's sport, with the round sponsored by Eurofins Food Testing in Dungarvan.
The senior classes all needed to be mixed again, which with the excellent handicapping always seen at the Pike, meant some very close and interesting racing. The two CLASS 1 contenders, James Organ and Shane Hickey, put on a good show against the four CLASS 2s. Shane turned up with the ex-Kevin McNamara Micra and although it wasn't yet handing quite as well as his regular car, just held off the top Class 2s, the Micras of Wayne O'Shea and Mick Boland, to win the first race of the day. Second time out the Class 1 battle ended up part of a three-abreast charge as Mick Boland came though; Mick took the race win with James just fending off Shane in their class. Just behind, Conor Harty was on good form in his Fiat-powered Starlet, grabbing second in class from Wayne O'Shea on the last corner, with the other Starlet-Fiat of Darragh Healy close behind.
Race three unfortunately saw the pace begin to tell, with Wayne O'Shea and Shane Hickey both dropping out, putting an end to several laps' side-by-side racing between Shane and James Organ. Mick Boland came through to win, while James just held off the two Starlets with Darragh sneaking past Conor on the last corner. The "bonus" round four was mixed with Classes 3 and 4, but Mick Boland and James Organ won again to secure their class trophies, with Darragh Healy runner-up in Class 2 after Wayne O'Shea had more problems.
CLASS 3 promised a repeat of the epic August battles between Jason Murphy, Tommy Daly and Alan D'Arcy. They were joined by two more Starlets returning to the track. In CLASS 4 Daniel O'Sullivan, after racing mainly in the Open FWD class at Rosegreen, was having his first Pike outing for several years, with his now 16 valve powered 1.3 Starlet bumped up a class or two by its bike carbs. Stephen Healy brought out his 1.2 Fiat-powered Starlet, ending up in CLASS 5 because of its 10 inch slicks and diff. Disappointingly Alan D'Arcy sacrificed the first race as nobody appeared to relieve him from marshalling, so he watched an enthralling battle between the two Cork-based Starlet-Hondas, with Jason Murphy just holding off Tommy Daly all the way, while Stephen Healy settled in before closing right up on this battle. The second race saw Alan join the fray, although a slight misfire hampered him. Jason again fended off Tommy for most of the race, but Tommy then pulled onto the grass with a broken engine mount, leaving Jason to take a close win from Stephen and Alan.
Race three saw another impressive drive by Jason Murphy to win, chased over the line by Alan D'Arcy after Tommy Daly, who'd done well to get back into action, pulled off on the last lap. Stephen Healy was also slowing up at the end, having killed the Fiat engine, while Daniel O'Sullivan had a consistent run to his third maximum score in Class 4. In the last race, Jason took his fourth win of the day with Alan retiring.
CLASS 1B and STOCKS ran together. Among the standard Micras. Ross Ryan came through to grab the first heat win in the closing stages from James Deane, both of then just holding off Kevin Healy's BMW Mini, which had got the better of Joe Dilworth's Focus in the Stocks. Nicholas O'Leary rejoined after a quick pit stop in his K10 Micra, while Killian Swayne had his bonnet flip over his screen. Second time out Nicky O'Leary led most of the way, but was eventually caught with Ross Ryan again hitting the front in the closing laps and holding off James Deane and Kevin Healy, while Killian just beat Nick and Joe.
The third round saw Kevin Healy get past the battling K11 Micras, so he was the first to catch Nicky O'Leary for the lead. Kevin took the overall win while class rival Joe Dilworth watched from behind as the Micra battle intensified, ending with James Deane taking the win over Killian Swayne, Ross Ryan, with a trailing back bumper, and Nicky O'Leary. Finally, Ross Ryan took another win in the fourth round, with Kevin Healy taking a maximum score in his class as he was chased by Killian and James.
The LADIES ran on their own, with three cars. Catherine Walsh didn't take long to overcome her start handicap in the first three races to take the flag ahead of Teresa Boland and the Class 1A car of Maria O'Keeffe. Catherine sat out the fourth round in which Teresa beat Maria, which made Teresa the day's overall winner.
That brings us to the best supported classes; as usual, the two Junior divisions. The ROOKIES, in their restricted Micras, had one of their best fields, with nine cars, and despite the slightly slower pace produced some extremely close racing, with perfect driving behaviour avoiding any (well, hardly any!) incidents despite very busy traffic at times. Sean Ryan was coming through from the back of the pack in fine style and in the first race took the lead from Sherise O'Shea. As the leaders caught the side-by-side cars of Anna Fitzgerald and Molly Walsh in the last corner it got a bit too close and Luke O'Connell was the unlucky one to end up on the outside line, hitting the bank as Dean Deasy grabbed third from Ben Fitzgerald and Ronan and Emily Sisk.
Luke O'Connell was none the worse for his slight prang as he led most of race two, finally being passed by the flying Sean Ryan, who won as Sherise O'Shea grabbed second on the last corner from Luke, Ronan Sisk, Ben Fitzgerald, Dean Deasy and Emily Sisk, while Anna Fitzgerald, in a very nicely turned out new car, and Molly Walsh continued their close battle.
Race three saw Sean Ryan start well behind the main grid and although he again caught up very quickly, this time the close battles through the field left him no room to get through. Molly Walsh and Emily Sisk both had turns in front before Ben Fitzgerald took over, and Ben held on all the way to win from Ronan Sisk, Sherise O'Shea, Sean Ryan, Dean Deasy and Emily, while it was Molly's turn to beat Anna in their ongoing dice.
The Rookies' final race saw Sherise O'Shea convert the speed she'd shown all day into a race win, managing to stay ahead of Sean Ryan after Sean had picked off the rest of the field. Luke O'Connell held off Emily Sisk, Ben Fitzgerald, Dean Deasy and Ronan Fisk for third, and this time Anna beat Molly despite them bouncing off each other as they took the flag.
JUNIOR PRODUCTION were last in the day's running order, mainly because a few of the drivers were being rushed in from other sporting activities in the morning. The class featured eight cars, with one newcomer joining the field, Aoibhe Fitzgerald, who opted to start at the back each time and watch the antics of the others. Last to the grid, but first away from it in the first race, was Paddy Fitzgerald, fresh from a Rugby match, to take a dominant win, while brother Conor headed the battling pack in second. Callum Swayne dropped out of the battle with a dead engine, but it fired up again and he caught the pack, only to tangle with Aoife Healy a lap from the end. Darryl Deane took third from Callum, who was docked a place to give Liam Kiersey fourth, with Jack Roche also part of this fight. Aoife Healy and Aoibhe Fitzgerald completed the order.
Jack Roche led the way in the second heat, being caught by Liam Kiersey and Callum Swayne, with Liam leading before Callum took over to win, ahead of Liam, Jack, Aoife Healy, Conor Fitz, Darryl Deane, Paddy Fitz and Aoibhe Fitzgerald. Race three saw Aoife Healy take the advantage at the start, but Darryl Deane only took three laps to get in front, and there he stayed, chased by Conor Fitz and Callum Swayne, who held on to a broadside moment past the pits gate. Aoife took fourth from Liam Kiersey, Paddy Fitz, Jack Roche and, picking up speed with every race, Aoibhe Fitzgerald.
Aoife Healy was going very well in the final race to lead until the last few laps, when she was caught by Darryl Deane and Callum Swayne. Callum didn't wait for an opportunity but took a run round the outside to emerge in front, taking a well earned win over Darryl, while Aoife completed her good day by holding off Liam Kiersey for third. Conor and Paddy Fitz were split by Jack Roche in the next places with Aoibhe Fitzgerald right on their tails after a very promising debut.
Michelle Fitzgerald presented the trophies on behalf of the sponsors, Eurofins Food Testing; all four races counted towards the day's trophies, although only the first three carried points for the year-long championship.
CLASS 1: 1st James Organ, 2nd Shane Hickey
CLASS 2: 1st Mick Boland, 2nd Darragh Healy, 3rd Conor Harty
CLASS 3: 1st Jason Walsh, 2nd Tommy Daly, 3rd Alan D'Arcy
CLASS 4: 1st Daniel O'Sullivan
CLASS 5: 1st Stephen Healy
CLASS 1B: 1st Ross Ryan, 2nd James Deane, 3rd Killian Swayne
STOCKS: 1st Kevin Healy, 2nd Joe Dilworth
LADIES: 1st Teresa Boland, 2nd Catherine Walsh, 3rd Maria O'Keeffe
JUNIOR PRODUCTION: 1st Callum Swayne, 2nd Darryl Deane, 3rd Conor Fitzgerald
JUNIOR ROOKIES: 1st Sean Ryan, 2nd Sherise O'Shea, 3rd Luke O'Connell
The planned October date for the next round has been dropped due to clashing local events, which leaves three more scheduled meetings for this year, on November 5, November 26 and December 30.