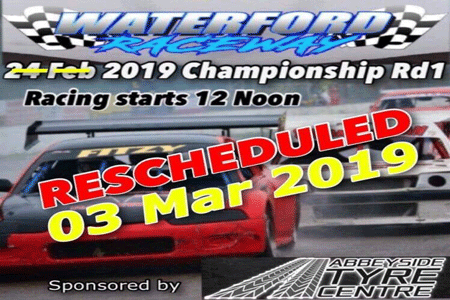 A week after thick flog had thwarted Waterford Raceway's first championship event, here we were again at the Pike, only this time we could actually see the track! The downside of that was that we were in the middle of "Storm Freya", the latest named storm to hit the southern Irish coast. Whereas previous storms had always seemed to arrive after race day, this one was forecast to deliver constant heavy rain throughout Sunday, and Freya was true to her promise!
The consequence was that the excellent entry of cars that had sat on their trailers on the original race day was virtually halved; 36 drivers braved the storm to turn up, with 32 cars in the pits. This led to a rather diluted day's racing. After the drivers' briefing had been held under cover in the "shed", practice was interrupted when a coming together between a couple of cars added a layer of oil to the flooded track. The two rounds of full point scoring races were run through with a minimum of incident and, to be fair, some good driving and entertaining battles on track. But by around 2.30 it was time for home, with everyone still getting their bonus points for the third round of racing as a reward for sticking it out that long. And the strange thing was, everyone looked as though they'd enjoyed themselves! That's racing at the Pike for you! Everyone will be back at the end of March for two days of action, with a practice day on Saturday 30th followed by round two of the championship on Sunday 31st.
It could have been worse as reports filtered through of heavy snow affecting counties just to the north and west, so several of the Pike's well travelled racers will have had interesting journeys home. Up in Kildare, the first round of the Irish Rallycross Championship at Mondello Park was actually snowed off - a bit ironic for us, remembering Rallycross as a winter sport; some of our best Rallycross memories were of snow days at venues like Lydden, Brands Hatch, Snetterton and even North Weald! But we digress - back to the racing at the Pike, with thanks to the day's sponsor, Abbeyside Tyre Centre ....
The race action kicked off with an 8 car grid of JUNIOR PRODUCTIONS, who were put on first as they could be relied on to set a good example to their seniors in racing to the conditions! Leon O'Shea's new unpainted Micra was the first to emerge in front, but Joey Dilworth soon took over and led nearly to the end of the 12 laps. With Ted McGrath rapidly closing in, Joey's car faltered exiting the last corner and Ted just beat him to the line. Ben Kenneally had a good drive to hold off Aidan Heney for third, with Leon O'Shea, Darragh Healy, Ross Ryan and Ryan Hickey all doing well to complete the distance. Second time out just six cars appeared. Aidan Heney led the first couple of laps but Ben Kenneally was revelling in the conditions and led the rest of the way, taking a good win just ahead of Ted McGrath. Aidan held off Joey for third ahead of Leon and Darragh. Ted McGrath was the overall top scorer, in a good return for his original Micra, written off at Rosegreen last year but now looking as good as new.
The Productions raced twice during the first round of racing, with the JUNIOR ROOKIES then appearing twice in the second round, so that any shared cars only had to swop the restrictor plate over once during racing. 7 Rookies limed up, with the first heat won by Conor Fitz, chased all the way by Martin Power. Liam Kiersey was third from Toby McGuire and then there was a great race for the remaining places with Aaron Kenneally and Liam Og Power getting split at the end by Aoife Healy, looking very competitive and confident on her second race day. Conor Fitz and Liam Kiersey missed the second race, which was called up almost as soon as the cars landed back in the pits. This time Liam Power led the first half of the race, but his cousin Martin then came through to win, with Liam second from Aaron, Aiofe and Toby. This result gave Martin Power the overall win.
Once again the highlight of the class racing was the fast and furious action in CLASS 1, although Shane Hickey unfortunately missed out after a mishap in practice. Another to pick up damage in practice was Anthony Cronin, but he bounced back to be in the thick of the action. However, there was no stopping Arek Konieczy, who in both races tore through the field from his starting position and then pulled out an unbeatable lead. Jack Hickey held off Anthony Cronin for second in race one, with late arrival Ronan Coughlin's Starlet in fourth ahead of new boy Darragh O'Shea, who braved the conditions on slicks and put up a very competitive showing in his well prepared Micra. In the second round Anthony got away well to chase Arek home in second, with Ronan third from Jack and Darragh.
There were two entries in CLASS 1B, with Liam Fitzgerald setting a fast pace to head Like O'Donovan home in both races. They shared the track with the STOCKS, where Evin Harding's Almera was the only runner, and the LADIES. Although the Egan sisters couldn't make it back, they'll have some stiff opposition when they return. Orla O'Sullivan made her Pike comeback at the wheel of Mick Boland's Class 4 Starlet and took two good wins, while East Cork Class 2 Champion Catherine Walsh looked promising on her first tarmac outing in a Class 1 Micra which, apart from being obviously quick was maybe the most immaculately turned out Micra we'd seen for a long time.
Jack Pollard was the centre of attention before the CLASS 2 races, with his Micra turned out, for the first time anyone could remember, all in one colour! Very good it looked too, but unfortunately didn't make the start of either race which then featured just two shared cars, Michael Coughlin winning the first race in the Starlet and Eddie Baldwin turning the tables in the second race, sharing son Michael's car.
Alan D'Arcy, with his Starlet back to its usual Suzuki power, was back on top form to win both rounds in CLASS 3, chased by Michael Baldwin, now with a 1300 engine in his familar Micra. Jason Ryan's Micra was also in contention but an off course excursion in the first round left him with too much damage to continue. In CLASS 4 Peadar Wall was in the not unfamiliar situation of having the only RWD car in the meeting, but drove well to win the first round, while Mick Boland took the second round in the ex-Martin McGrath Starlet. Alan Houlihan got a flying start in both races, but was soon spluttering round with what sounded like serious water in the works. Padraig Smiddy was much envied due to the full windscreen in his Toyota-powered Micra, and he raced well through the smaller class cars after being the only entry in CLASS 5.
Everyone's now looking forward to better conditions at the end of March - they can hardly be worse than what we'd seen in the past two weeks, but nobody (well, hardly anybody) regretted the decision to come out and play in the storm!