Arena Essex Raceway

Just off Junction 27 of the M25
21-22 January 2017


THE ENTRY LIST IS NOW CLOSED FOR NASA & SEGTO DRIVERS, PLUS ALL HOT RODS AND THUNDER RODS


PLEASE FOLLOW THE LINKS BELOW FOR YOUR DRIVERS' BRIEFING NOTES, RUNNING ORDER, GRID POSITIONS AND THE FINAL ENTRY LIST

ANY LAST MINUTE QUERIES OR PROBLEMS, PLEASE TEXT 07795 146133 OR MESSAGE JEFFREY PARISH ON FACEBOOK
WE WISH YOU ALL AN ENJOYABLE WEEKEND'S RACING

Expo 2017 will take place at Arena Essex Raceway on 21/22 January 2017 – one week after the Autosport show.
The format will be the same as the last two years - on both Saturday and Sunday, all racing will take place in the afternoon. Each day gates will open at 10.00 am, racing will start at 12.00 and provisional timings suggest a finish between 6.00 and 7.00 each day.
It's primarily a promotional event for the formulae invited to take part, but it will feature a full weekend of on track action, on one of the UK's best tarmac ovals, and once again NASA Autograss and SEGTO Grasstrack classes will be allocated a major part of the programme.
We hope it won't be too confusing that there are multiple booking systems in place to cover the 20 formulae and 81 races scheduled.
GUIDE TO WHAT'S RACING
NASA & SEGTO CLASSES ARE RACING ON SATURDAY AND SUNDAY -YOU MUST BOOK IN USING THE FORM ABOVE
Production Saloons A - including SEGTO Prod A and NASA Class 1
Production Saloons B - including SEGTO Prod B, Mod C and Stock Hatch, NASA Class 2 and Stock Hatch
(

Prod B/Class 2 and Mod C/Stock Hatch will race as two separate classes)
1450 Hot Rods and Super Saloons - including SEGT0 1450s and Supers, NASA Class 3, 4, 5, 6 and 7.
(This race is intended for "dirt cars" only - tarmac spec RWD cars are encouraged to enter the Open Hot Rod class.
1450s and Supers, with the respective NASA classes, will race as two separate classes)
Specials - including SEGTO Specials, NASA Class 8, 9, 10 and F600
Juniors - including SEGTO Juniors, NASA Junior Saloons
(sorry there's no class for Junior Specials)
OPEN RWD HOT RODS ARE RACING ON SATURDAY AND SUNDAY - PLEASE BOOK IN USING THE FORM ABOVE
We realise some of you will already have booked in using the RTS text number, but PLEASE also book in using the online system so that we can show a full entry list and include you in the grid draws that will be made in advance (the RTS do not publish booking lists so if you only book in on that system, nobody will know who you are!)
This class includes all SEGTO RWD Hot Rods set up primarily for tarmac racing (i.e. regular Standlake and Angmering racers), plus Outlaw Hot Rods, 2-litre Hot Rods, Classic Hot Rods, Super Rods, Lightning Rods etc. Last year this mixed format provided good racing with a minimum of incidents, so this year you'll be rewarded by having races on both days and extended laps compared to the other classes.
THUNDER RODS ARE RACING ON SATURDAY ONLY - YOU MUST BOOK IN USING THE FORM BELOW
This class includes Standlake Drift Rods, Tongham and Ringwood Thunder Rods and equivalent cars that race elsewhere (if any do!). For guidance on rules please check out Standlake's Drift Rod rules - www.standlakearena.co.uk/rules 2016.pdf
REGULAR ROLLING THUNDER SHOW CLASSES MUST BOOK IN ON THE RTS TEXT LINE 07398 682833
Superstox are racing on both Saturday and Sunday in six races (note race 5 is the final, not race 6!). FWD Hot Rods, Stock Rods, Euro Rods, Junior Hot Rods and Street Stox are racing on Saturday only (FWD Hot Rods and Stock Rods will have combined races but separate results)
ROOKIE BANGERS AND STANSTED RACEWAY DIRT RODS ARE RACING ON SUNDAY ONLY
Bangers must book in with Peter Baker on 07793 536783. Dirt Rods will be booked in through Stansted Raceway
MINI SUPER TWOS AND EURO SPRINTERS ARE RACING ON SUNDAY ONLY AND BOOK IN AS FOR A NORMAL RTS MEETING
NINJA SPRINTS/NINJA KARTS ARE CONTESTING THEIR WORLD CUP OVER BOTH DAYS AND BOOK IN THROUGH THEIR HOME PROMOTIONS
There's o
ne slight change in the format from last year - instead of splitting the SEGTO Modified classes into FWD and RWD groups on Saturday, we'll try putting all "dirt cars" out together on both days and hive off the "tarmac" SEGTO cars to race with the Open Hot Rods, which is what most drivers wanted to do last year.
Because of the amount of racing we want to squeeze in, there won't be time for any pre-meeting practice. Anyone who would like to make their own arrangements to practice at Arena Essex, please contact the circuit direct (link below).
Everyone's welcome, although the promoters will exercise a certain amount of discretion to make sure that drivers have appropriate racing experience – mainly because it's a fun event and we won't want to see cars unnecessarily damaged.
You MUST book in advance so that the race programme can be finalised, grid positions allocated, etc. There's no advance entry fee – everyone will pay the normal public admission fee of £14 each day, children under 13 free. You can book in for both days, or just Saturday or Sunday.
The meeting is a sanctioned "non-NASA event" in accordance with the NASA members' handbook.
TO ENTER PLEASE COMPLETE AND SUBMIT THE ONLINE ENTRY FORM FROM THE LINK AT THE TOP OF THIS PAGE
Or you can download the printable entry form and either post o
r email to:
Jeffrey Parish
46 Brookside
Alconbury
Huntingdonshire
PE28 4EP
Any queries please email or leave a text or voicemail message on 07795 146133
You'll find more Expo information on the official Rolling Thunder Show website:
Yet another highly successful Expo - thanks to all who took part and congratulations again for the spectacular but clean racing that you all provided.
Please click on the photos below to see a full report and photo galleries from every class, by courtesy of www.racer.one www.autograssreview.com and www.grassrootsracer.co.uk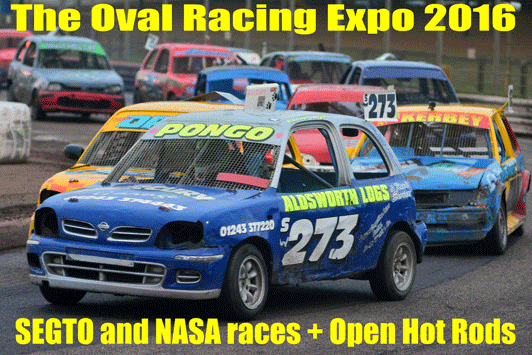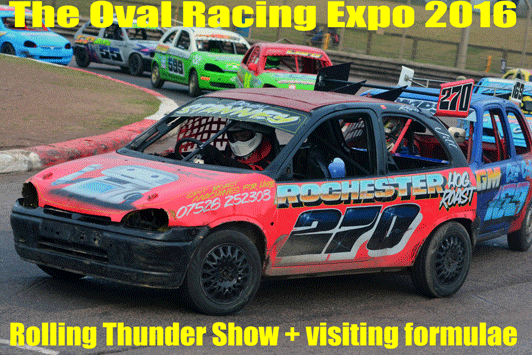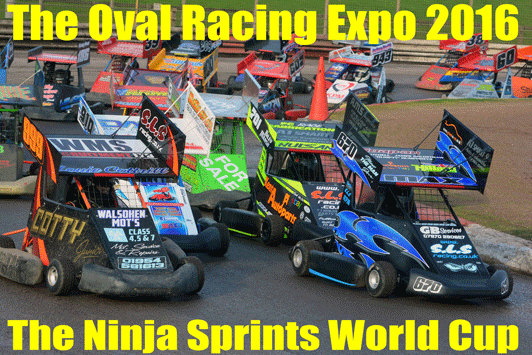 EXPO 2016 - PRE-EVENT:

The regular Rolling Thunder Show classes (plus a guest formula or two) will be spread across the two days, although the Superstox and Ninja Sprints will be in action on both days. This is a major event for the Ninja Sprints featuring the World Cup and Keir Millar Memorial Trophy. Stock Rods, Euro Rods, Junior Hot Rods and Street Stox will race on Saturday, while Open Hot Rods, Euro Sprinters, Super Twos and Stansted Raceway Dirt Rods will race on Sunday. Visiting drivers with compatible cars will be welcomed in all classes.

OPEN HOT RODS - all types of Hot Rods are welcome to enter this class (Sunday only) - we've included the Hot Rods in our booking system because there'll be some overlap with the SEGTO Super Saloons.

PRI Nudge & Spin Bangers will race on Sunday only. Anyone interested in the Banger racing should book in with Peter Baker on

SATURDAY will feature the usual spectacular mixed racing for NASA and SEGTO cars. Cars will provisionally be split into the following groups - please see the links above for the full timetable.

Production A/Class 1

Production B/C/Class 2/Stock Hatch

Super Saloons FWD (including 1450 Hot Rods and NASA classes)

Super Saloons RWD (including 1450 Hot Rods and NASA classes)

Specials

Juniors

SUNDAY will give all the Grassers an opportunity to race another full format meeting (2 heats and final).

Provisionally we expect a large number of SEGTO Production cars to be entered so it is likely that you will race in the same groups as Saturday, except that all the Super Saloons/1450 Hot Rods (FWD and RWD) will race together.

We've always said that cars used in the SEGTO/NASA races must be genuine Autograss/Grasstrack cars – i.e. cars that are set up to do at least some of their racing on dirt – the SEGTO drivers registered with Standlake who have been so successful in the last couple of years have all raced at the dirt tracks within SEGTO as well.

This year we recognise the changes within SEGTO - in 2015 three out of five SEGTO Championship rounds were held on hard surface tracks. Therefore everybody with a reasonably compatible car will be welcomed.

Thanks everyone for your support for the 2015 Expo, and congratulations to you all for the very high standards of driving demonstrated through the weekend - we saw competitive and clean racing in all the classes, which was a great promotion for your SEGTO or NASA clubs. We look forward to seeing you when we do it all again in 2016.
THANK YOU!
Thanks to all involved in a most enjoyable day's racing at the Expo. It was a shame, but quite understandable, that a lot of you couldn't make it at short notice for the re-arranged date, but although we ended up with smallish grids, you all laid on some fantastic racing.
Big thanks to Vince and all the staff for the most efficiently run stadium meeting we've ever seen - 42 races in five hours, finishing an hour ahead of our expected timetable. All course, the drivers all played your part by keeping up with the programme and avoiding any unwanted incidents.
The links below will take you to the results of all the Grassers' racers and our photo galleries.
EXPO 2013 - LET'S TRY AGAIN!
It's now looking favourable that the rescheduled Expo can go ahead this Sunday, 27 January.
Gates open at 9 am. Unfortunately there can't be any practice in the morning, but there'll be a drivers' meeting at approximately 11.30 which all drivers must attend. Racing starts at 12.00 and will have to run non-stop to get through a planned 14 formula, 42 race programme by 6.00 pm.
There's due to be a big thaw from Saturday onwards, so expect it to be a bit wet in the pits. I hope I'm looking at the right weather forecast. The gales and torrential rain that were originally forecast for Sunday have now gone away, replaced by sunny intervals with 40% chance of showers.
Most drivers who were on the original entry list have now reconfirmed, although obviously some have other commitments. There are a few we haven't heard from yet; if they can get in touch it will be appreciated, but if not we'll assume they're all coming.
Here's a quick summary of what we hope to do:
JUNIORS With only 4 cars confirmed at present, it's proposed that the NASA/SEGTO Juniors race together, starting at the back of the grid behind the RTS Junior Hot Rods, but racing for their own trophies. Those who were at Northampton in November will remember that we had the Spedeworth Junior Rod Champion racing with the NASA and SEGTO Juniors, and all the classes looked evenly matched.
PRODUCTION SALOONS All Productions will now race together with a staggered start. Prod A/Class 1 in front, Prod B/Class 2 behind and Mod C at the back. The Prod As/Class 1s will race for one set of trophies and the Bs/2s/Cs for a second set of trophies – so everyone will be racing for the same trophies they would have had last Saturday.
MODIFIED SALOONS AND SPECIALS We're hoping to run the original Saturday format – separate races for FWD, RWD and Specials, with NASA and SEGTO cars running together. If numbers are short then we might combine the FWD and RWD races, but we'd prefer to keep them separate. If they do have to be combined, there should still be trophies for both sections. Specials will be kept separate from the saloons.
That's about it really. Everyone should still get worthwhile track time, enough drivers have re-booked to promise us good racing, and there'll be plenty to watch in the rest of the programme. Lynn and Kelly from Concord will be in charge of the static NASA promotional stand, which we're hoping to place at the entrance to the spectator area. There'll be trade stands in the pits, plus the autojumble area with facilities to sell anything from a car or transporter downwards. The bar, café and track shops will be open all afternoon. Any queries, cancellations or even late entries, please email jeffrey.parish@gmail.com or text 07795 146133.
EXPO POSTPONED TO SUNDAY 27 JANUARY
For the first time in eight years, the weather has beaten us!
The Expo promoter Vince O'Connor and Arena Essex owner Tony Woodroffe have agreed that it's now not safe to run the meeting as planned this weekend, due to the amount of snow and ice that's now accumulating within the stadium.
The Expo will now be run as a one day event on SUNDAY 27 JANUARY. Gates will open at 9 am and racing will start at 12.00 pm.
The only programme change made so far is that the Outlaw Hot Rods have been dropped and the Junior Hot Rods and Stock Rods have been brought in from the Saturday programme.
As far as the NASA and SEGTO cars are concerned, Vince has undertaken to run to our agreed Sunday schedule – recognising that drivers may have made other plans, he will run with whoever is available.
We have programme slots for five classes on the Sunday, with two heats and a final for each class, so there's still the opportunity for everyone to have some worthwhile track time. There will be scope for me to re-juggle the grids for these races to suit the drivers who can make the re-arranged dates.
Therefore, please would everyone who entered for this weekend's meeting contact me and let me know:
(a) Do you wish to race on Sunday 27 January?
(b) If so, would you prefer to race to the original Saturday format (NASA & SEGTO cars mixed) or to the Sunday format (NASA and SEGTO separately)?
Anyone who didn't enter for the original date but who now wants to join in will be very welcome - but please contact us to book in so that we can make the best use of the track time available.
Please email Jeffrey.Parish@gmail.com or text or voicemail on 07795 146133.
Thanks for your support and sorry for the disappointment – although it appears that even if we'd gone ahead, a high proportion of drivers would have struggled to get there. We've even had a couple of snowflakes in Cambridge!
Jeffrey
07795 146133