2016 News Archive

After this, we simply ran out of time between race meetings to keep up with the weekly updates we planned. Perhaps we'll go back and fill in some of the gaps if we get a moment, or perhaps we'll concentrate on planning our workload for 2017 to give us a little bit more spare time ...
21/22 MAY 2016 ...
There was plenty of Autograss action to choose from, despite mixed weather forecasts affecting many people's plans. Ireland suffered the most with Causeway forced to postpone their National qualifier, while the Ballyshannon Hot Rod Club in Kildare had a flooded track and a rare cancellation, although it was better in the south for Cork's event and for the Wexford Hot Rofders at Ballymitty. We opted for a visit to Central Scotland for an excellent two days' racing at Avonbridge, while Nottingham staged England's main event with a round of the Stock Hatch Tour Series added to the final East Midland qualifier. Qualifying action was due to continue at Southern League, Invicta Kent, Cambridge, Bredon Hill, North Wales, and Yorkshire Dales, with Scunthorpe having, we think, the only non-qualifying event. The worst of the weather was in initially in the west, with PAC and Cwmdu both having to cancel, but overnight clubs were hit seemingly at random. Invicta was rained off early on Sunday morning, North Wales had to abandon midway through the first heats and Bredon Hill and Scunthorpe were both very wet, while Bearley, Cambridge and Nottingham had nice dry days.
COMING UP .... the third of the early season Bank Holiday weekends is of course the traditional date for the North of England Championship, which this year is trying a new format with a full three days of racing on Saturday, Sunday and Monday. If that's too much, STAR provide their regular, more relaxed, alternative at Crudgington with the Middle of England Championship on Sunday and Monday. Sadly though, there's no South of England Championship due to venue problems affecting the Concord club in Essex. The other NASA fixtures are Hereford on Sunday and Monday and South Wales on Monday.
he Rolling Thunder show races at Arena Essex on Saturday night. The Oval Raceway at Angmering stages another non-contact day on Sunday, catering for all Hot Rod classes, and Standlake Arena has a busy meeting on Monday featuring the F2/Superstox.
Mallow have a one day meeting on Sunday and the season gets under way at the Carbury Hot Rod Track in Kildare. For something different in Ireland, the Halfway Stock Car track at Burnfoot Co Donegal receives a visit from the popular UK Outlaw Stock Car racers, running on Saturday evening and Sunday
LOOKING FORWARD TO JUNE .... the month starts on 5/6 June with the first round of the All Ireland Autograss Championship at Down Autograss' uniquely challenging track near Banbridge. Registration for the three round series is still open. Central Scotland are racing n Sunday, but everyone else will be expected to descend on the MAP Open at Dodwell, Stratford-upon-Avon, still expected to be the biggest Autograss event of the year.
14/15 MAY 2016 ....
Another busy day for the NASA clubs with National Qualifying meetings coming thick and fast; this week's action was at
Unfortunately Concord had to cancel due to ongoing venue problems but the Spalding club laid on a promising first event under its new management team.
The SEGTO Championship moved on to its third round, and the first on dirt, with a good turnout at Tongham providing SEGTO's best racing of the season so far.
7/8 MAY 2016 ....
The SEGTO Championship moved on to its third round, and the first on dirt, with a good turnout
MAY DAY BANK HOLIDAY ....
The early May Bank Holiday data has come to be dominated by the opening rounds of the British Autograss Series and the UK Autograss Championships. xxx drivers turned out for the BAS round hosted by the South Wales League at Pendine and enjoyed an ultra-competitive day's racing on Saturday, punctuated by the expected number of spectacular incidents, Full photo coverage can be found on www.absnapshots.co.uk. Sunday dawned dull and wet but the racing didn't suffer too much until the flog that has always plagued this venue rolled in over Daldy Island and put a stop to the event halfway through the third heats. The UKAC fared better with a full turnout and perfect conditions at Nottingham, with the dust being the only enemy. NASA's club racing alternative is usually headed by Leewood's two-dayer but when that was cancelled York's Monday meeting was all that was left - a good turnout and decent racing in the first heats didn't last as rain interrupted proceedings. York completed their programme but by then many racers were on the way home.
SEGTO affiliated racers fared better as Tongham Motor Club staged a rare two day event in memory of their much missed member Ginny Baker, with a big crowd enjoying fine weather, close racing and plenty of off-track activities at the excellent Four Marks facility. Those who prefer the hard stuff were also catered for as the Oval raceway at Angmering staged one of their popular "non contact only" days on Sunday and Standlake Arena as usual packed in the cars and crowds on Monday.
23/24 APRIL 2016 ....
16/17 APRIL 2016 ....
Weather permitting (of course!) it should be a busy Autograss weekend with events at Concord, Evesham, Leewood, Pennine, Scunthorpe, Spalding, STAR and Yorkshire Dales, plus the eagerly anticipated opening of the new West Wales track near Haverfordwest. SEGTO action continues at Tongham and Angmering present their usual varied programme for south coast racers. Over the water, NASA racing is planned at the geographical extremes of Cork and Causeway, while the dirt Hot Rod racers should be out at Ballymitty.
9/10 APRIL 2016 ....
Yet another weekend when the weather decimated the Autograss schedule; one by one cancellations rolled in from Gloucester, Ludlow, Melton, North Shropshire, North Wales, Penhow, Radford, St Neots, South Wales and York, and finally a last minute downpour put paid to our chosen meeting at Invicta Kent. That left just Scarborough and the Southern League to put on meetings and both provided an excellent day's racing for their locals and the healthy turnouts of unexpected visitors
Down Autograss's opener would also have succumbed to the weather but in any case had been postponed to 23/24 April as a mark of respect to Scott McNeill's family.In the south of Ireland Mallow cancelled their qualifier (good move as County Cork ended up seeing both snow and floods on the same day!); in Kildare Ballyshannon's opener was cancelled and Revs' event at Ballymitty in Wexford was rained out for a second week.
After all that, the sun shone in most places on Sunday so Standlake Arena enjoyed a good event after some of their racers had joined in the very busy Saturday night at Arena Essex, where the second SEGTO Championship round ran alongside the normal programme; in chilly but thankfully dry conditions.
Autograss Review sends our condolences to the family and friends of Scott McNeill who has tragically died following a road accident. Scott had a successful Junior career, becoming Down Autograss champion in 2010 and subsequently racing in Class 1 and F600 as well as supporting his family's massive contribution to the running of the Down club and making innumerable friends throughout Irish Autograss. RIP Scott .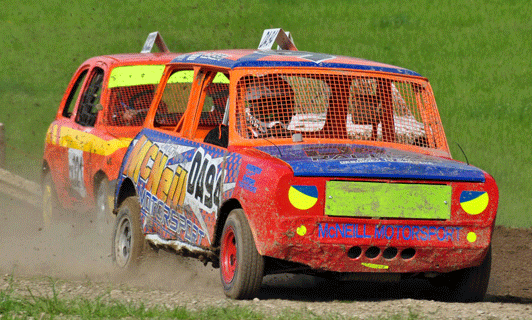 3 APRIL 2016 ....
After another weekend of watching weather forecasts and ticking off cancelled meetings, just one NASA club was left standing. Bredon Hill, Concord, Leewood, and Yorkshire Dales were all waterlogged (not the tracks so much as the entrances and outfields) leaving Trent to cater for the keenest racers from all over England and Wales. These circumstances can make a club's reputation and Trent rose to the occasion with a brilliantly organised event, as you can read in our full report when we've finished it!
West Waterford had to cancel their National qualifier and Junior training weekend, while elsewhere in Ireland conditions were no better; in Wexford the Revs Hotrod club were forced to postpone their event until 10 April and in Kildare Carbury's opening date was further postponed.
Tongham Motor Club staged their first SEGTO meeting of the year, with a decent turnout and good racing.
COMING UP ...April 9/10 should see the season opener in Northern Ireland, with two days' racing at Down. Mallow stage their Southern Ireland qualifier and, with 15 of the 22 NASA leagues planning meetings, events are scheduled at Gloucester, Invicta Kent, Ludlow, Melton, North Shropshire, North Wales, Penhow, Radford, St Neots, Scarborough, Southern League, South Wales and York. The SEGTO Championship joins the Rolling Thunder show at Arena Essex on Saturday night while Ballyshannon Hot Rod Club has its season opener in County Kildare.
28 MARCH 2016 ....
The weather dominated the Easter racing programme with only three of the ten scheduled NASA Autograss meetings surviving. Scunthorpe enjoyed a very successful 2-day meeting on Saturday and Sunday with around 240 entries in mainly dry conditions apart from Saturday's finals. Scarborough's meeting on Sunday was the only one to be blessed with fine conditions throughout, while Evesham's well supported meeting on Sunday lasted until a downpour halfway through the finals. Meetings were cancelled at Gloucester, STAR, South Wales, Hereford, PAC, Spalding and York.
The Rolling Thunder Show's meeting at Arena Essex on Saturday night was run in monsoon conditions, which didn't prevent some entertaining racing - follow the link below for our full report. The SEGTO Championship kicked off on Sunday at Angmering on a day of sunshine and showers, while Standlake hosted its usual busy Easter Monday event.
COMING UP ... There were no Easter Autograss events scheduled in Ireland, but West Waterford host the second National qualifier on 3 April, when there are also dirt Hot Rod meetings planned at Carbury and Ballymitty. The UK Autograss schedule features the season openers at Bredon Hill, Concord, Leewood, Trent and Yorkshire Dales, while Tongham Motor Club are due to open their SEGTO season.
20 MARCH 2016 ....
NASA Autograss finally got under way on 20 March - the Irish season started at Carlow's Knocknatubbrid track and the first UK events were at Nottingham and North Shropshire. Tongham Motor Club was due to open the SEGTO dirt season at Four Marks but postponed to allow additional track preparation time, while it was the same story for The Irish independent dirt scene with Carbury Hot Rod Track in Kildare postponing its opener, although the Revs Hot Rod Club staged its second meeting of the year in Ballymitty, Co Wexford.
COMING UP .... The early Easter weekend is now upon us and while the Autograss scene will be warily watching the weather, one meeting which will definitely be going ahead is the first SEGTO Championship round, on tarmac at the Oval Raceway, Angmering, with the south coast track featuring a full day of non-contact racing on Easter Sunday. There's Rolling Thunder Show racing at Arena Essex on Saturday night and Standlake and Grimley both host their regular Easter Monday events. Meanwhile, keep watching the official NASA website for the latest status on the ten scheduled Autograss meetings at Scunthorpe (Saturday and Sunday), Evesham, Gloucester, Scarborough, STAR and South Wales (Sunday), Hereford, PAC, Spalding and York (Monday). Update: Gloucester, STAR, Spalding and York are all cancelled. Further update: Hereford and PAC are also now cancelled.
13 MARCH 2016 ....
The weekend of 12/13 March saw the Rolling Thunder Show complete its "winter" season at Arena Essex and there was also racing on at three of the leading independent short oval tracks; Standlake Arena in Oxfordshire, where the track's second Superstox outing of the year topped the bill; The Oval Raceway at Angmering in West Sussex began its "summer" season after a successful Winter series and Grimley Raceway near Worcester had its first event of the year.
Another week of very wet weather put paid to Pennine Autograss Club's planned meeting on 13 March, which means that the first NASA events of 2016 are now expected to be held at Carlow, Nottingham and North Shropshire on 20 March.
6 MARCH 2016 ....
We've had a delayed start to the UK Autograss season with the cancellation of Nottingham's meeting on 6 March, so weather permitting the Pennine club are hoping to have the honour of opening the new season, with their meeting at Darleymoor Raceway being the only one scheduled on 13 March.